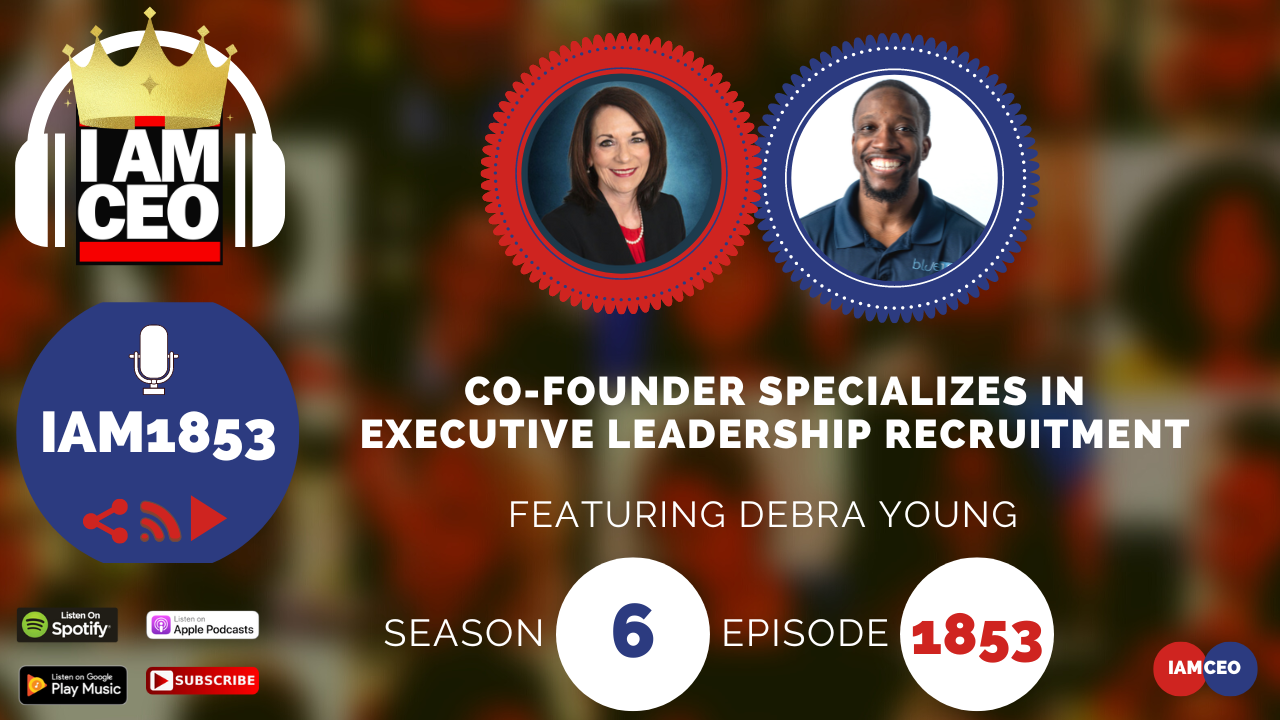 Why it was selected for "CBNation Architects"
:
In this episode of I AM CEO Podcast, the spotlight shines on Debra Young, Co-founder and Managing Partner of Sheer Velocity, LLC, a global retained executive search firm based in Denver, Colorado. Debra established Sheer Velocity in 2012, successfully growing the organization into a global enterprise with offices spread across the country and connections in 40 countries worldwide through INAC Global Executive Search.
Under Debra's stewardship, Sheer Velocity is retained by different organizations to assist in finding highly specific executive leadership talent. Through their unique search process, Sheer Velocity has established itself as a thought leader in the executive recruitment space.
During the interview, Debra shares:
CEO Hack: The importance of staying open and humble and maintaining a growth mindset
CEO Nugget: The belief that life and business revolve around relationships and explores how one can assist others
CEO Defined: For Debra, being a CEO means being herself, living out her passion, and effecting positive changes in people's lives
Check out our CEO Hack Buzz Newsletter–our premium newsletter with hacks and nuggets to level up your organization. Sign up 
HERE
. 
Transcription:
The full transcription is only available to CBNation Library Members. Sign up today!
Debra Young Teaser 00:00
The other thing, which is really critical, is being able to see how a leader communicates in writing, right? Because you're going to be communicating with your boss maybe, or your board, and throughout your organization.
So you have to have great communication skills written.
Intro 00:19
Do you want to learn effective ways to build relationships, generate sales, and grow your business from successful entrepreneurs, startups, and CEOs without listening to a long, long, long interview?
If so, you've come to the right place. Gresham Harkness values your time and is ready to share with you precisely the information you're in search of.
This is the I AM CEO Podcast.
Gresham Harkless 00:47
Hello. Hello. Hello. This is Gresh from the I AM CEO podcast, and I appreciate you listening to this episode. If you've been listening this year, you know that we hit 1600 episodes at the beginning of this year. We're doing something a little bit different where we're repurposing our favorite episodes around certain categories, topics, or as I like to call them business pillars that we think are going to be extremely impactful for CEOs, entrepreneurs, and business owners, or what I like to call the CB nation architects who are looking to level up their organizations.
This month, we are focused on leadership management and coaching. When we think of leadership management and coaching, we often think of doing all the other things, but often it's a person that's able to build up their team, that's able to cultivate a creative and innovative culture so that people can excel and actually be their own leaders. So that's why this month we're focusing on those 3 big topics because they make a huge impact on the organizations that we're part of.
Now, you'll hear some of those topics this month. Of course, some really great perspectives on how people are even defining leadership, which I think is extremely exciting. So sit back and enjoy this special episode of the I AM CEO podcast.
Hello. Hello. Hello. This is Gresh from the I AM CEO podcast, and I have a very special guest on the show today. I have Debra Young of Sheer Velocity, LLC. Deb it's awesome to have you on the show.
Debra Young 02:06
Thank you so much Gresh, I'm excited to be here. I love your podcast.
Gresham Harkless 02:10
Yes. See, you already got my day started off really, really well by saying that. So before we jumped in and hear about all the goodness that Debra is doing, I wanted to read a little bit more about that because she's doing so many awesome things.
Deb Young is a co founder and managing partner of Sheer Velocity LLC, a global retained executive search firm with headquarters in Denver, Colorado.
Deb started Sheer Velocity in 2012 and has grown the business into a global organization with offices across the country and reach in 40 countries around the world through INAC Global Executive Search.
Sheer Velocity is hired by organizations to find them very specific executive leadership talent and through Sheer Velocities, proprietary search process, they have solidified themselves as a thought leader in the executive recruitment space.
Deb, are you ready to speak to the I AM CEO community?
Debra Young 02:57
I am. I am.