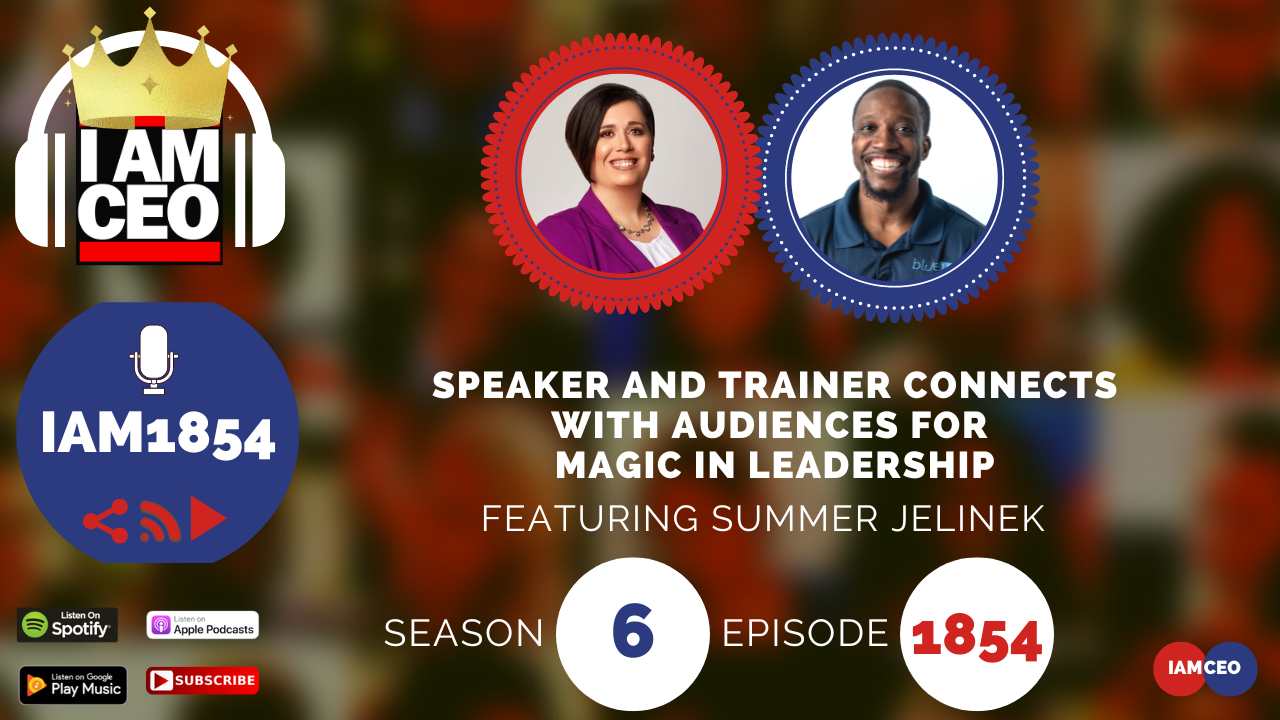 Why it was selected for "CBNation Architects"
:
In this episode of the IAMCEO Podcast, the guest is Summer Jelinek, an engaging speaker and trainer with over 20 years of leadership experience. As a recognized leader in the field, Summer has worked with renowned companies including Walt Disney World, Disney Institute, and H-E-B/Central Market. She specializes in connecting with audiences worldwide, offering valuable insights on leadership development.
During her interview, Summer shares her personal approaches and learnings about leadership, time management, and the definition of CEOs.
CEO Hack: Summer talks about being creative and flexible with time management. She acknowledges the importance of utilizing time efficiently and effectively, leveraging her organizational skills and adaptability.
CEO Nugget: With the phrase "manage yourself first," Summer highlights the importance of self-leadership before leading others. She believes that a strong foundation of self-leadership provides a clearer direction and understanding of being a better leader for others.
CEO Defined: Summer perceives CEOs as individuals carrying a lot of responsibilities while having the freedom to create their vision. She emphasizes the significant role CEOs play in directing an organization and ensuring its success.
Check out our CEO Hack Buzz Newsletter–our premium newsletter with hacks and nuggets to level up your organization. Sign up 
HERE
. 

I AM CEO Handbook Volume 3
 is HERE and it's FREE. Get your copy here: 
http://cbnation.co/iamceo3
. Get the 100+ things that you can learn from 1600 business podcasts we recorded. Hear Gresh's story, learn the 16 business pillars from the podcast, find out about CBNation Architects and why you might be one and so much more. Did we mention it was FREE? Download it today!
Transcription:
The full transcription is only available to CBNation Library Members. Sign up today!
Summer Jelinek Teaser 00:00
And then the final piece the company can see a symptom. So you have low employee morale across the entire company, if you have 500 to 1000 employees. So most of the time, if you start doing some research, it will always connect back to leadership.
So they can bring me in to assess and identify what's causing the issues and that we can build a plan so that together we can work through improving whatever symptoms that they're seeing.
Intro 00:22
Do you want to learn effective ways to build relationships, generate sales, and grow your business from successful entrepreneurs, startups, and CEOs without listening to a long, long, long interview?
If so, you've come to the right place. Gresham Harkless values your time and is ready to share with you precisely the information you're in search of.
This is the I AM CEO Podcast.
Gresham Harkless 00:49
Hello, hello, hello. This is Gresh from the I AM CEO podcast and I appreciate you listening to this episode. If you've been listening this year, you know that we hit 1600 episodes at the beginning of this year. We're doing something a little bit different where we're repurposing our favorite episodes around certain categories, topics, or as I like to call them business pillars that we think are going to be extremely impactful for CEOs, entrepreneurs, and business owners, or what I like to call the CB nation architects who are looking to level up their organizations.
This month, we are focused on leadership, management and coaching. When we think of leadership, management and coaching, we often think of doing all of the other things, but often it's a person that's able to build up their team, that's able to cultivate a creative and innovative culture so that people can excel and actually be their own leaders. So that's why this month we're focusing on those three big topics because they make a huge impact on the organizations that we're part of.
Now you'll hear some of those topics this month, of course, some really great perspectives on how people are even defining leadership, which I think is extremely exciting. So sit back and enjoy this special episode of the I AM CEO podcast.
Hello. Hello. Hello. This is Gresh from the I AM CEO podcast, and I have a very special guest on the show today. I have Summer Jelinek of summerjelinek.com. Summer, it's awesome to have you on the show.
Summer Jelinek 02:08
Thank you very much. I'm super excited to be here.
Gresham Harkless 02:10
No problem. Super excited to have you on. What I want to do is just read a little bit more about Summer so you can hear about all the awesome things that she's doing.
Summer has been a speaker and trainer for more than six years. She has 20 years of leadership experience working with companies such as Walt Disney World, Disney Institute, H-E-B/ Central Market. Her passion is connecting with audiences around the world, particularly audiences looking for the magic in leadership.
Summer, are you ready to speak to the I AM CEO community?
Summer Jelinek 02:33
I am. Yes.