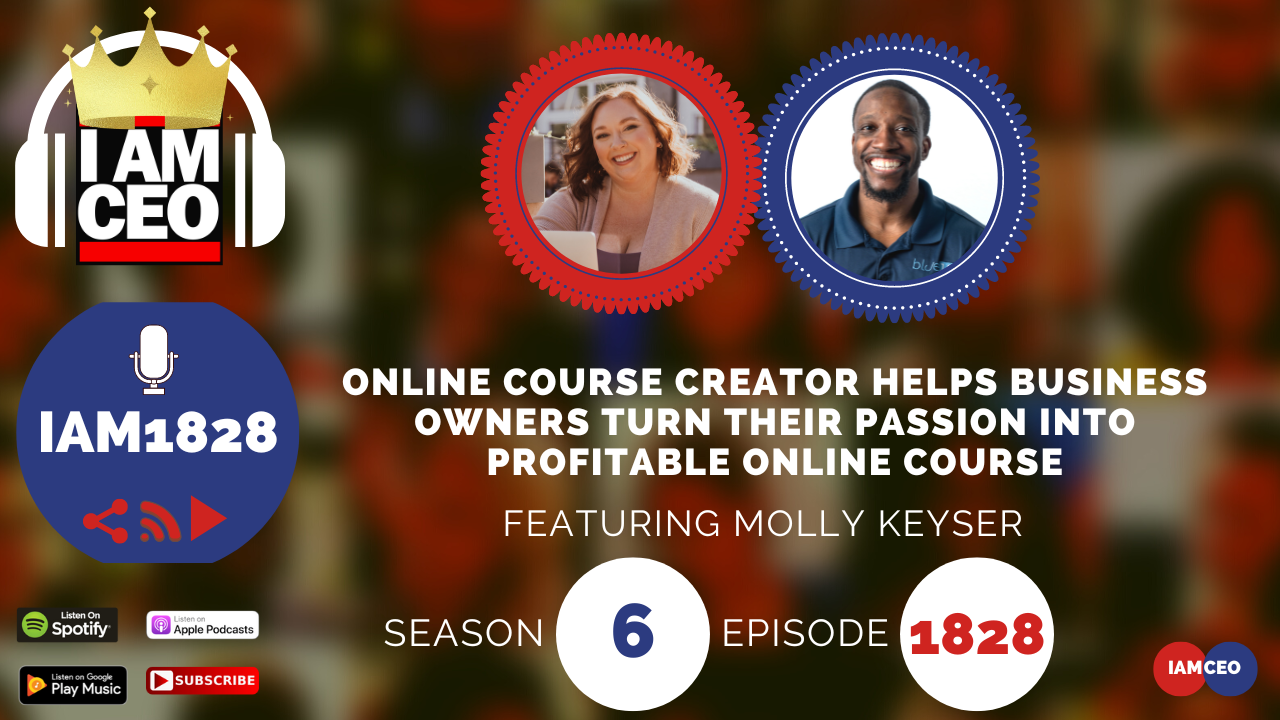 Why it was selected for "CBNation Architects":
In this episode of the I AM CEO Podcast, host Gresham Harkless interviews Molly Keyser, an online course creator who helps business owners turn their passion into a profitable online course. Molly has had a successful career in photography and has leveraged her knowledge and experience to create a business course for other photographers. She grew her course business to generate $2 million per year, benefiting tens of thousands of business owners worldwide.
Molly's mission with Profitable Courses is to assist business owners in creating their own profitable online courses that generate passive income. She currently resides in New Mexico with her husband Aaron and their dog Franklin, enjoying outdoor activities like camping, road-tripping, and connecting with friends.
In her CEO story, Molly shares her passion for photography from a young age and pursued it in college. However, she realized that she was not taught about running a business alongside her passion. After achieving success in her photography studio, other photographers began asking her how she achieved it. She then discovered the world of digital products and online courses. Over six years, Molly taught photographers through her course, growing it into a $2 million per year venture.
In 2021, Molly and her husband started their own company focused on helping business owners, content creators, and coaches turn their knowledge into profitable online digital products. The main business service provided by Molly and her company, Profitable Courses, is online courses. She operates a membership called the Creator Accelerator. Molly's secret sauce lies in teaching herself the desired results and then helping others achieve those results. She believes that one doesn't need years of experience or excessive profits to begin teaching others.
Her CEO hack emphasizes the importance of being in a good mood and taking care of oneself and one's mental health in business. Maintaining a consistently positive mood is crucial. Molly's CEO nugget advises entrepreneurs not to immediately create another product after finding success with the first one. Instead, she highlights the importance of continually selling and promoting the initial successful product.
For Molly, being a CEO means being a visionary who guides the company in the right direction. It involves consistently looking ahead and anticipating the market's needs. Ultimately, the success of the company depends on the CEO's leadership.
Overall, this episode offers insights from Molly Keyser, an online course creator who helps business owners turn their passion into profitable online courses. Listeners can gain valuable knowledge on creating and selling online courses, achieving results, and maintaining a positive mindset while navigating the entrepreneurial journey.
Check out our CEO Hack Buzz Newsletter–our premium newsletter with hacks and nuggets to level up your organization. Sign up 
HERE
. 

I AM CEO Handbook Volume 3
 is HERE and it's FREE. Get your copy here: 
http://cbnation.co/iamceo3
. Get the 100+ things that you can learn from 1600 business podcasts we recorded. Hear Gresh's story, learn the 16 business pillars from the podcast, find out about CBNation Architects and why you might be one and so much more. Did we mention it was FREE? Download it today!
Transcription:
The full transcription is only available to CBNation Library Members. Sign up today!
Molly Keyser Teaser 00:00
I do think that in order to be productive and successful, you need to be in like a good mood. Because in business, there are a lot of ups and there are a lot of downs and it really doesn't matter how big your company is.
In order to keep your mood good to be able to deal with, problems that arise or things that come up that aren't necessarily positive all the time, you just need to be taking care of yourself and your mental health.
Intro 00:24
Do you want to learn effective ways to build relationships, generate sales, and grow your business from successful entrepreneurs, startups, and CEOs without listening to a long, long, long interview?
If so, you've come to the right place. Gresham Harkless values your time and is ready to share with you precisely the information you're in search of.
This is the I AM CEO podcast.
Gresham Harkless 00:52
Hello, this is Gresh from the I AM CEO podcast and I appreciate you listening to this episode. If you've been listening this year, you know that we've hit 1600 episodes at the beginning of this year. We're doing something a little bit different where we're repurposing our favorite episodes around certain categories, topics, or as I like to call them business pillars that we think are going to be extremely impactful for CEOs, entrepreneurs, and business owners, just like you, what I like to call the CB nation architects who are looking to level up their organizations.
This month, we are focusing on CEO Hacks and CEO Nuggets. This is by far one of my favorite questions I asked on the show. In other words, I asked, what are the apps, books, and habits that make you more effective and efficient? Those were the CEO hacks. Then I asked for a word of wisdom or a piece of advice, or something that you might tell your younger business if you were to hop into a time machine and those were the CEO nuggets. That's what we'll focus on this month and some of the top ones that can instantly impact your business.
I love all the questions, but with every episode, I thought I would walk away with something I could look at and implement right there to save the precious resources, time, and money. Or I would also learn about the advice, tips, and tidbits or tools of the trade on how to level up our organization. So you'll hear some of these this month. So sit back and enjoy this special episode of the I AM CEO podcast.
Hello. Hello. Hello. This is from the I AM CEO podcast. I have a very special guest on the show today. I have Molly Keyser of Profitable Courses. Molly, excited to have you on the show.
Molly Keyser 02:26
Yeah. Super excited to chat with you today.
Gresham Harkless 02:29
Yes, it should be a phenomenal time. And, of course, before we jump into the interview, I want to read a little bit more about Molly so you can hear about some of the awesome things she's been working on.
As a successful professional photographer for 16 years, she turned her knowledge into a business course for other photographers. She grew that course business to $2 million per year, helping tens of thousands of business owners worldwide. She now helps business owners turn their passion into their own online courses for a stream of passive income.
Molly currently lives in New Mexico with her husband, Aaron, and a dog, Franklin, and you can often find them camping in the mountains, road tripping or around a campfire with friends. The mission of profitable Courses is to help business owners turn their passion into their own profitable Online Course for passive sales. Molly, absolutely love that. Love all the awesome things you're doing.
Are you ready to speak to the I AM CEO community?
Molly Keyser 03:19
Oh, I'm stoked. Thanks for having me.