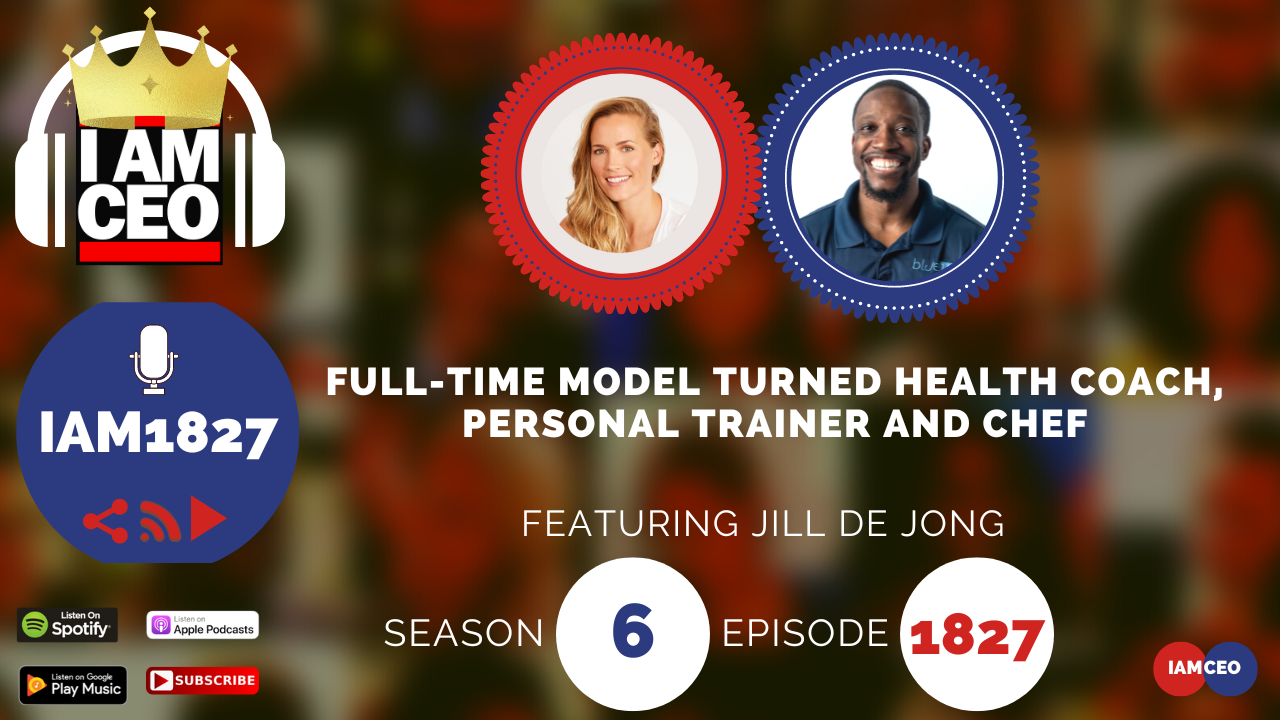 Why it was selected for "CBNation Architects":
The episode features Jill de Jong, a former model turned health coach, personal trainer, and chef.
Jill started her modeling career in Holland and later moved to the US. She spent a few years in New York and Miami before settling into Los Angeles, where she started pursuing her passion for health and wellness. Jill shares how she successfully transitioned from modeling to her current career of advocating for healthy living.
She also discusses her approach to personal and professional success, including advice for other entrepreneurs. In addition to her health coaching business,
Jill is also the author of the book "Models Do Eat: More Than 100 Recipes for Eating Your Way to a Beautiful, Healthy You".
Check out our CEO Hack Buzz Newsletter–our premium newsletter with hacks and nuggets to level up your organization. Sign up 
HERE
. 

I AM CEO Handbook Volume 3
 is HERE and it's FREE. Get your copy here: 
http://cbnation.co/iamceo3
. Get the 100+ things that you can learn from 1600 business podcasts we recorded. Hear Gresh's story, learn the 16 business pillars from the podcast, find out about CBNation Architects and why you might be one and so much more. Did we mention it was FREE? Download it today!
Transcription:
The full transcription is only available to CBNation Library Members. Sign up today!
Jill de Jong Teaser 00:00
The people that want to stay in shape and exercise, they have the best intentions. But a lot of diets, a lot of exercise programs are so intense and they are so restricting or so demanding that it's hard to keep up with.
Intro 00:12
Do you want to learn effective ways to build relationships, generate sales, and grow your business from successful entrepreneurs, startups, and CEOs without listening to a long, long, long interview?
If so, you've come to the right place. Gresham Harkless values your time and is ready to share with you precisely the information you're in search of.
This is the I AM CEO podcast.
Gresham Harkless 00:39
Hello. Hello. Hello. This is Gresh from the I AM CEO podcast and I appreciate you listening to this episode. If you've been listening this year, you know that we've hit 1600 episodes at the beginning of this year. We're doing something a little bit different where we're repurposing our favorite episodes around certain categories, topics, or as I like to call them, business pillars that we think are going to be extremely impactful for CEOs, entrepreneurs, and business owners, just like you, what I like to call the CB nation architects who are looking to level up their organizations.
This month, we are focusing on CEO Hacks and CEO Nuggets. This is by far one of my favorite questions I asked on the show. In other words, I asked what are the apps, books, and habits that make you more effective and efficient? Those were the CEO hacks. Then I asked for a word of wisdom or a piece of advice, or something that you might tell your younger business if you were to hop into a time machine and those were the CEO nuggets. That's what we'll focus on this month and some of the top ones that can instantly impact your business.
I love all the questions, but with every episode, I thought I would walk away with something I could look at and implement right there to save the precious resources, time and money. Or I would also learn about the advice, tips, and tidbits or tools of the trade on how to level up our organization. So you'll hear some of these this month. So sit back and enjoy this special episode of the I AM CEO podcast.
Hello. Hello. Hello. This is Gresh from the I AM CEO podcast and I have a very special guest on the show today. I have Jill de Jong of jilldejong.Com. Jill, it is awesome to have you on the show.
Jill de Jong 02:15
Thanks for having me, Gresh. Pleasure.
Gresham Harkless 02:17
It's a pleasure to have you on. What I wanted to do was just read a little bit more about Jill so you can hear about all the awesome things that she's been able to do and she is doing now.
Jill was born in Holland, and her successful modeling career brought her to the United States. She was based in New York for many years, explored Miami for a few years, and then fell in love with Los Angeles, where she currently resides because it's a great place to pursue her passion for health and wellness.
She made the career shift from full-time modeling to a health coach, personal trainer, and chef and has never looked back. When Jill is not working, you can find her in the kitchen cooking or outside in Malibu running, biking, surfing or stretching in a yoga class.
She recharges by spending time with her boyfriend and friends, meaningful conversations and delicious food make her heart sing. To stay motivated to exercise, she signs up for triathlons and spartan races.
Jill, are you ready to speak to the I AM CEO community?
Jill de Jong 03:11
What a great introduction. Thank you. Made me smile.