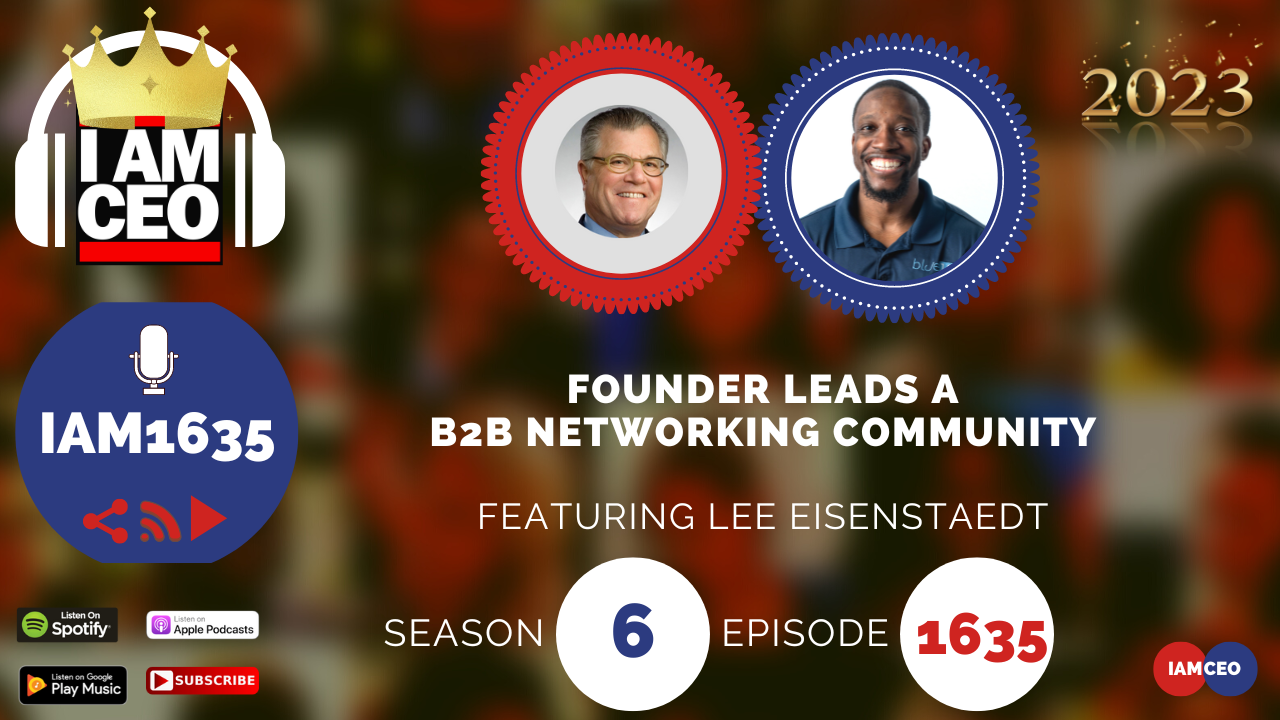 Why it was selected for "CBNation Architects": Lee hit on the idea of doing the business networking into a virtual meeting. Where the infrastructure was all designed around face-to-face. Making all business meetings possible even when in a different location or in different parts of the world.
Check out premium content in the CBNation Library at http://cbnation.co/library and pick up our eBook to hear some of the best lessons at http://cbnation.co/shop.
Previous Episode: https://iamceo.co/2021/11/12/iam1187-founder-leads-a-b2b-networking-community/
Transcription:

Lee Eisenstaedt 00:00
Someone has to come up with a vision for the organization. It'll be crafted or formed with others, but as the CEO it's up to you to lead the formation, to lead the communication. So it's all about aligning the organization with a vision.
Intro 00:19
Are you ready to hear business stories and learn effective ways to build relationships, generate sales, and level up your business from awesome CEOs, entrepreneurs, and founders, without listening to a long, long, long interview? If so, you've come to the right place. Gresh values your time and is ready to share with you the valuable info you're in search of. This is the I am CEO podcast.
Gresham Harkless 00:46
Hello, hello, hello. This is Gresh from the I am CEO podcast and we're doing something a little bit different this year with some of our episodes. We're repurposing some of our favorite episodes around specific topics related to entrepreneurship. This month we're focusing on entrepreneurship and community. Us, we, our, together, and we're gonna look at entrepreneurship and industries and different types of entrepreneurship, and ultimately what that really means. But we're also gonna delve deeper into the importance of community, networking, niche communities, and how that supports being a CEO, entrepreneur and business owner. So sit back and enjoy these special episodes around entrepreneurship and community.
Hello, hello, hello. This is Gresh from the I am CEO podcast and I have a very special guest on the show today. I have Lee Eisenstaedt said of Leading with Courage Networking. Lee, it's great to have you on the show
Lee Eisenstaedt 01:34
Thanks for having me, Gresh. Looking forward to this.
Gresham Harkless 01:36
Definitely super excited to have you on as well too, and have you back on might I say. Lee is the founder of Leading with Courage Networking, a virtual B2B networking community for trusted advisors with 10 or more years of experience. He designed LWCN which is Leading With Courage Networking on his 40-plus years of experience as a senior finance and operations executive in the US and Europe. And as a member of countless networking groups, Lee has addressed some of the larger opportunities he feels are being overlooked by most networking groups and has designed a community for who we are today and the world we're evolving into. And you can check it out even more about Lee in episode number 357. I'm super excited to be a member of this networking group as well too. Lee, are you ready to speak to the I am CEO community?
Lee Eisenstaedt 02:18
I am. I'm looking forward to it Gresh.