CBNation
I AM CEO PODCAST
IAM1683 – Award-Winning Author and Speaker Shows People How to Use Positive Thinking and Humor Through Difficult Stuff
Podcast Interview with Allen Klein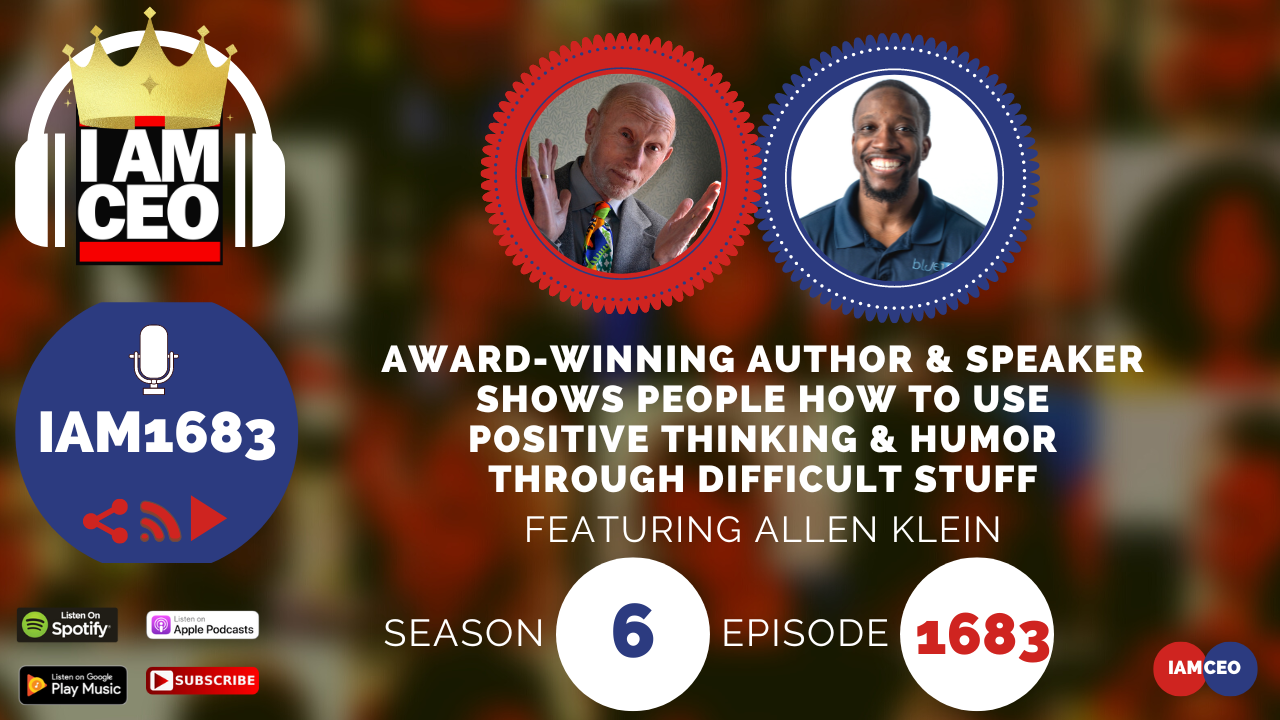 Why it was selected for "CBNation Architects": Allen understands that life is not always ideal. The difference though is he finds and uses humor as a tool to change the way that we look at things. Our circumstances aren't changing but often our perspective changes. It was also awesome to hear how he uses the "red clown nose" and how that helps change his and others' days.
Check out premium content in the CBNation Library at http://cbnation.co/library and pick up our eBook to hear some of the best lessons at http://cbnation.co/shop.
Previous Episode: https://iamceo.co/2018/11/06/iam101-award-winning-author-speaker-shows-people-how-to-use-positive-thinking-humor-through-difficult-stuff/
Transcription:

Allen Klein Teaser 00:00
Keep it light. Maybe have a feather around to remind you to keep it light because as someone once said, you're not going to get out of this world alive. And if you're not enjoying yourself, what are you doing? Why are you here? Why are you doing it? Maybe that's not what you're supposed to be doing.
So I guess three words. Keep it light.
Intro 00:23
Do you want to learn effective ways to build relationships, and generate sales? And grow your business from successful entrepreneurs, startups, and CEOs without listening to a long, long, long interview? If so, you come to the right place. Gresham Harkless values your time and is ready to share with you precisely the information you are in search of. This is the I am CEO podcast.
Gresham Harkless 00:48
Hello. Hello, this is Gresh from the I am CEO podcast and I appreciate you listening to this episode. And if you've been listening this year, we're doing something a little bit different where we're repurposing our favorite episodes under certain categories or topics that we think are gonna be extremely impactful for CEOs, entrepreneurs, and business owners.
This month is going to be about not forgetting about the human part of business. Often we forget about the human part of life. We often forget about the human part of business. So look for self-care tips, fitness, burnout, purpose, biz and personal, personal branding, motivation, drive, success, understanding your why, and of course, how important customer service is. But at the heart of it, it's all about, remembering the human part of business. So sit back and enjoy this special episode of the I am CEO podcast.
Hello, hello, hello. This is Gresh from the I am CEO podcast and I have a very special guest on the show today. I have Allen Klein of allenklein.com, and that's A L L E N K L E I N.
Allen, it's awesome to have you on the show.
Allen Klein 01:50
It's double awesome to be here.
Gresham Harkless 01:53
Perfect. Even better. So what I wanted to do was just read a little bit more about Allen so you can hear about all the awesome things that he's doing and he's been able to accomplish. And comedian Jerry Lewis has said that "Alan Klein is a noble and vital force watching over the human condition". Klein is an award-winning author and speaker who shows audiences worldwide how to use positive thinking and humor to deal with life's not-so-funny stuff.
He's a recipient of a lifetime achievement award from the Association for Applied and Therapeutic Humor. He also is a TEDx presenter and the author of 26 books, including The Healing Power of Humor, You Can't Ruin My Day and Secret Kids Know.
Alan, are you ready to speak to the I am CEO community?
Allen Klein 02:36
I am ready.