DMV CEO
I AM CEO PODCAST
IAM1663 – Wellness Coach Invites Her Clients with Empathy
Podcast Interview with Kara Simon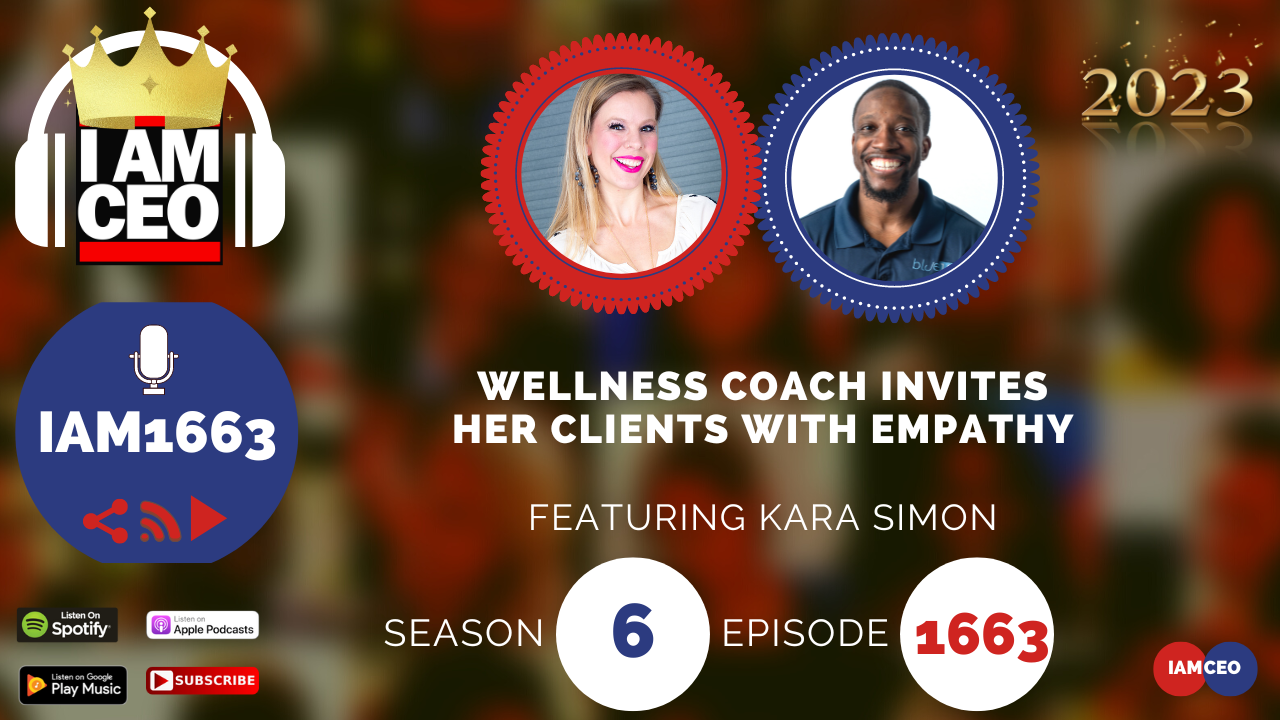 Why it was selected for "CBNation Architects": Kara has an awesome business and this was a phenomenal interview as she is able to leverage multiple modalities to help support her clients but also herself. She knew that she wanted her work to have an aspect of connection which I believe feeds us as humans.
Check out premium content in the CBNation Library at http://cbnation.co/library and pick up our eBook to hear some of the best lessons at http://cbnation.co/shop.
Previous Episode: https://iamceo.co/2022/03/02/iam1297-wellness-coach-invites-her-clients-with-empathy/
Transcription:

Kara Simon Teaser 00:00
If you can connect to a mindset that serves you and align that with your action, with your motivation, that's the key. That's the key for manifesting. That's the key for succeeding, whether that's professionally or personally in a relationship, not just with others but within yourself as well.
Intro 0:19
Do you want to learn effective ways to build relationships, generate sales, and grow your business from successful entrepreneurs, startups, and CEOs, without listening to a long, long, long interview? If so, you've come to the right place. Gresham Harkless values your time and is ready to share with you precisely the information you're in search of. This is to the I am CEO podcast.
Gresham Harkless 00:46
Hello, hello, hello. This is Gresh from the I am CEO podcast and I appreciate you listening to this episode. And if you've been listening this year, we're doing something a little bit different where we're repurposing our favorite episodes under certain categories or topics. That we think are gonna be extremely impactful for CEOs, entrepreneurs, and business owners. This month is going to be about not forgetting about the human part of business. Often we forget about the human part of life. We often forget about the human part of business. So look for self-care tips, fitness, burnout, purpose, biz and personal, personal branding, motivation, drive success, understanding your why, and of course, how important customer service is. But at the heart of it, it's all about, remembering the human part of business. So sit back and enjoy this special episode of the I am CEO podcast.
Hello, hello, hello, this is Gresh from the I am CEO podcast. I have a very special guest on the show today, I have Kara Simon of Loving Heart Holistic Wellness. Kara, super excited to have you on the show.
Kara Simon 01:44
Yeah, thanks so much, Gresham. I'm really excited to be here as well and appreciate the invite.
Gresham Harkless 01:49
Yes, absolutely. I appreciate all the awesome work that you're doing. And before we jumped into the interview, I wanted to read a little bit more about Kara so you can hear about some of that awesome work. Kara founded Loving Heart Holistic Wellness in 2016 in Bedford, Indiana. Currently located in Arlington, Virginia. Loving Heart Holistic Wellness provides mindfulness meditation, Reiki personalized yoga and weekly yoga classes, emotional freedom techniques, sound healing, and other healing services. Kara believes in compassion and sustainability and provides classes and services that are trauma-informed and accessible to all. She is passionate about promoting resilience, nourishment, and enrichment for your mind, body, and your spirit. Kara, super excited to have you on again. Are you ready to speak to the I am CEO Community?
Kara Simon 02:33
I am absolutely ready. Thank you.