I AM CEO PODCAST
IAM1664 – Speaker and Author Inspires Anyone to Embrace their True Selves and Own their Identity
Podcast Interview with Tricia Montalvo Timm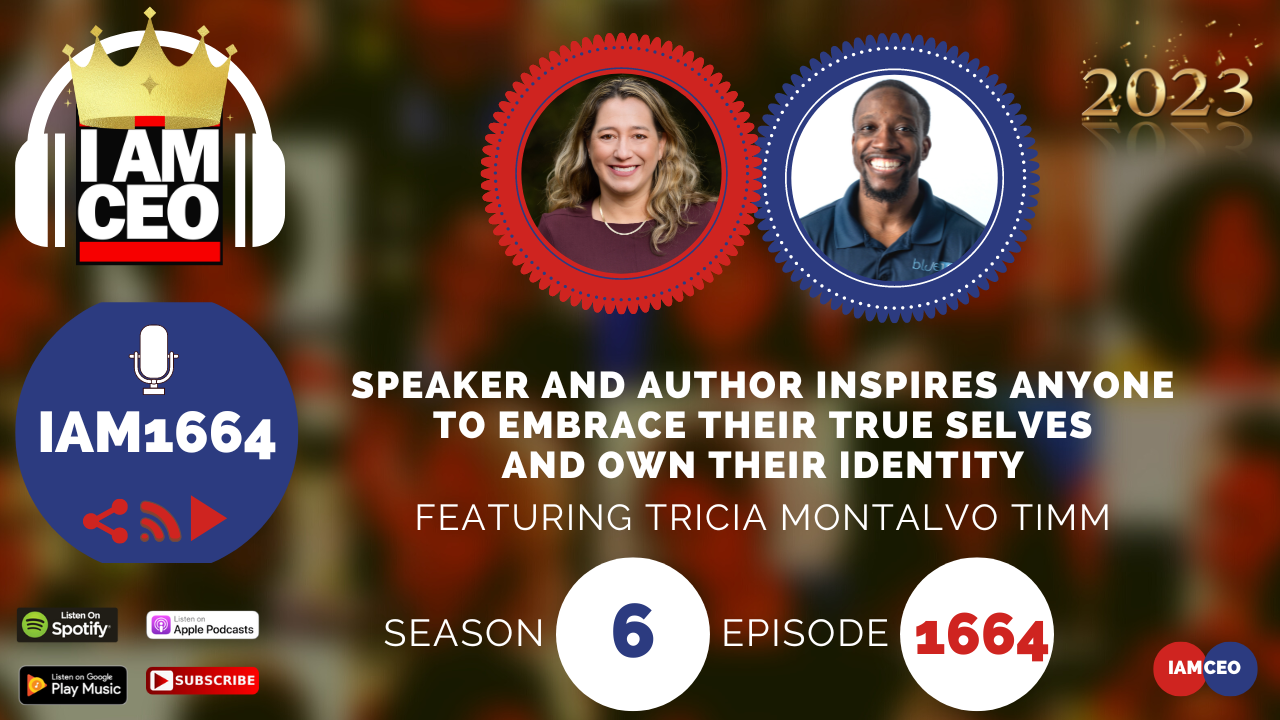 Why it was selected for "CBNation Architects": Tricia's story is so powerful not just because of her sharing it but how it echoes so much the human aspect of business and life and how people can feel like an "other" and what that means. As Tricia says, being a great leader and being human is about the person but also about the leaders and the environment to think empathetically and help create a culture environment where people can be authentic and their true selves.
Check out premium content in the CBNation Library at http://cbnation.co/library and pick up our eBook to hear some of the best lessons at http://cbnation.co/shop.
Previous Episode: https://iamceo.co/2022/12/26/iam1596-speaker-and-author-inspires-anyone-to-embrace-their-true-selves-and-own-their-identity/
Transcription:

Tricia Montalvo Timm Teaer 00:00
Really being intentional about setting boundaries knowing that you're not gonna get it all done you know, that you have on your list, and being okay with that is really a key to, you know, strategically prioritizing what does need to be done and spending the time on the right thing.
Intro 00:15
Do you want to learn effective ways to build relationships, generate sales, and grow your business from successful entrepreneurs, startups, and CEOs without listening to a long, long, long interview?
If so, you've come to the right place. Gresham Harks values your time and is ready to share with you precisely the information you're in search of. This is the I am CEO podcast.
Gresham Harkless 00:44
Hello, this is Gresh from the I am CEO podcast, and I appreciate you listening to this episode. And if you've been listening this year, we're doing something a little bit different where we're repurposing our favorite episodes under certain categories or topics that we think are gonna be extremely impactful for CEOs, entrepreneurs, and business owners.
This month is going to be about not forgetting about the human part of business. Often we forget about the human part of life. We often forget about the human part of business. So look forward, self-care tips, fitness, burnout, purpose, biz and personal, personal branding, motivation, drive success, understanding your why, and of course, how important customer service is.
But at the heart of. It's all about remembering the human part of business. So sit back and enjoy this special episode of the I am CEO podcast.
Hello, hello, hello. This is Gresh from the I am CEO podcast. I have a very special guest on the show today, I have Tricia Montalvo Timm of triciatimm.com. Tricia, it's great to have you on the show.
Tricia Montalvo Timm 01:42
Thank you, Gresham. I'm so happy to be here.
Gresham Harkless 01:44
Yes, I'm excited to have you on as well too. And of course, before we jumped into the interview, I want to read a little bit more about Tricia so you can hear about all the awesome things that she's working on.
And Tricia is a board director, venture investor, speaker, and author. She's a first-generation Latina who rose through the ranks of Silicon Valley advising high-tech companies, big and small, culminating in the sale of data analytics software company Looker to Google for $2.6 billion.
Tricia is one of the few Latinas to have attained the triple achievement of reaching the C-suite, joining the board in cracking the venture capital ceiling. Tricia's, industry recognitions include the 2020 Women of Influence and le, the Latino Business Leadership Awards from Silicon Valley Business Journal and the title, a Diversity Champion from the SVBJ Corporate Counsel Awards.
With her new book, Embrace the Power of You, she helps to inspire anyone who has ever felt like another in the workplace to embrace their true selves, and their own identity, and achieves success and fulfillment in their life and career.
Tricia, super excited to have you on the show, and even more, excited about all the awesome things you're doing. Are you ready to speak to the I am CEO community?
Tricia Montalvo Timm 02:51
I am. Thank you.