I AM CEO PODCAST
IAM1432 – Strategist and Expert Helps Develop Leaders People 'Want' to Follow
Special Podcast Interview - Podcast Interview with Halelly Azulay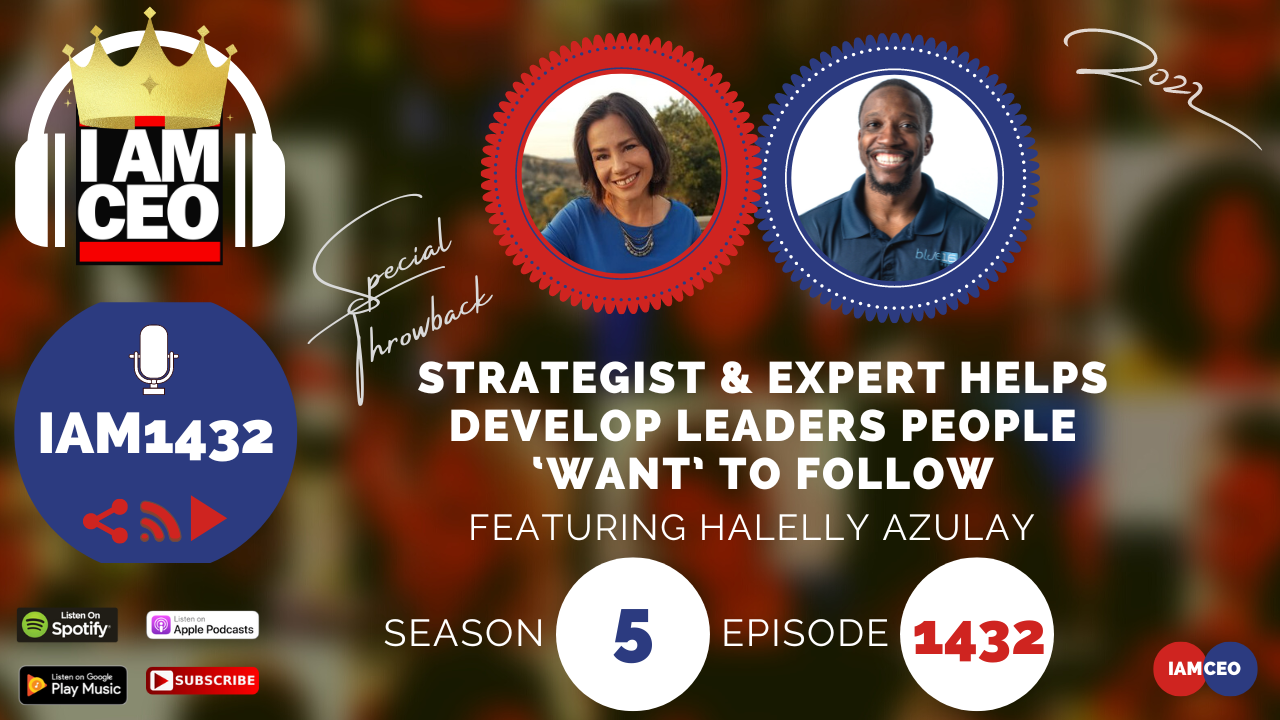 Halelly Azulay is CEO & leadership development strategist at TalentGrow LLC. An expert in leadership, communication skills, emotional intelligence, and authentic networking, Halelly develops leaders that people *want* to follow. She is the author of two books, Employee Development on a Shoestring and Strength to Strength. She offers actionable leadership insights and advice as a sought-after speaker and workshop leader as well as on her blog and her leadership podcast, the TalentGrow Show.
CEO Story: Halelly started as an employee while forming her credentials though at some point she kept on thinking of having her own business. One day, a forming pattern that led her to a final concrete decision of leaving the job and starting her own business was when her integrity was compromised. For Halelly, integrity is the most important, and that led her to her final decision to leave the job and start her own business journey.
Business Service: Developing leaders that people want to follow. Help organizations have a strategic program for their leaders.
Secret Sauce: Customised solution, tailored fit for each client or organization.
CEO Hack: Having a small army (e.g. 

virtual assistant

) of people to delegate tasks to.
CEO Nugget: Your network is your net worth. Also, look to connect with people that can mentor you. Go forward and stick with it. Get help if you're struggling. Book mentioned: 

Jab, jab, jab right hook by Gary Vaynerchuk

.
CEO Defined: Visionary and someone that executes on that vision, make an impact on the world and shape the world the way you want to.
Website: http://www.talentgrow.com
Free Offer from Halelly – 10 Ways to Become a More Engaging Communicator: talentgrow.com/iamceo
Twitter: http://www.twitter.com/HalellyAzulay
Facebook: http://www.facebook.com/HalellyAzulay 
Business Facebook Page: http://www.facebook.com/TalentGrowLLC 
Podcast Facebook page: http://www.facebook.com/TalentGrowShow 
LinkedIn: https://www.linkedin.com/in/talentgrow
YouTube: http://www.youtube.com/talentgrow
Instagram: http://www.instagram.com/Halelly and http://www.instagram.com/TalentGrowShow
Books: https://amzn.to/2CGYY7O and http://www.talentgrow.com/shop
Episode Link: https://iamceo.co/2018/10/16/iam086-strategist-expert-helps-develop-leaders-people-want-to-follow/
---
Check out one of our favorite CEO Hack's Audible. Get your free audiobook and check out more of our favorite CEO Hacks HERE