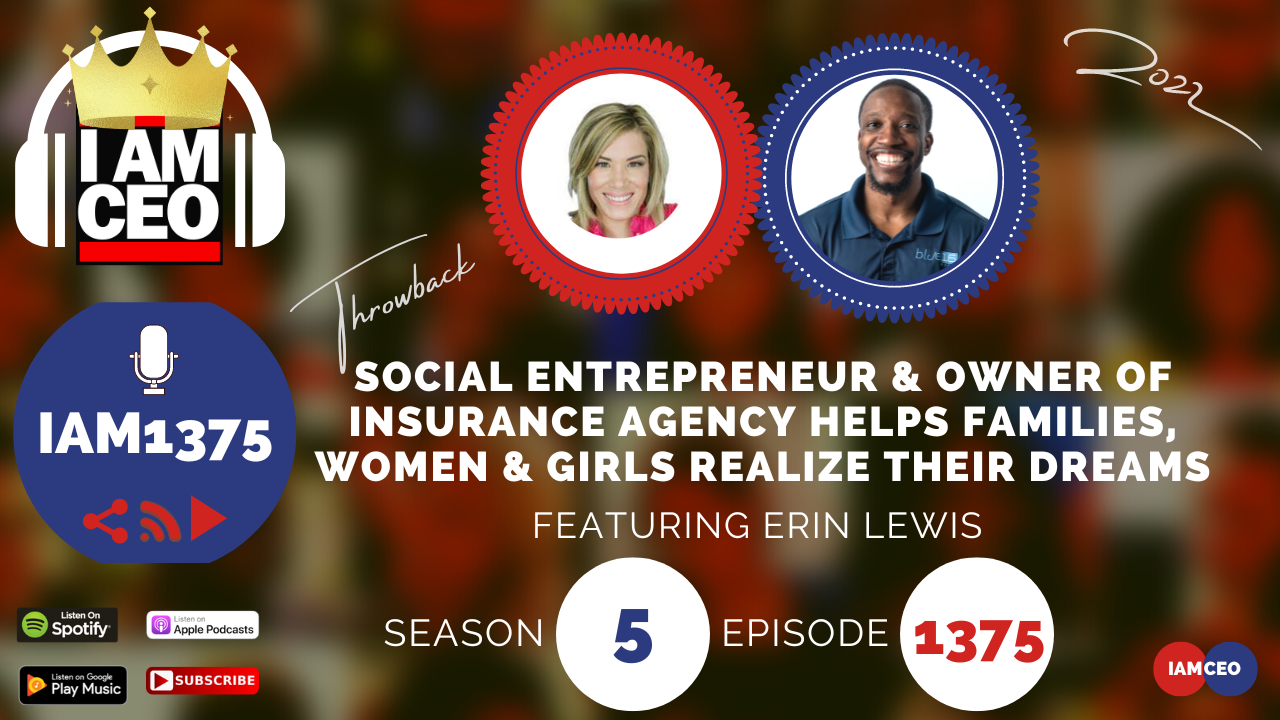 Erin Lewis is the owner and risk advisor at one of the fastest-growing personal lines insurance agencies in the country – Goosehead Insurance. She and her team help families protect and realize their dreams by utilizing unbiased risk management expertise to provide the right insurance coverage at a fair price. She is the Founder of The Dream Queen Association & Foundation – an organization dedicated to creating a world where all women and girls have the knowledge and support they need to step into positions of leadership and bring their whole selves to impacting the world, making it a more positive, peaceful, and joyful place to live. Erin currently serves as a Maryland Governor-appointed Commissioner for the Governor's Office on Service & Volunteerism and Steering Committee Member for the Million Women Mentor Maryland Initiative. Erin has been awarded the Business Leadership Woman of Impact Award from the Southern Maryland Women's League and the Lifetime Legacy Leader Award from the Carolyn E Parker Foundation. Erin received her BA in Economics & Political Science from St. Mary's College of Maryland. She is most proud to be the mom of an energetic, strong-willed 5-year-old daughter, wife to her husband of 6 years, and step-mom to two athletic boys.
CEO Story: Erin started working in a state farm agency for 18 years and then started to branch out to her own independent insurance agency which gave her so many opportunities on helping people's assets and income at the same time a lucrative career helping a lot of people.
Business Service: Right coverage at a fair price. Shop at 30 different carriers finding which best suits the client.
Secret Sauce: Culture. Winning attitude, ability to create a winning culture.
CEO Hack:

Books

: 

Extreme Ownership

, 

E-Myth

 and have the right People Processes and Systems
CEO Nugget: Quote – "Here's to the crazy ones. The misfits. The rebels. The troublemakers. The round pegs in the square holes. The ones who see things differently. They're not fond of rules. And they have no respect for the status quo. You can quote them, disagree with them, glorify or vilify them. About the only thing you can't do is ignore them. Because they change things. They push the human race forward. And while some may see them as the crazy ones, we see genius. Because the people who are crazy enough to think they can change the world, are the ones who do."
CEO Defined: Having vision, leading from the heart, and making a difference in whatever it is that you do.
Website: http://WeProtectYourDreams.com
FREE "Dreams Transform Manifesto" by joining The Dream Queen Association @ YourDreamQueen.com
Facebook – dreamqueenassociation
Twitter – thedreamqueens
Instagram –dreamqueenassociation
LinkedIn – www.linkedin.com/in/erinllewis
Throwback Link: https://iamceo.co/2018/09/10/061-social-entrepreneur-owner-of-insurance-agency-helps-families-women-girls-realize-their-dreams
---
Check out one of our favorite CEO Hack's Audible. Get your free audiobook and check out more of our favorite CEO Hacks HERE