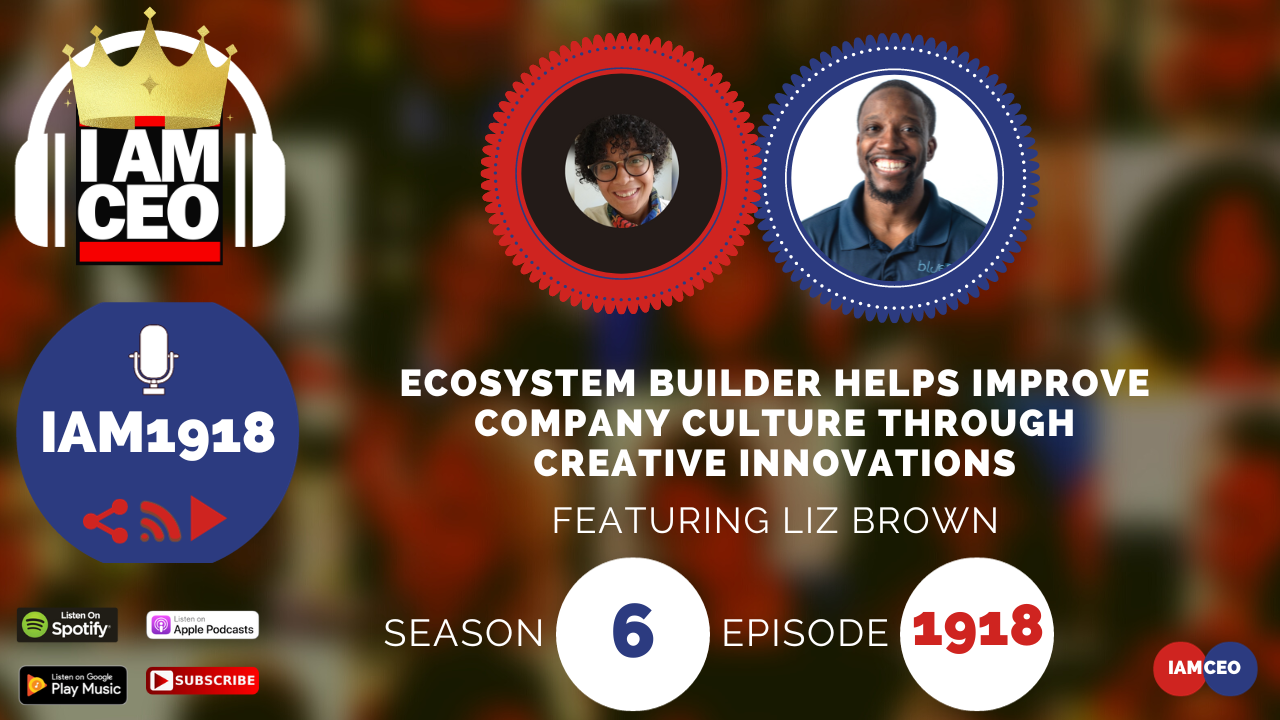 Why it was selected for "CBNation Architects":
In this episode, the guest speaker is Liz Brown, the co-founder of BCKG.
Key Points:
BCKG: BCKG is an agency focused on design thinking, innovation, and technology. They partner with clients from concept creation to the implementation of innovative ecosystems, digital solutions, and brand experiences.
About Liz Brown: With a deep understanding of the importance of company culture and innovation, Liz helps companies improve their cultures through creative innovation. The particular methodologies and tools she uses were not explicit from the scraped content.
CEO Hack: To stay focused and organized, Liz schedules tasks and remains committed to being highly organized.
CEO Nugget: Liz believes it's okay to ask for help. Seeking assistance when required can lead to better outcomes.
CEO Defined: Liz sees a good CEO as an active listener, someone who can see the big picture, and aids people in being their best selves.
Check out our CEO Hack Buzz Newsletter–our premium newsletter with hacks and nuggets to level up your organization. Sign up 
HERE
. 

I AM CEO Handbook Volume 3
 is HERE and it's FREE. Get your copy here: 
http://cbnation.co/iamceo3
. Get the 100+ things that you can learn from 1600 business podcasts we recorded. Hear Gresh's story, learn the 16 business pillars from the podcast, find out about CBNation Architects and why you might be one and so much more. Did we mention it was FREE? Download it today!
Transcription:
The full transcription is only available to CBNation Library Members. Sign up today!
Liz Brown Teaser 00:00
And what we did was we wanted to see what does the community need our help with and how can we build those solutions because we're also civic hackers.
So we're continuing that journey now where my experience working in nonprofits, the city of Philadelphia, being an urban planner and being a technologist, I'm trying to pull all of it together because there's a lot of fractured ecosystems in every city.
Intro 00:24
Do you want to learn effective ways to build relationships, generate sales, and grow your business from successful entrepreneurs, startups, and CEOs without listening to a long, long, long interview?
If so, you've come to the right place. Gresham Harkless values your time and is ready to share with you precisely the information you're in search of.
This is the IAMCEO podcast.
Gresham Harkless 00:49
Hello. Hello. Hello. This is Gresh from the IAMCEO podcast and I appreciate you listening to this episode. If you've been listening this year, you know that we hit 1600 episodes at the beginning of this year. We're doing something a little bit different where we're repurposing our favorite episodes around certain categories, topics, or as I like to call them business pillars that we think are going to be extremely impactful for CEOs, entrepreneurs, and business owners, Or what I like to call CB nation architects who are looking to level up their organizations.
This month, we are focused on innovation, disruption, women entrepreneurship, DEI, gig economy, remote economy, even the cannabis industry. Think about these industries and these disruptive technologies that really sometimes aren't as disruptive, but there are people that are just paying attention to what the market needs and they're providing that. So really think about the things that are quote and quote outside of the norm, but really help entrepreneurship to grow and fully develop.
I think it's an extremely exciting time when you're talking about any type of innovation or disruption, because I think that there are so many opportunities and needs that aren't felt that are starting to be filled by different groups, different organizations, or even different industries. So what I want you to do is sit back and enjoy this special episode of the IAMCEO podcast.
Hello, hello, hello. This is Gresh from the IAMCEO podcast, and I have a special guest on the show today. I have Liz Brown of BCKG, and I can make sure I got that right. Awesome. Awesome. Liz, it's awesome to have you on the show.
Liz Brown 02:15
Thank you. Awesome to be here.
Gresham Harkless 02:17
No problem. And what I want to do is just read a little bit more about BCKG so you can hear about All the awesome things that they're doing.
BCKG is an agency focused on design thinking, innovation, and technology. They work with their partners from concept to creation of innovative ecosystems, digital solutions, and brand experiences.
Liz, I appreciate your time. Could you tell us a little bit more about what I call like your CEO story and what led you to start your business?