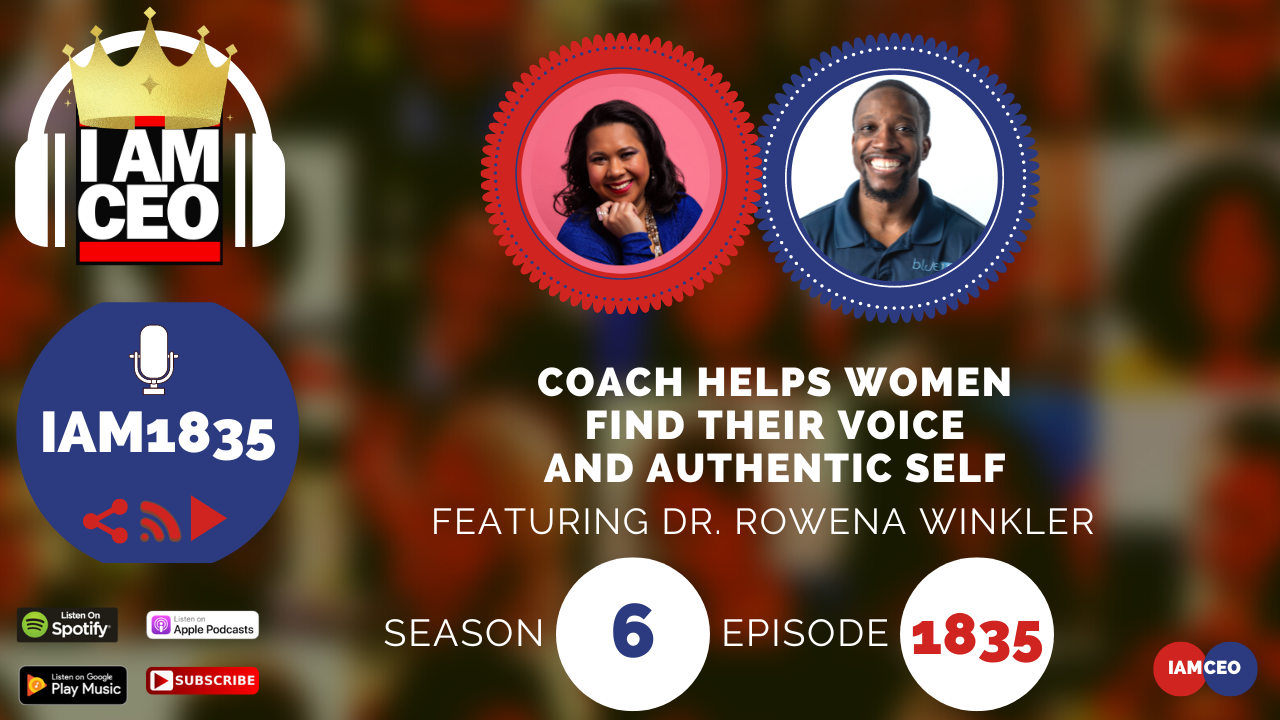 Why it was selected for "CBNation Architects":
In this episode of the I AM CEO Podcast, host Gresham Harkless interviews Dr. Rowena Winkler, a coach who helps women find their voice and embrace their authentic selves. Dr. Winkler combines spiritual tools and practical strategies to guide women towards self-love, confidence-building, getting unstuck, and making positive changes in their lives. With over 15 years of experience in marketing and strategic communication, she also works as a higher education consultant and instructor.
During the episode, Dr. Winkler shares her CEO story, which began after a personal tragedy involving her father. This event prompted her to step outside of her comfort zone, leave the teaching academy, and explore her skills in marketing and communications. After giving birth to her baby in March 2020, she finally launched her coaching business.
Dr. Winkler's coaching services focus on one-on-one mentorship and tapping into the client's inner wisdom and intuition. She also incorporates astrology, human design, and holistic practices into her framework, providing a unique and integrated approach.
As a CEO hack, Dr. Winkler highlights the power of using astrology and moon phases to plan and build a business successfully. Her CEO nugget of wisdom emphasizes the importance of trusting oneself and embracing authentic self-expression while allowing room for experimentation and refinement.
Dr. Winkler defines being a CEO as having the freedom and space to express one's authenticity while serving and helping others. She mentions her website, rowenawinkler.com, and provides her social media handles on Instagram, LinkedIn, Facebook, and TikTok for listeners interested in learning more about her coaching services.
Overall, this episode offers valuable insights and inspiration from Dr. Rowena Winkler, a coach dedicated to helping women find their voice and embrace their authentic selves. Listeners can gain practical strategies and learn how to incorporate intuition and self-knowledge into their entrepreneurial journey.
Check out our CEO Hack Buzz Newsletter–our premium newsletter with hacks and nuggets to level up your organization. Sign up 
HERE
. 

I AM CEO Handbook Volume 3
 is HERE and it's FREE. Get your copy here: 
http://cbnation.co/iamceo3
. Get the 100+ things that you can learn from 1600 business podcasts we recorded. Hear Gresh's story, learn the 16 business pillars from the podcast, find out about CBNation Architects and why you might be one and so much more. Did we mention it was FREE? Download it today!
Transcription:
The full transcription is only available to CBNation Library Members. Sign up today!
Dr. Rowena Winkler 00:00
We know what's best for us because if we're showing up using the best practices or trying to copy what someone else has done, it's going to come off as contrived and it's not going to attract the ideal clients for you.
You're not going to have the business that you are dreaming of by not being your authentic self. So stop it with the shoulds, get rid of that perfectionism.
Intro 00:24
Do you want to learn effective ways to build relationships, generate sales, and grow your business from successful entrepreneurs, startups, and CEOs without listening to a long, long, long interview?
If so, you've come to the right place. Gresham Harkless values your time and is ready to share with you precisely the information you're in search of.
This is the I AM CEO podcast.
Gresham Harkless 00:51
Hello. Hello. Hello. This is Gresh from the I AM CEO podcast and I appreciate you listening to this episode. If you've been listening this year, you know that we've hit 1600 episodes at the beginning of this year. We're doing something a little bit different. Where we're repurposing our favorite episodes around certain categories, topics, or as I like to call them, business pillars that we think are going to be extremely impactful for CEOs, entrepreneurs, and business owners, just like you, what I like to call the CB nation architects who are looking to level up their organizations.
This month we are focusing on CEO Hacks and CEO Nuggets. This is by far one of my favorite questions I asked on the show. In other words, I asked, what are the apps, books, and habits that makes you more effective and efficient. Those were the CEO hacks. Then I asked for a word of wisdom or a piece of advice or something that you might tell your younger business self if you were to hop into a time machine. And those were the CEO nuggets. That's what we'll focus on this month is some of the top ones that can instantly impact your business.
I love all the questions, but with every episode I thought I would walk away with something I could look at and implement right there to save the precious resources, time and money. Or I would also learn about the advice, tips and tidbits or tools of the trade on how to level up our organization. So you'll hear some of these this month. So sit back and enjoy this special episode of the I AM CEO podcast.
Hello. Hello. Hello. This is Gresh from the I AM CEO podcast. I have a very special guest on the show today I have Dr. Rowena Winkler of rowenawinkler.com. Dr. Rowena, it's great to have you on the show.
Dr. Rowena Winkler 02:27
It's great to be here, Gresh, thank you so much for having me.
Gresham Harkless 02:31
Yes. Super excited to have you on and talk about all the awesome things that you're doing. Of course, before we do that, I want to read a little bit more about Dr. Rowena so you can hear about some of those awesome things.
Dr. Rowena helps women find their voice and come back to their divine authenticity by using a combination of spiritual tools and practical strategies. Her mentoring approach encourages women to tap into self-love, build confidence, get unstuck, and make a change. She's  a marketing professional with over 15 years of experience and is also a higher ed consultant and instructor who develops and teaches courses in strategic communication and writing.
Dr. Rowena, super excited again to have you on the show. Are you ready to speak to the I AM CEO community?
Dr. Rowena Winkler 03:09
Oh, I am so ready. Let's go.