I AM CEO PODCAST
IAM1612 – Branding Expert Helps Entrepreneurs Succeed with Strong Brand Strategy
Podcast Interview with Molly Bossardt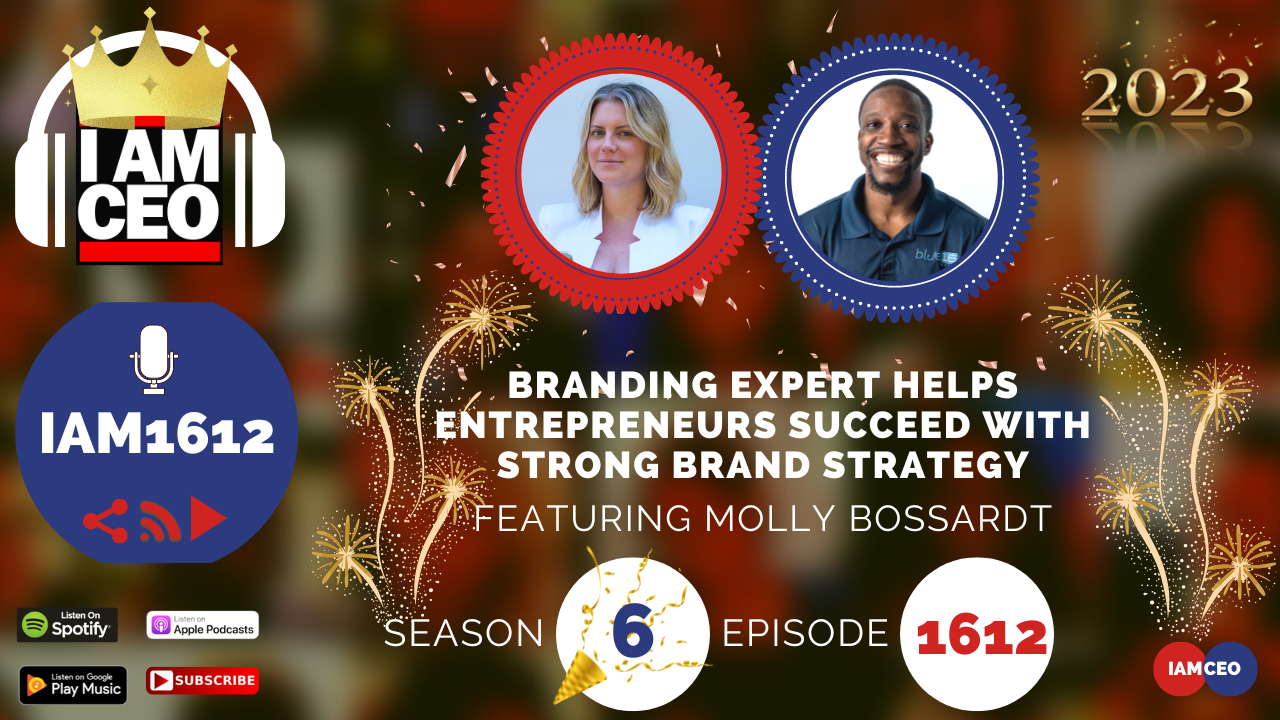 Why it was selected: Molly has a great pulse on understanding how branding goes hand in hand with alignment, authenticity and also your "why." It was also great to hear about her journey (and her father's business) and how she has built the business during the pandemic–her "pandemic baby" and continues to think of new ways she can help support her ideal clients.
Check out premium content in the CBNation Library at http://cbnation.co/library and pick up our eBook to hear some of the best lessons at http://cbnation.co/shop
Previous Episode:
https://iamceo.co/2022/10/10/iam1519-branding-expert-helps-entrepreneurs-succeed-with-strong-brand-strategy/
Transcription:

Molly Bossardt Teaser 0:00
Business owner gets really hard right like there are challenging periods. If you can't come back to yourself and remind yourself of the why, you get lost and you start to ponder, you start to lose sight of your goal what you bring and you start to become inauthentic. You have to continually remind yourself to be authentic as a business and as a business owner and play to your strengths.
Intro 0:27
Do you want to learn effective ways to build relationships generate sales and grow your business from successful entrepreneurs startups and CEOs without listening to a long long long interview if so you've come to the right place Gresham Harkless values your time and is ready to share with you precisely the information you're in search of this is the I am CEO podcast.
Gresham Harkless 0:54
Hello hello hello this is Gresh from the I am CEO podcast, I have a very special guest on my show today. I have Molly Bossardt of bread and butter digital marketing. Molly, super excited to have you on the show.
Molly Bossardt  1:04
Hi, I'm excited to be here.
Gresham Harkless 1:06
Yes, excited to talk about all the awesome things that you're doing and of course, before we jump into that I want to read a little bit more about Molly so you can hear about some of those awesome things. Molly is the founder and CEO of bread and butter digital marketing, a branding and marketing agency based in Charlottesville Virginia. She has over nine years of experience in education in New York City and London working in sales marketing and customer success. She combines her background in the Arts including a master's in arts from Sotheby's Institute of Art with her startup marketing skills to help Brands succeed by creating on-brand content and effective marketing strategies. She's passionate about creating authentic high-quality visual content that turns onlookers into brand Advocates. Molly has a passion for wine, travel and photography and that she leverages in both her personal and professional lives. Molly, super excited to have you on the show again. Are you ready to speak to the I am CEO community?
Molly Bossardt  1:59
Yeah definitely