I AM CEO PODCAST
IAM1613 – CEO Provides Strategy and Solutions to Businesses
Podcast Interview with Amanda Russo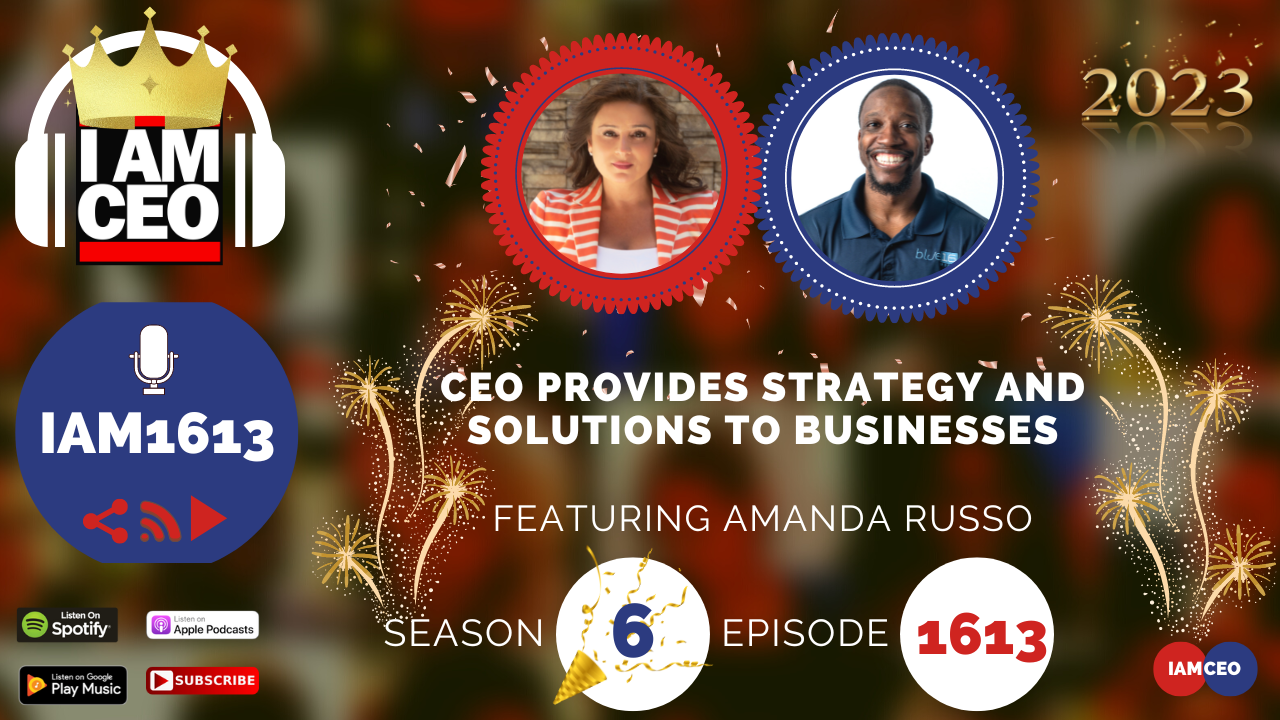 Why it was selected for "CBNation Architects": Amanda and her team have so much knowledge and experience but I think what was so impactful was hearing about how she approaches helping to support clients. The strategy and space she helps to create for clients allow businesses and leaders to make a bigger impact. I love that their phrase is "It doesn't have to be this way."
Check out premium content in the CBNation Library at http://cbnation.co/library and pick up our eBook to hear some of the best lessons at http://cbnation.co/shop
Previous Episode:
https://iamceo.co/2022/07/27/iam1444-ceo-provides-strategy-and-solutions-to-businesses/
Transcription:

Amanda Russo Teaser 0:00
There is no other way to solve business problems unless you understand the current state and I mean really fully in detail at a very almost elementary level understand the current state. What my team and I do is we capture the current state and put it up on a process map, it is very very granular and that is deliberately done.
Intro 0:22
Do you want to learn effective ways to build relationships generate sales and grow your business from successful entrepreneurs startups and CEOs without listening to a long long long interview if so you've come to the right place Gresham Harkless values your time and is ready to share with you precisely the information you're in search of this is the I am CEO podcast.
Gresham Harkless 0:49
Hello, hello, hello, this is Gresh from the I am CEO podcast. I have a very special guest, I have Amanda Russo of Cornerstone Paradigm Consulting LLC. Amanda, super excited to have you on the show.
Amanda Russo  1:00
Thanks so much for having me Gresh.
Gresham Harkless 1:02
Yes excited to have you on and talk about all the awesome things that you're doing and of course before we do that I want to read a little bit more about Amanda so you can hear about some of those awesome things. As CEO and founder of Cornerstone Paradigm Consulting LLC, Amanda empowers companies to dream bigger by fixing what isn't working so that they can make room for larger and better things. It is gratifying to her to be the go-to professional they come to for advice. Her company focuses on end-to-end business operations, they concentrate on the people, the processes, technology and the customer experience. She provides business advice strategy solutions and solutions to scale your business. Amanda, again excited to have you on the show, are you ready to speak to the I am CEO community?
Amanda Russo 1:44
I so am. Thanks so much, appreciate it.