Healthy CEO
I AM CEO PODCAST
PodCEO
IAM1528 – COO and Author Helps Organizations Create and Maintain Thriving Organizational Culture
Podcast Interview with Kerry Wekelo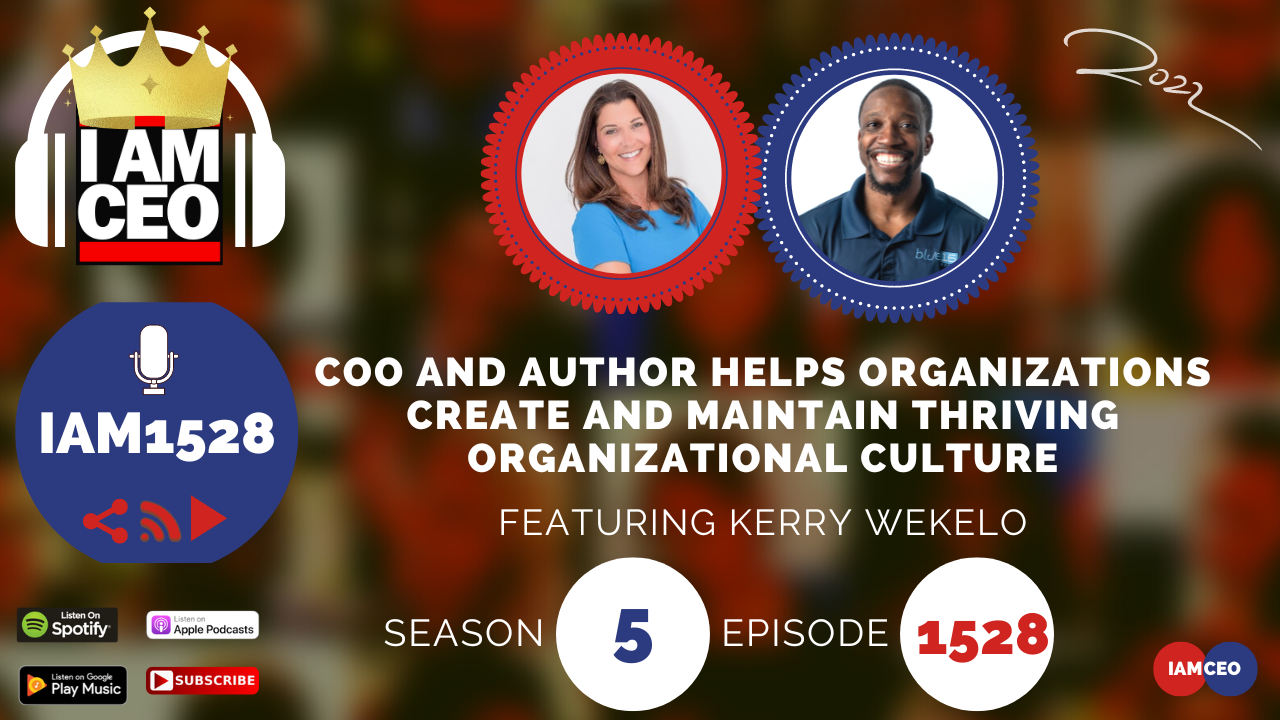 KERRY WEKELO is the Chief Operating Officer at Actualize Consulting, a financial services firm. Her book and program, Culture Infusion: 9 Principles for Creating and Maintaining a Thriving Organizational Culture and latest book Gratitude Infusion, are the impetus behind Actualize Consulting being named Top Company Culture by Entrepreneur Magazine, a Top Workplace by The Washington Post, FORTUNE Best Small & Medium Workplaces TM, and Best and Brightest ELITE National Winner in Strategic Company Performance category. In her leadership, Kerry blends her experiences as a consultant, executive coach, award-winning author, mindfulness expert, and entrepreneur. Kerry received the 2021 Women with Vision Award and has been featured on ABC, NBC, NPR, The New York Times, Thrive Global, SHRM, Inc., and Forbes.
CEO Story: Kerry started her career in Consulting. In terms of leadership, putting people first as your focus is the best way. Then they will take care of your clients well.
Business Service: Creating and maintaining a thriving organizational culture. Life work balance.
Secret Sauce: Looking at people from a holistic perspective. Being able to help people shine. Meeting people where they are.
CEO Hack: Make sure to take time what you enjoy. Take care and nurture yourself.
CEO Nugget: 3P's method: Pause (Challenging situation, find what you can be grateful for), Pivot, Positive – resolution, lesson learned.
CEO Defined: Providing an organization where people want to show up every day and feel supported, they can feel they can grow in and safe place, and feel good.
Website: www.actualizeconsulting.com
LinkedIn: kerryelam
Twitter: kerrywekelo
Instagram: kerrywekelo
YouTube: KWekeloYouTube
Gratitude Infusion: https://www.actualizeconsulting.com/gratitude-infusion.html
Culture Infusion:
https://www.actualizeconsulting.com/culture-infusion.html
Interactive Sessions: https://www.actualizeconsulting.com/interactive-sessions.html
---
Check out one of our favorite CEO Hack's Audible. Get your free audiobook and check out more of our favorite CEO Hacks HERE