I AM CEO PODCAST
IAM1520 – Philanthropist Helps Businesses and Organisations Impact the Community
Podcast Interview with Brandon Parkes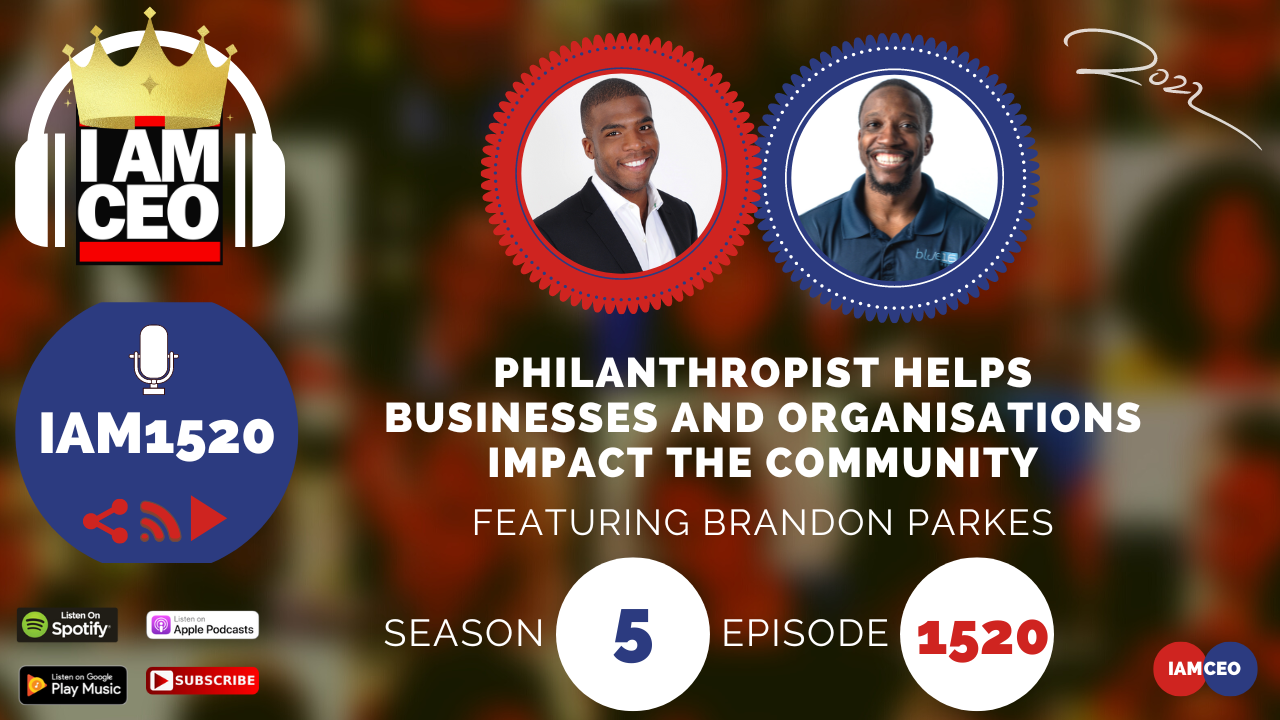 Brandon is the CEO and Founder of Parkes Philanthropy, a social impact consulting firm, managing over 90+ years of collective experience. Parkes Philanthropy is dedicated to equip the non-profits, corporations and individuals with the ideas and resources and support they need to positively impact the world.
He previously served as a Senior Consultant for Bridge Philanthropic Consulting LLC, nations largest African-American fundraising firm. Prior, he was the Nonprofit Engagement Manager at CariClub, an AI tech company that connects young professionals to leadership roles on nonprofit boards.
He has formerly worked in a corporate philanthropic capacity for companies such as Morgan Stanley and Toyota.
Through these professional titles, he gained experience supporting effective philanthropic strategy that increases social impact, external/internal engagement and nonprofit capacity building. He was humbled to be named one of CauseArtists's "20 Inspiring African Americans Impacting the World Through Social Impact & Social Innovation," named one of Startup Boost's NYC 33 under 33, and has been featured in several publications such as Black Enterprise, Blavity, Nonprofit Technology News, and Blacks in Technology. It's Brandon's passion to empower any constituent looking to make a positive social impact on the world.
CEO Story: Brandon has always been a catalyst for change for the better world since he was still in his high school days, whether it's a fundraising activity or advocacies. He always believed that entrepreneurship is the pathway to creating generational wealth. Throughout his professional career, he has developed a mentality that the future of entrepreneurship was an evolution of business, and the impact was completely intertwined. When the pandemic hit, so many non-profit organizations were helping the most at-risk areas that didn't have the resources they needed. While many companies who wanted to engage and help the community but didn't have the strategy and didn't know who to support and that is where Brandon's philanthropic idea was born.
Business Service: Helping non-profit organizations with fundraising, strategy, and recruitment. To small businesses, help implement strategic initiatives that address critical social challenges while achieving business objectives. Completely customized for each client's needs.
Secret Sauce: A diverse roster of talented consultants, who demonstrated the commitment and ability to create change.
CEO Hack: Your network correlates with your net worth. Book mention: The Referrable Lifetime – creates a framework of systematic way of generating a steady stream of new business through consistent and qualified referrals. Building authentic and trusting relationships rather than making a sale.
CEO Nugget: Lean on to mentors. Identifying individuals who you look up to professionally. Learning the steps before they reach where they are. Build relationships and ask for advice.
CEO Defined: Jack of all trades the master of none, so dynamic and multi-faceted. Wearing different hats from strategy, operations, and team building, leadership to product design and everything. To have a diverse skillset and mentality to really be successful.
Website: parkesphilanthropy.com
---
Check out one of our favorite CEO Hack's Audible. Get your free audiobook and check out more of our favorite CEO Hacks HERE