I AM CEO PODCAST
IAM1445 – Coach Helps Executives and Employees Elevate Performance and Productivity
Podcast Interview with Rod McDermott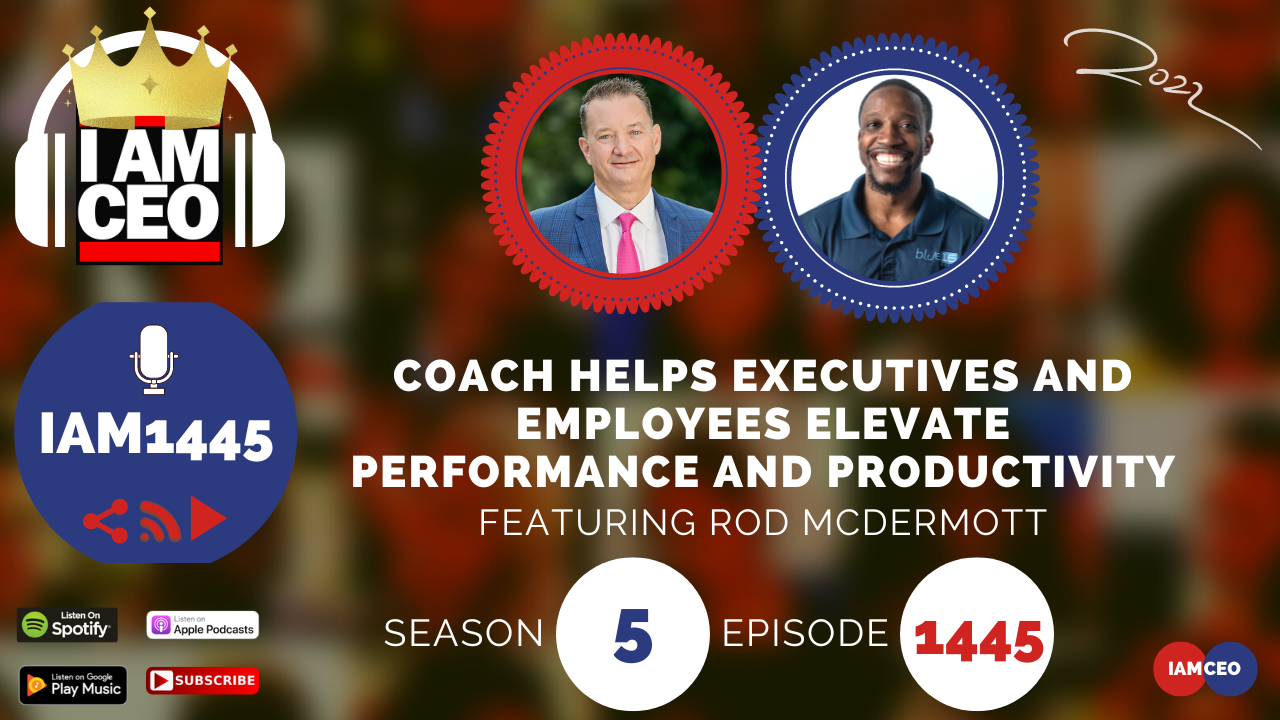 Rod McDermott is the CEO + Co-Founder of Activate 180, which helps companies elevate employee performance, productivity, and happiness through affordable coaching for all; the CEO + Co-Founder of McDermott + Bull, one of the fastest-growing executive search firms in North America with offices domestically and internationally; the President + CEO of M+B Interim Leaders, which he founded along with Angela Anderson in 2011 to address an increased client need for time-sensitive solutions to important leadership challenges; and the Founder of the M+B Executive Network, a community of in-transition senior-level executives seeking guidance to land their next role, serving over 10,000 members since inception.
Rod has been an entrepreneur for over 20 years, growing companies from the ground up and challenging industry norms. His ultimate goal is to meaningfully contribute to the greater good, which is showcased through his passion for hard work, fostering relationships, and conceptualizing solutions for professional development.
Rod resides in Laguna Niguel, California, with his wife Laura, their four children, and three dogs. He is a multi-thousand-hour turbine aircraft pilot and flies his CJ2 Jet for business and for his other passions, which include philanthropy, skiing, and traveling. Rod received a bachelor's degree in economics and business from the University of California, Los Angeles.
CEO Story: Rod started at a very young age at 13 doing weeding and gardening, business cards, then working with banks. Deep down he knew he wanted to have his own business. And now it's over 21 years and has kept growing and expanding International like Canada and Europe.
Business Service: Coaching Executives and down to the rank & file position.
Secret Sauce: Coachable, open to listening, growth-minded to your coach.
CEO Hack: Clearing conversations and making sure people are heard. Sometimes you need to move slower. Failure is the best teacher.
CEO Nugget: My ego is not my amigo. If you want to scale your business, you can no longer be the superstar. Your job has to be the star maker.
CEO Defined: Having an obligation to what people want in their lives and what role you play.
Website: activate180.com , info@activate180.com
Linkedin: activate-180 , rodmcdermott
Instagram: activate180
Facebook: Activate180
---
Check out one of our favorite CEO Hack's Audible. Get your free audiobook and check out more of our favorite CEO Hacks HERE