Health
I AM CEO PODCAST
IAM1272 – Relationships Coach Helps People Better Understand Themselves
Podcast Interview with Dr. Vicki Matthews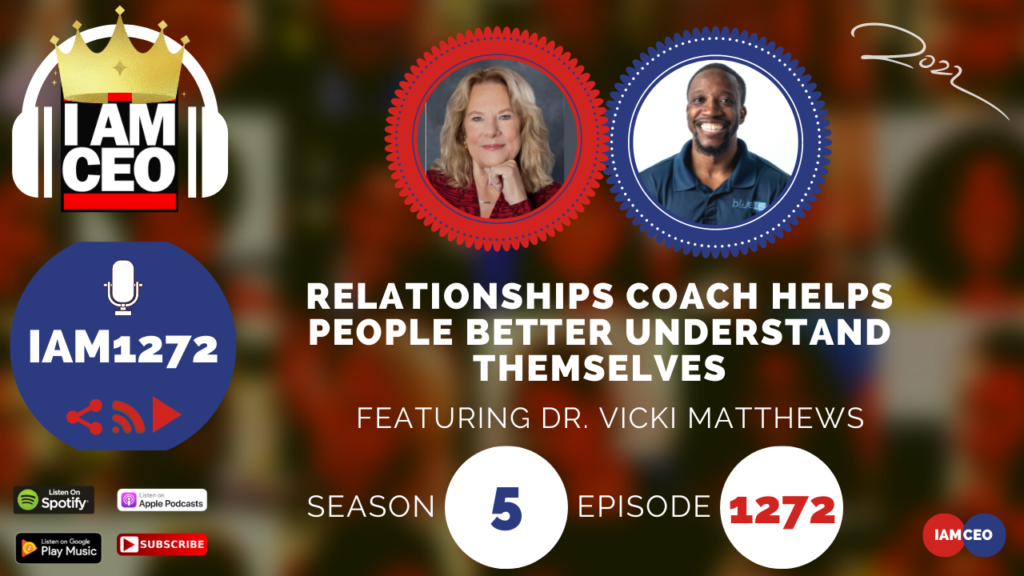 Dr. Vicki Matthews is a naturopathic physician and relationship coach. In addition to her Naturopathy degree, Vicki also has a BA in Psychology and an MBA in Consumer Behavior from the University of Chicago. Vicki is passionate about helping people improve their relationships and has pioneered a system that makes it easier to get along with anybody, anytime, anyplace. This system also helps us better understand ourselves, which is arguably the most important relationship we will ever have!
CEO Story: Dr. Vicki's passion is in the physical, emotional, and mental health of a person, she took Naturopathy. Combined with Psychology and Consumer Behaviour making her the expert in her field. Her mission is to understand the Elements of every Person.
Business Service: Help improve relationships through their behavior, how they interact with other people.
Secret Sauce: The ability to understand and interact with a different personality.

5 Personality Elements: Water (humble but thinkers), Wood (accomplishment driven), Fire (Outgoing), Earth (balance), Metal (wise)

CEO Hack: Understand yourself and what elements of personalities are the people working for you. And understand how those relate.
CEO Nugget: Using the elements of personality to hire the right person for the position role you are searching for.
CEO Defined: Taking responsibility and being the guiding light for everything that happens. Setting a good role model. Attracting the right people and helping them grow.
Website: www.vickimatthews.com
Facebook: vickimatthewsnd
Free booklet: www.GetAlongNow.com
---
Check out one of our favorite CEO Hack's Audible. Get your free audiobook and check out more of our favorite CEO Hacks HERE