I AM CEO PODCAST
PodCEO
IAM1214 – Founder Helps Her Clients on How to Strengthen Communications and Leadership
Podcast Interview with Marie Gettel-Gilmartin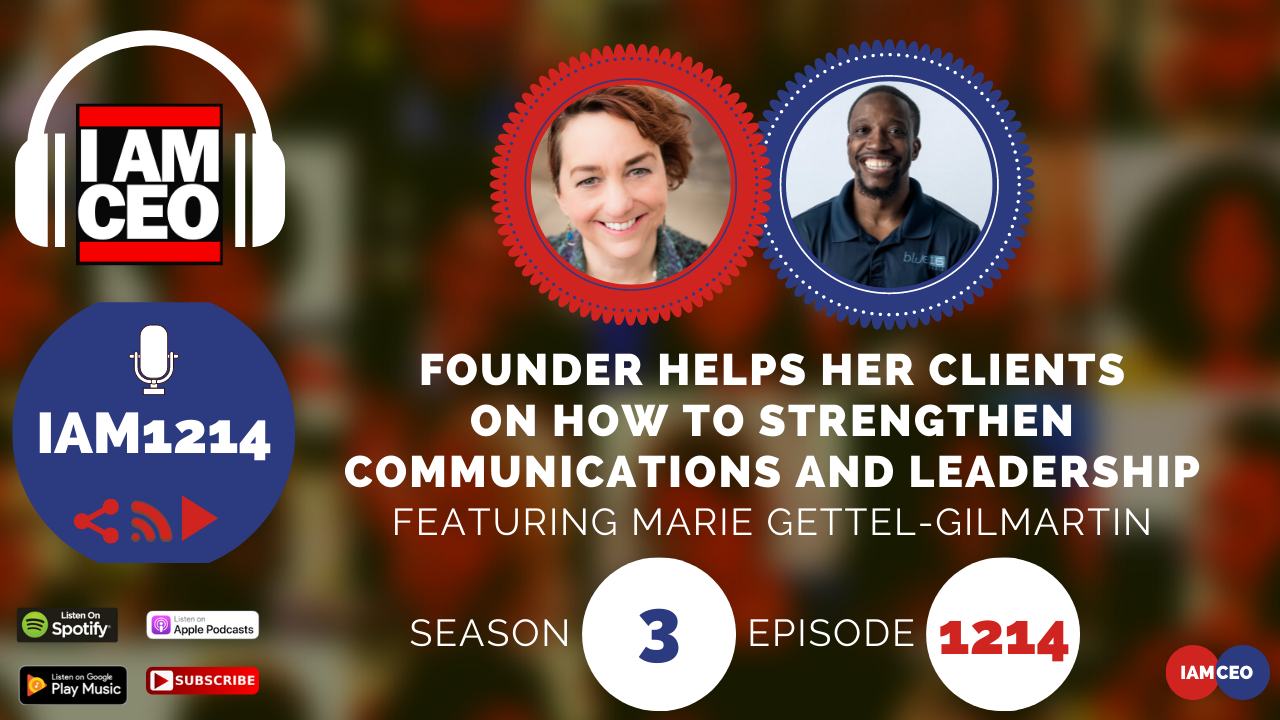 Marie Gettel-Gilmartin, the founder of Fertile Ground Communications, is a writer and marketing communications coach who loves to connect people and resources or solve seemingly impossible problems. She guides clients in discovering what makes them special and helps them share that with the world. She has two podcasts: Finding Fertile Ground features grit and resilience stories from historically excluded populations, and companies that care highlights business leaders who are working to create a better world for all. Marie helps clients communicate about pressing issues; creates compelling websites that showcase company culture; implements world-class sustainability and community engagement strategies; ghostwrites for clients to position them as experts in their fields; writes communications that boost employee engagement; coaches leaders and executives on how to strengthen communications and leadership; helps win work by writing compelling, unbeatable proposals and award applications, and coordinates authors and reviewers to produce documents in one voice.
CEO Story: After 28 years in the corporate world while reinventing herself, thus, completely prepared her to start her own company. Naming the brand that has her authenticity about finding her own fertile ground in her career.
Business Service: She loves helping her clients as a communications manager. She also does website copy, research, internal & external communications, marketing, social media, and leadership coaching.
Secret Sauce: Her number one goal is to make communications really interesting and that the reader wants to read. She brings corporate business savvy combined with outstanding writing and strategic skills.
CEO Hack: She uses Trello for making lists and Canva – which is a great tool to create social media images, brochures, and flyers, etc.
CEO Nugget: For B2B approach, email funnels and hard selling can turn the people off. She wants to see somebody's value when they share freely of their expertise.
CEO Defined: Be able to create a company that started with her own values of compassion and respect for all. Be able to chase her own dreams instead of someone else's. Leading others to follow their own dreams.
Website: http://www.fertilegroundcommunications.com
LinkedIn: mariegettelgilmartin
Facebook: FertileGroundCommunications
Twitter: MarieMiracles
Instagram: fertile_ground_communications
---
Check out one of our favorite CEO Hack's Audible. Get your free audiobook and check out more of our favorite CEO Hacks HERE