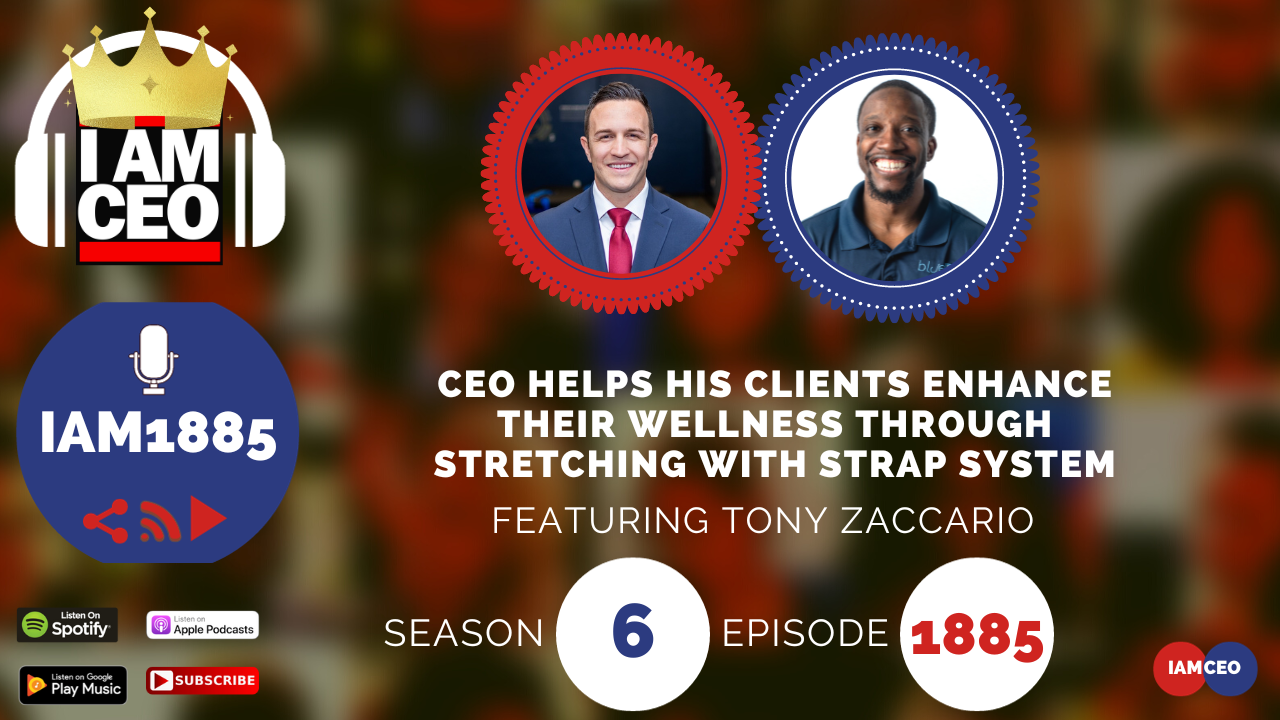 Why it was selected for "CBNation Architects":
The episode features Tony Zaccario, the President and CEO of Stretch Zone.
Stretch Zone, established in Miami Beach in 2004, is a leading practitioner-assisted stretching model in the U.S. They use a patented strapping system that expertly positions, stabilizes, and isolates muscles to improve the range of motion and quality of life for clients.
Key points discussed during the episode include:
Tony's journey as the CEO of Stretch Zone, from managing 4 to 5 locations to overseeing the expansion of the business into 135 locations across 22 states nationwide through franchising and partnership opportunities.
The primary service of Stretch Zone, which is a strapping system for body stretching, conceptualized as a lifestyle and wellness enhancer.
Tony's secret sauce for success which he identifies as good habits, maintaining a healthy body and mind, and promoting a wellness concept. He emphasizes that a positive mindset is critical.
The CEO hacks that Tony mentions include learning from Youtube, podcasts, audiobooks while working out.
According to Tony, patience is essential, especially when stepping into a new position. He encourages everyone not to be too hard on themselves.
Tony's definition of being a leader involves serving others and leading from the front. He believes that true leaders create other leaders.
Check out our CEO Hack Buzz Newsletter–our premium newsletter with hacks and nuggets to level up your organization. Sign up 
HERE
. 

I AM CEO Handbook Volume 3
 is HERE and it's FREE. Get your copy here: 
http://cbnation.co/iamceo3
. Get the 100+ things that you can learn from 1600 business podcasts we recorded. Hear Gresh's story, learn the 16 business pillars from the podcast, find out about CBNation Architects and why you might be one and so much more. Did we mention it was FREE? Download it today!
Transcription:
The full transcription is only available to CBNation Library Members. Sign up today!
Tony Zaccario Teaser 00:00
So a large majority of people with sciatica, low back pain, we live a very sedentary lifestyle. Unfortunately, many of us have done exactly what we're doing right now, just sitting at a computer far too long over the last year. And with that come a lot of imbalances.
That's what we aim to fix through our unique programs that we desire for individuals.
Intro 00:19
Do you want to learn effective ways to build relationships, generate sales, and grow your business from successful entrepreneurs, startups, and CEOs without listening to a long, long, long interview?
If so, you've come to the right place. Gresham Harkless values your time and is ready to share with you precisely the information you're in search of.
This is the IAMCEO podcast.
Gresham Harkless 00:46
Hello, hello, hello. This is Gresh from the IAMCEO podcast, and I appreciate you listening to this episode. If you've been listening this year, you know that we hit 1600 episodes at the beginning of this year. We're doing something a little bit different where we're repurposing our favorite episodes around certain categories, topics, or as I like to call them, the business pillars that we think are going to be extremely impactful for CEOs, entrepreneurs, business owners, and what I like to call the CB Nation architects who are looking to level up their organizations.
This month, we are focusing on operations. The systems will set you free. So think about systems, think about flow, sustainability, potentially working out in your morning routine, waking up early, e-commerce, different business models. Think of the operations in the models that basically set up the foundation to allow the creativity within organizations, but also to make sure the trains are running on time and things are going as they should.
Now, this is extremely important because we often can turn to the sexy parts of business and forget about the operations and how important that is. I really want to focus this month on this specific topic, so sit back and enjoy this special episode at the IAMCEO podcast.
Hello. Hello. Hello. This is Gresh from the IAMCEO podcast. I have a very special guest on the show today. I have Tony Zaccario of Stretch Zone. Tony, it's great to have you on the show.
Tony Zaccario 02:04
Gresham, thank you for having me.
Gresham Harkless 02:06
Yeah. Super excited to have you on and hear about all the awesome things that you're doing. Before we do that, I want to read a little bit more about Tony so you can hear about some of those awesome things.
Tony is President and CEO of Stretch Zone the leading practitioner-assisted stretching model in the U. S. Stretch Zone was established in Miami Beach in 2004, utilizing a patent strapping system to expertly position, stabilize and isolate muscles to offer a full range of motion and improve quality of life for guests.
As CEO, Tony leads all expansion efforts for the brand, including managing franchise efforts and partnership opportunities. Under Tony's leadership, Stretch Zone has seen exponential year-over-year growth, boasting over 135 locations in 22 states nationwide.
Tony, super excited to have you on the show. I know you're doing awesome things. I'm glad you get a breath from me. Are you ready to speak to the IAMCEO community?
Tony Zaccario 02:54
I'm looking forward to it.