I AM CEO PODCAST
Operations
IAM1879 – Strategist Works With Small Businesses to Manage Their Office operations
Podcast Interview with Laura Darkstar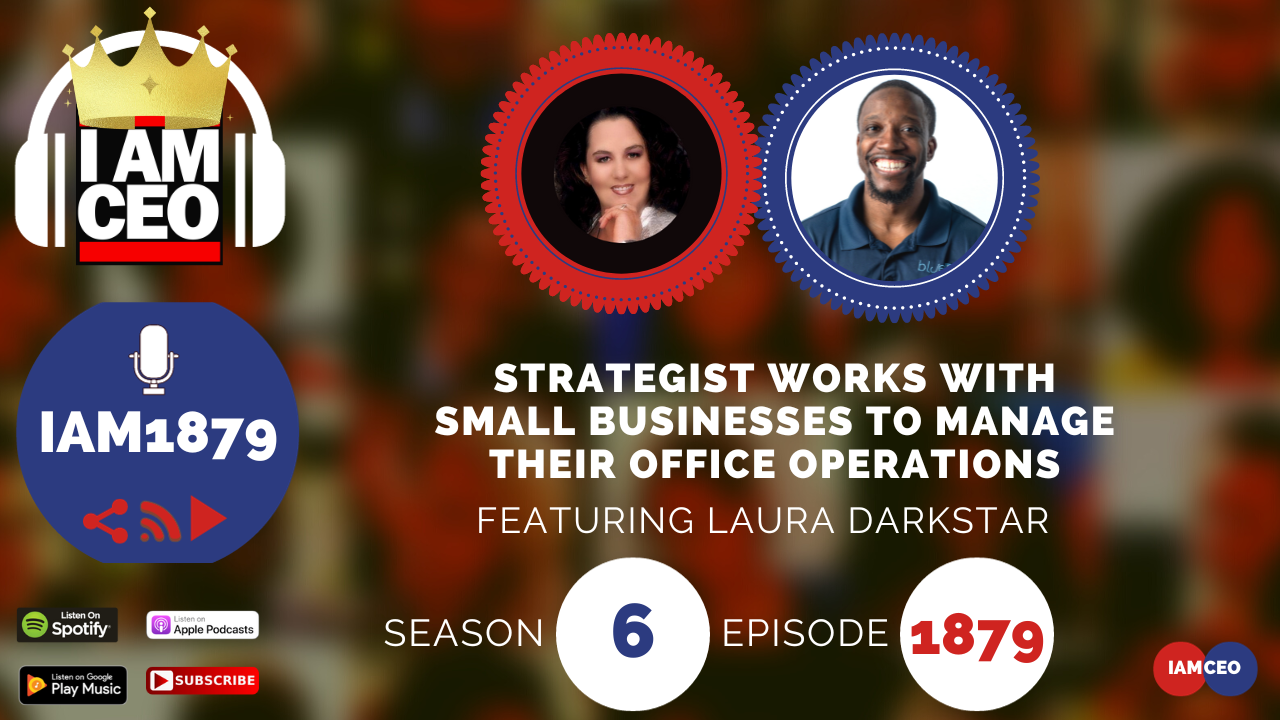 Why it was selected for "CBNation Architects":
In the IAMCEO Podcast episode featuring Laura Darkstar, she shares her experience with handling office operations for small companies.
CEO Story: With nearly thirty years of experience managing both front- and back-office operations, Laura serves as a trusted assistant and advisor to executives in solopreneurs and small businesses. Her specialty is in developing and implementing their office administration/management, digital marketing, and business operations strategies.
Business Service: Laura's work involves building relationships with her clients through collaboration and partnership to develop their office administration, digital marketing and business operations strategies.
CEO Hack: Laura appreciates the utility of analog tools — in particular, The Rocket book.
CEO Nugget: She emphasizes one's service offerings should evolve over time. Hence, it is vital to add new skills, drop some, and understand that where you start is not where you'll stay.
CEO Defined: For Laura, a CEO is a culture creator and vision holder.
Check out our CEO Hack Buzz Newsletter–our premium newsletter with hacks and nuggets to level up your organization. Sign up 
HERE
. 

I AM CEO Handbook Volume 3
 is HERE and it's FREE. Get your copy here: 
http://cbnation.co/iamceo3
. Get the 100+ things that you can learn from 1600 business podcasts we recorded. Hear Gresh's story, learn the 16 business pillars from the podcast, find out about CBNation Architects and why you might be one and so much more. Did we mention it was FREE? Download it today!
Laura Darkstar Teaser 00:00
Not being able to grow anymore because they can't do all of the admin stuff and Things that are outside of their zone of genius and continue to grow their business and do what they do best. So I try to take off their plates, everything that's not their specific zone of genius, which ends up being everything from like email management to project management and team coordination.
Intro 00:28
Do you want to learn effective ways to build relationships, generate sales, and grow your business from successful entrepreneurs, startups, and CEOs without listening to a long, long, long interview?
If so, you've come to the right place. Gresham Harkness values your time and is ready to share with you precisely the information you're in search of. This is the IAMCEO podcast.
Gresham Harkless 00:55
Hello, hello, hello. This is Gresh from the IAMCEO podcast, and I appreciate you listening to this episode. If you've been listening this year, that we hit 1600 episodes at the beginning of this year.
And we're doing something a little bit different where we're repurposing our favorite episodes around certain categories, topics, or as I like to call them, the business pillars that we think are going to be extremely impactful for CEOs, entrepreneurs, business owners, and what I like to call the CB nation architects who are looking to level up their organizations.
This month, we are focusing on operations. The systems will set you free. So think about systems, think about flow, sustainability, potentially working out in your morning routine, waking up early, e-commerce, different business models.
Think of the operations in the models that basically set up the foundation to allow the creativity within organizations, but also to make sure the trains are running on time and things are going as they should.
Now, this is extremely important because we often turn to the sexy parts of business and forget about the operations and how important that is. So I really want to focus this month on this specific topic. So sit back and enjoy this special episode at the IAMCEO podcast.
Hello. Hello. Hello. This is Gresh from the IAMCEO podcast, and I have a very special guest on the show today. I have Laura Darkstar of Adminderella. Laura, it's awesome to have you on the show?
Laura Darkstar 02:15
I'm glad to be here Gresh.
Gresham Harkless 02:17
No problem, I'm super excited to have you on. And what I want to do is read a little bit more about Laura so you can hear about all the awesome things that she's doing.
And Laura has nearly 30 years of experience managing front and back office operations, serving as a trusted assistant and advisor to executives.
She works with solopreneurs and small businesses, developing and implementing their office administration, management, digital marketing, and business operations strategies. Collaboration and true partnerships are the key for Laura in building her relationships with her clients. Laura, are you ready to speak to the IAMCEO community?
[00:02:52] Laura Darkstar: I certainly am.