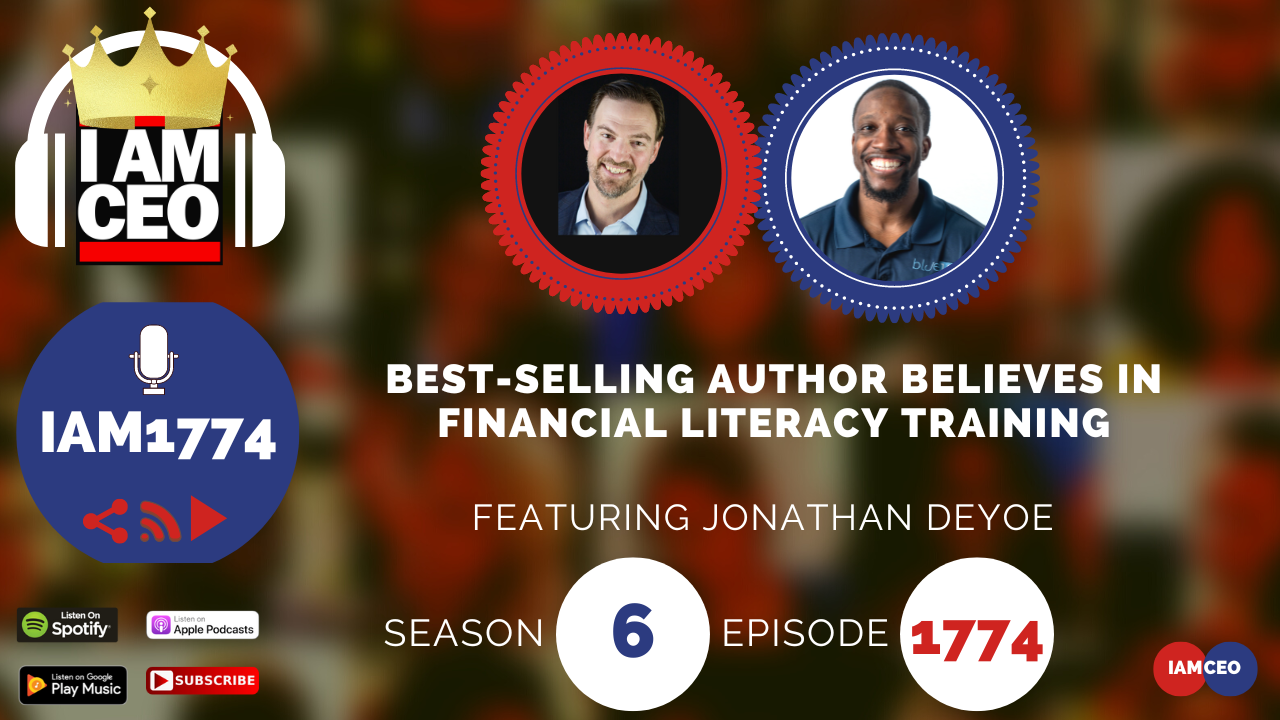 Why it was selected for "CBNation Architects":
In this episode of I AM CEO Podcast, host Gresham Harkless interviews Jonathan DeYoe, a best-selling author and financial advisor who believes in the importance of financial literacy training. Jonathan shares his insights on the intersection between love and money and how individuals can use mindfulness practices to improve their financial well-being.
Throughout the interview, Jonathan emphasizes the importance of financial literacy training and how it can help individuals make more informed decisions about their finances. He also discusses the fiduciary standard and the benefits of working with a financial advisor who is legally obligated to act in their clients' best interests.
Jonathan shares his CEO hacks and nuggets, which include the importance of staying focused on the mission and being open to new opportunities. He defines being a CEO as being responsible for the success of the company and creating a positive impact on the community.
Overall, the episode provides valuable insights into the importance of financial literacy training and the benefits of working with a fiduciary financial advisor. Jonathan's experience and expertise in the field make this episode a must-listen for anyone interested in improving their financial well-being.
Check out one of our favorite CEO Hack's CEO Web Shop. Get your free audiobook and check out more of our favorite CEO Hacks HERE.

I AM CEO Handbook Volume 3
 is HERE and it's FREE. Get your copy here: 
http://cbnation.co/iamceo3
. Get the 100+ things that you can learn from 1600 business podcasts we recorded. Hear Gresh's story, learn the 16 business pillars from the podcast, find out about CBNation Architects and why you might be one and so much more. Did we mention it was FREE? Download it today!
Transcription:
The full transcription is only available to CBNation Library Members. Sign up today!
Jonathan DeYoe Teaser 00:00
This is my morning routine. Like I spend two hours before anyone else in my house is awake. Usually, I work out, I meditate, I read, I write. This is every day for the last 10 years. I spend two, two and a half hours by myself taking care of my physical body, taking care of my mind, and reading and feeding myself with the right kinds of stuff.
Intro 00:20
Are you ready to hear business stories and learn effective ways to build relationships, generate sales, and level up your business from awesome CEOs, entrepreneurs and founders. Without listening to a long, long, long interview?
If so, you've come to the right place. Gresh values your time and is ready to share with you the valuable info you're in search of.
This is the I AM CEO podcast.
Gresham Harkless 00:47
Hello, hello, hello, this is Gresh from the I AM CEO podcast and I appreciate you listening to this episode. If you've been listening this year, you know that we hit 1600 episodes at the beginning of this year. We're doing something a little bit different where we're repurposing our favorite episodes around certain categories, topics, or as I like to call them, business pillars that we think are going to be extremely impactful for CEOs, entrepreneurs, and business owners. Or what I like to call the CB nation architects, those that are looking to level up their organizations.
This month we are focusing on knowing thy numbers. I could hear the phrases from Mr. Wonderful on Shark Tank, and if you understand or don't understand exactly what numbers is, think finance, economics, accounting, capital, investment, funding, bootstrapping, anything that's around numbers. So, we have to understand how important it is to know your numbers and how important that is for you to forecast, make decisions, and to be able to truly strategize around your business and do that successfully.
Things are gonna be a little bit different obviously, this month. So look for CEO hacks and CEO nuggets and interviews that focus around this. But more than everything else, make sure that you know your numbers because they're extremely important to the life of your business.
Hello, hello, hello. This is Gresh from the I AM CEO podcast and I have a very special guest on the show today. I have Jonathan DeYoe of Mindful Money. Jonathan, it's awesome to have you on the show.
Jonathan DeYoe 02:11
It's great to be here, Gresh. Look forward to chatting.
Gresham Harkless 02:13
Definitely looking forward to having you on as well too. Before we jump in, I want to read a little bit more about Jonathan. So you could hear about all the awesome things that he's doing.
Jonathan is the bestselling author of Mindful Money Simple Practices for Reaching Your Financial Goals and Increasing Your Happiness Dividend. He writes and speaks about the intersection between love and money, and he has been investing for 40 years and has been a financial advisor for 25 years.
He started his firm in 2001, and he is a big believer in financial literacy training in a big advocate for the fiduciary standard. Jonathan, are you ready to speak to the I AM CEO community?
Jonathan DeYoe 02:43
I am ready. Let's do it.