DMV CEO
I AM CEO PODCAST
IAM1751 – Founder Empowers Business Owners on Financial Health
Podcast Interview with Natalia Zacharin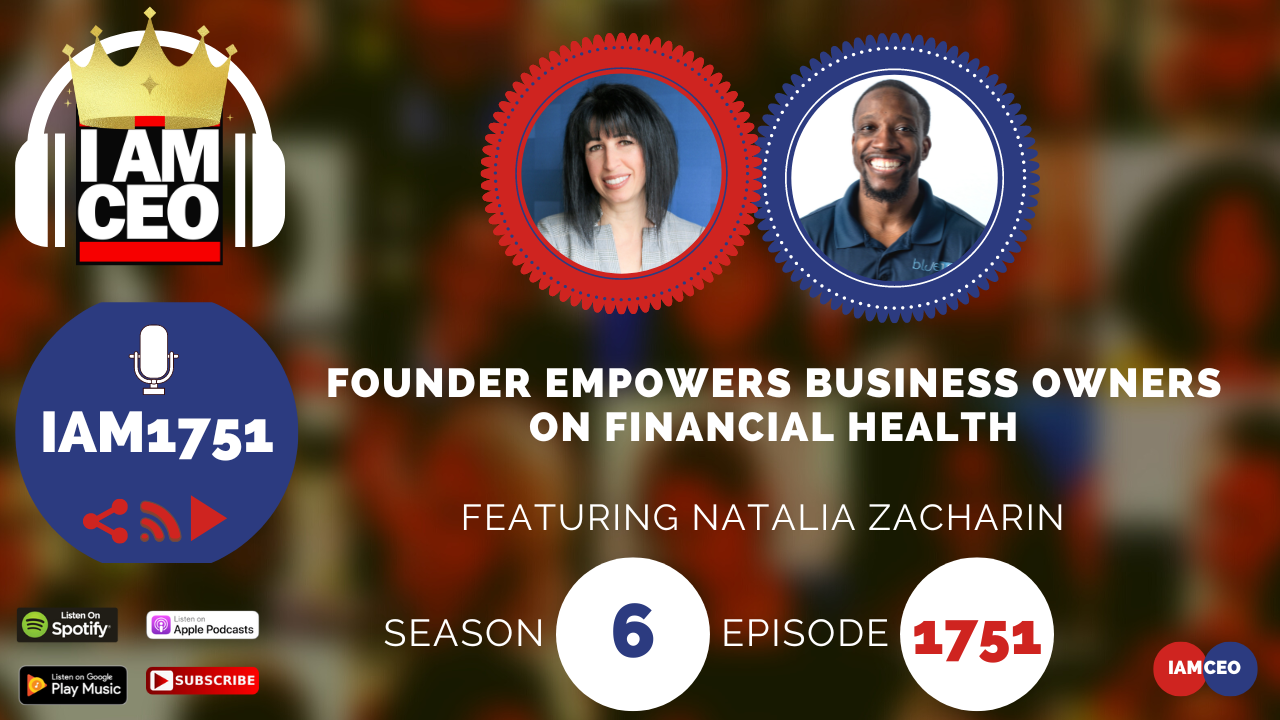 Why it was selected for "CBNation Architects"
:
In episode IAM610 of the I AM CEO
podcast
, host Gresham Harkless interviews Natalia Zacharin, the founder of Zacharin Consulting, a firm dedicated to empowering business owners to understand and interpret their
financial
health
to significantly improve their bottom line. Natalia has been working in finance since 2012 and has experience working with businesses of all sizes.
In the interview, Natalia discusses her journey as an entrepreneur and the importance of
financial
management for businesses. She talks about her unique approach to financial consulting, which involves personalized service and expertise to help clients improve their cash flow, increase cash-on-hand, and develop plans for growth.
Natalia also shares her CEO hacks and nuggets, which include knowing your numbers, collaborating with others, and continuously learning.
Additionally, she defines what being a CEO means to her, which involves creating something out of nothing, having a vision, and integrity, and creating a lifestyle for you and your family.
Overall, the episode provides valuable insights into financial management for businesses and the importance of personalized service in consulting.
Check out one of our favorite CEO Hack's CEO Web Shop. Get your free audiobook and check out more of our favorite CEO Hacks HERE.

I AM CEO Handbook Volume 3
 is HERE and it's FREE. Get your copy here: 
http://cbnation.co/iamceo3
. Get the 100+ things that you can learn from 1600 business podcasts we recorded. Hear Gresh's story, learn the 16 business pillars from the podcast, find out about CBNation Architects and why you might be one and so much more. Did we mention it was FREE? Download it today!
Transcription:
The full transcription is only available to CBNation Library Members. Sign up today!
Natalia Zacharin Teaser 00:00
I create a partnership with my client to make sure that whatever they wanna do and whatever they see themselves in the future, their company, and whatever challenges they have, that we are constantly working on those and that we are addressing all of those issues.
The other thing is I really, and maybe this is from my sales background, I feel that customer service and really being there and responsive to my clients is über important.
Intro 00:28
Do you want to learn effective ways to build relationships, generate sales, and grow your business from successful entrepreneurs, startups, and CEOs, without listening to a long, long, long interview?
If so, you've come to the right place. Gresham Harkless values your time and is ready to share with you precisely the information you're in search of.
This is the I AM CEO podcast.
Gresham Harkless 00:55
Hello, hello, hello. This is Gresh from the I AM CEO podcast and I appreciate you listening to this episode. If you've been listening this year, you know that we hit 1600 episodes at the beginning of this year. We're doing something a little bit different where we're repurposing our favorite episodes around certain categories or topics or as I like to call them, the business pillars that we think are going to be extremely impactful for CEOs, entrepreneurs, and business owners, and what I like to call the CB nation architects who are looking to level up their organizations.
This month we are focused on our greatest asset talent management and hiring. Think from great resignation to the great renovation and if you disagree with me, maybe these episodes might be especially for you. Life and especially business has changed. It has forced those that are within organizations to look differently at talent, and how it's being managed.
When we talk about change, think about it, we have to realize that business as usual is no longer here. That's evident in attracting and retaining clients, but also in setting up people within organizations to succeed. Think onboarding, think DEI- diversity, equity, inclusion, and belonging, how it is working from home and even going back into the office.
Things are different in this month. We are going to explore these topics by featuring CEO hacks and CEO nuggets, but also interviews that focus on these changes and how organizations can make sure they care for and attract the most valuable asset- their people. Sit back and enjoy this special episode of the I AM CEO podcast.
Hello, hello, hello. This is Gresh from the I AM CEO podcast and I have a very special guest on the show today. I have Natalia Zacharin of Zacharin Consulting. Natalia, it's awesome to have you on the show.
Natalia Zacharin 02:27
Thank you so much. It's awesome to be here.
Gresham Harkless 02:29
Yeah, super excited to have you on. Before we jumped in, I wanted to read a little bit more about Natalia so you can hear about all the awesome things that she's doing.
Natalia began her career in finance in 2012 and worked for several firms before striking out on her own to found Zacharin Consulting. Zacharin Consulting is dedicated to empowering business owners to understand and interpret their financial health to significantly improve the bottom line.
Through personal service and expertise Natalia's goal is to bring her experience and knowledge to clients in a meaningful way. Whether you have been in business for one year or 50, Zacharin Consulting can improve your cash flow, increase cash on hand, and develop plans for growth, not your typical CFO.
Natalia is the executive director of a nonprofit children's scouting organization, a lecturer on ecology and a nature photographer, a single mom and soul provider. Natalia understands the ups and downs of being an entrepreneur and helps other business owners navigate the sometimes murky waters to clarify an entrepreneurial financial freedom.
Natalia, are you ready to speak to the I AM CEO community?
Natalia Zacharin 03:29
I am very excited to do so.