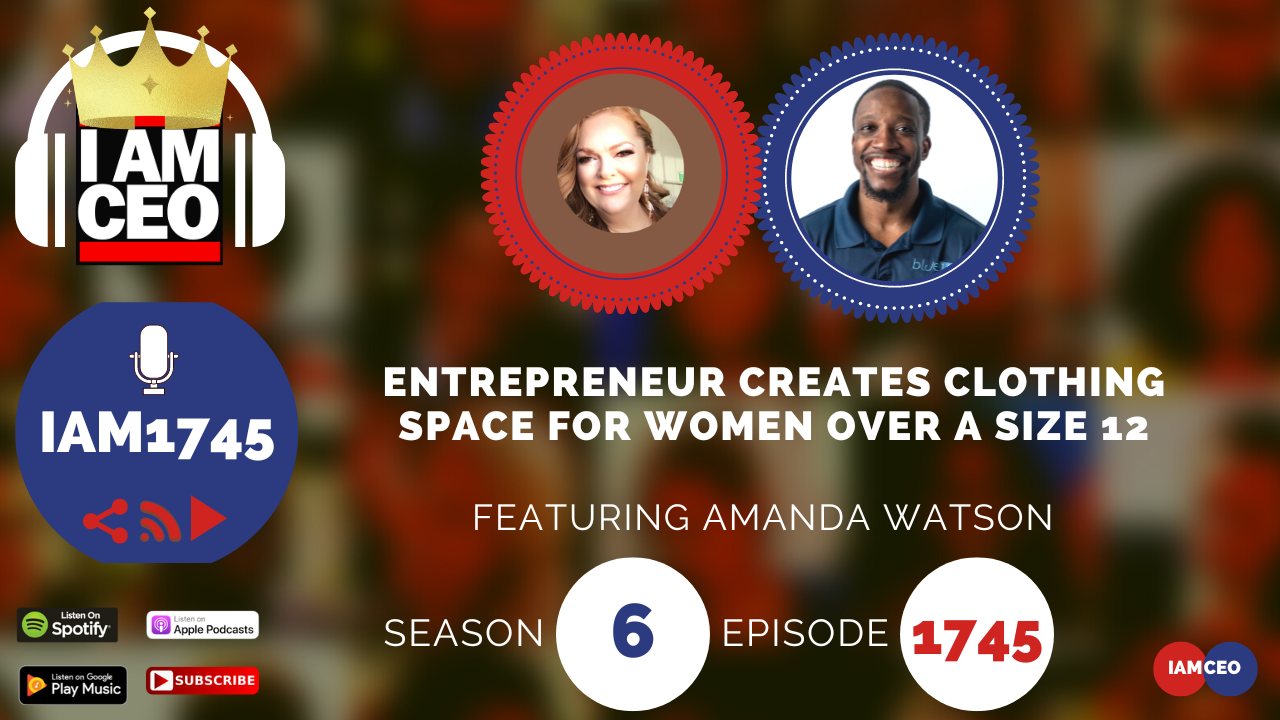 Why it was selected for "CBNation Architects":  In this episode of the "I Am CEO" podcast, Gresham Harkless interviews Amanda Watson. Her organization and community provide plus-size reselling options. In her CEO Hack, she spoke about how important it was to her to hire people, especially for social media and operations while she was working her full-time job. The saying is if you are the smartest person in the room, find a different room.
Check out one of our favorite CEO Hack's CEO Web Shop. Get your free audiobook and check out more of our favorite CEO Hacks HERE.

I AM CEO Handbook Volume 3
 is HERE and it's FREE. Get your copy here: 
http://cbnation.co/iamceo3
. Get the 100+ things that you can learn from 1600 business podcasts we recorded. Hear Gresh's story, learn the 16 business pillars from the podcast, find out about CBNation Architects and why you might be one and so much more. Did we mention it was FREE? Download it today!
Transcription:
The full transcription is only available to CBNation Library Members. Sign up today!
Amanda Watson Teaser 00:00
And so we're trying to create a community-based platform as well for women within the plus-size space. So it's really important for us to look at other maybe new designers that are making fashion across, over a size 12.
Intro 00:13
Do you want to learn effective ways to build relationships, generate sales, and grow your business from successful entrepreneurs, startups, and CEOs, without listening to a long, long, long interview?
If so, you've come to the right place. Gresham Harkless values your time and is ready to share with you precisely the information you are in search of.
This is the I AM CEO podcast.
Gresham Harkless 00:39
Hello, hello, hello. This is Gresh from the I AM CEO podcast and I appreciate you listening to this episode. If you've been listening this year, you know that we hit 1600 episodes at the beginning of this year. We're doing something a little bit different where we're repurposing our favorite episodes around certain categories or topics or as I like to call them, the business pillars that we think are going to be extremely impactful for CEOs, entrepreneurs, and business owners, and what I like to call the CB nation architects who are looking to level up their organization.
This month we are focused on our greatest asset- talent management and hiring. Think from great resignation to the great renovation and if you disagree with me, maybe these episodes might be especially for you. Life and especially business has changed. It has forced those that are within organizations to look differently at talent, and how it's being managed.
When we talk about change, think about it, we have to realize that business as usual is no longer here. That's evident in attracting and retaining clients, but also in setting up people within organizations to succeed. Think onboarding, think DEI- diversity, equity, inclusion, and belonging. How it is working from home and even going back into the office.
Things are different in this month. We are going to explore these topics by featuring CEO hacks and CEO nuggets, but also interviews that focus on these changes and how organizations can make sure they care for and attract the most valuable asset- their people. Sit back and enjoy this special episode of the I AM CEO podcast.
Hello, hello, hello. This is Gresh from the I AM CEO podcast and I have a very special guest on the show today. I have Amanda Watson of StyleForit. Amanda, it's awesome to have you on the show.
Amanda Watson 02:11
Thank you for having me.
Gresham Harkless 02:12
No problem. Super excited to have you on, and what I want to do is just read a little bit more about Amanda so you can hear about all the awesome things that she's doing.
With over 20 years in apparel buying and merchandising for the majors, she started StyleForit out of her own need. Women over size 12 did not have a specific resale and consignment platform for their clothing style. StyleForit has created a space just for them.
Amanda, are you ready to speak to the I AM CEO community?
Amanda Watson 02:38
I am. Yes.