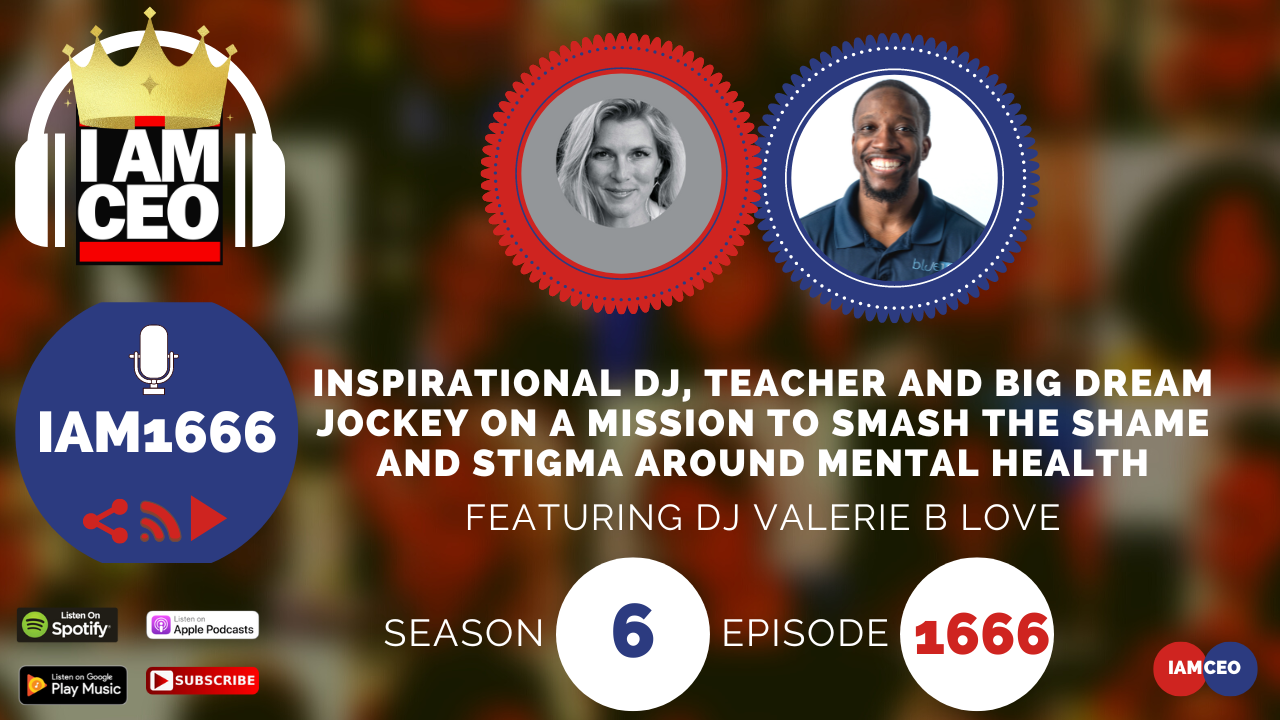 Why it was selected for "CBNation Architects": DJ Valerie B LOVE was an awesome guest and in addition to hearing her phenomenal story and even hearing her struggles and it has armed her to help so many other people. It's always good to have other podcasters on the show but even better the power that DJ Valerie knows about music and creating a soundtrack for your life.
Check out premium content in the CBNation Library at http://cbnation.co/library and pick up our eBook to hear some of the best lessons at http://cbnation.co/shop.
Previous Episode: https://iamceo.co/2019/02/18/iam189-inspirational-dj-teacher-and-big-dream-jockey-on-a-mission-to-smash-the-shame-and-stigma-around-mental-health/
Transcription:

DJ Valerie B Love Teaser 00:00
Listening to music and using it in a medicinal way, not just random acts of it, I'm just gonna push play and hope Pandora or Spotify drops something for me. It's the intentional use of music, and so we really do have the opportunity to create soundtracks for our life.
Intro 00:18
Do you want to learn effective ways to build relationships, generate sales, and grow your business from successful entrepreneurs, startups, and CEOs without listening to a long, long, long interview?
If so, you've come to the right place. Gresham Harkless values your time and is ready to share with you precisely the information you're in search of. This is the I am CEO podcast.
Gresham Harkless 00:43
Hello, hello, hello. This is Gresh from the I am CEO podcast and I appreciate you listening to this episode. And if you've been listening this year, we're doing something a little bit different where we're repurposing our favorite episodes under certain categories or topics that we think are gonna be extremely impactful for CEOs, entrepreneurs, and business owners.
This month is going to be about not forgetting about the human part of business. Often we forget about the human part of life. We often forget about the human part of business. So look forward, to self-care tips, fitness, burnout, purpose, biz, and personal, personal branding, motivation, drive success, understanding your why, and of course, how important customer service is.
But at the heart of it, it's all about remembering the human part of the business. So sit back and enjoy this special episode of the I am CEO podcast.
Hello, hello, hello. This is Gresham Harkless from the I am CEO podcast and I have a very special guest on the show today have DJ Valerie B love of the Big Dream School podcast. DJ it's awesome to have you on the show.
DJ Valerie B Love 01:42
Hey, Aloha. Good to be here. Thank you.
Gresham Harkless 01:44
No problem. And what I wanted to do was read a little bit more about DJ Valerie so you can hear about all the awesome things that she's doing.
Inspirational DJ – Teacher – Big DREAM Jockey
"I believe we have the power to remodel our planet at our fingertips"-DJVBL
When she's not spinning records for thousands of dancers on the Nile in Egypt, Burningman, or a Beach in Hawaii, she's making peanut butter and jelly sandwiches for her kiddos before recording another episode of the Big DREAM School podcast. DJ Valerie is an Inspirational DJ – "Dream Jockey" and Big DREAM Coach who believes Music is the Medicine and the DJ is the Doctor.
Valerie fuses art, science, and soul to teach and inspire creative, bad@ss, change-makers how to get out of their funk, get their groove back, and rock their Big DREAMS.
She is a co-founder of 2 multi-million dollar real estate companies, USCG Charter Boat Captain, Kundalini Yoga and Meditation Teacher, and of course the most blessed Mama of 2 Earth Angels. DJ Valerie is on a mission to smash the shame and stigma around mental health so that we can SNAP! Back to rocking our Big DREAMS and co-create a planet where all life co-thrives in delicious harmony!
DJ are you ready to speak to the I am CEO community?
DJ Valerie B Love 02:57
I just like dropped the mic right there. That sounds fun.