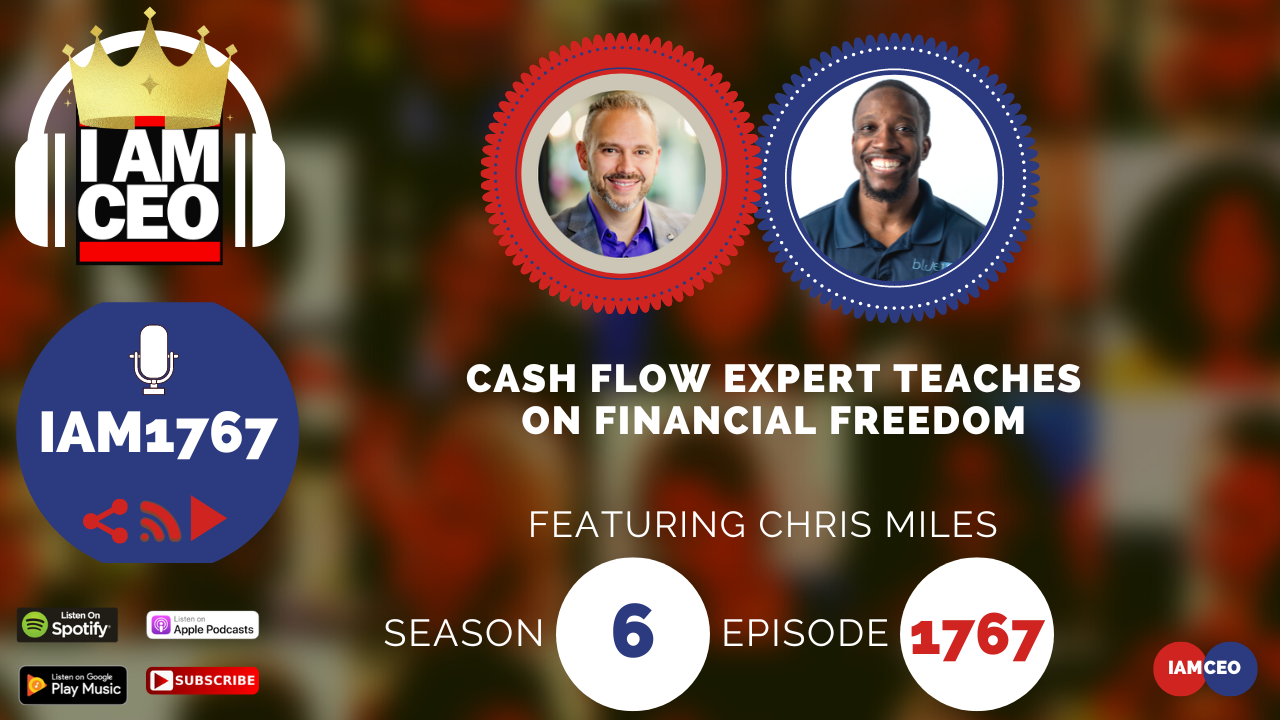 Why it was selected for "CBNation Architects":
In this episode of the I AM CEO podcast, host Gresham Harkless interviews Chris Miles, a cash flow expert and anti-financial advisor. Chris is a leading authority on teaching entrepreneurs and professionals how to get their money working for them today. He is an author, podcast host of the Chris Miles Money Show, and has been featured in US News, CNN Money, and EOFire.
In the interview, Chris shares his personal journey and how he started his company, Money Ripples, to help people achieve financial freedom. He discusses the importance of cash flow and how to get money working for you, including practical tips for increasing income, reducing expenses, and investing wisely. Chris also talks about the challenges of financial management and the importance of financial education for individuals and businesses.
Chris shares his CEO hacks and nuggets, which include focusing on your strengths, delegating tasks, and automating processes to increase productivity. He defines being a CEO as a leader who can inspire and empower others to achieve their goals.
Overall, the episode provides valuable insights into the importance of cash flow and financial education for achieving financial freedom. Chris' experience and expertise in the field make this episode a must-listen for anyone interested in personal finance or entrepreneurship.
Check out one of our favorite CEO Hack's CEO Web Shop. Get your free audiobook and check out more of our favorite CEO Hacks HERE.

I AM CEO Handbook Volume 3
 is HERE and it's FREE. Get your copy here: 
http://cbnation.co/iamceo3
. Get the 100+ things that you can learn from 1600 business podcasts we recorded. Hear Gresh's story, learn the 16 business pillars from the podcast, find out about CBNation Architects and why you might be one and so much more. Did we mention it was FREE? Download it today!
Transcription:
The full transcription is only available to CBNation Library Members. Sign up today!
Chris Miles Teaser 00:00
In 2015, I had a business coach telling me to do one thing in expanding my business. I did the opposite because my gut just said, that doesn't feel right. In fact, I'm gonna do not more like she recommended. She wanted me to do more live events. I started doing less live events. The funny thing is my profits went up and my revenue still went up too.
I think that's the key is that it might seem crazy, but if your gut says do something, do it. If your gut says, don't do something, don't do it.
Intro 00:26
Are you ready to hear business stories and learn effective ways to build relationships, generate sales, and level up your business from awesome CEOs, entrepreneurs and founders, without listening to a long, long, long interview?
If so, you've come to the right place. Gresh values your time and is ready to share with you the valuable info you're in search of.
This is the I AM CEO podcast.
Gresham Harkless 00:5
Hello, hello, hello, this is Gresh from the I AM CEO podcast and I appreciate you listening to this episode. If you've been listening this year, you know that we hit 1600 episodes at the beginning of this year. We're doing something a little bit different where we're repurposing our favorite episodes around certain categories, topics, or as I like to call them, business pillars that we think are going to be extremely impactful for CEOs, entrepreneurs, and business owners. Or what I like to call the CB Nation architects, those that are looking to level up their organizations.
In this month, we are focusing on knowing thy numbers. I could hear the phrases from Mr. Wonderful on Shark Tank, and if you understand or don't understand exactly what numbers is, think finance, economics, accounting, capital, investment, funding, bootstrapping, anything that's around numbers. So, we have to understand how important it is to know your numbers and how important that is for you to forecast, make decisions, and to be able to truly strategize around your business and do that successfully.
Things are gonna be a little bit different obviously, this month. So look for CEO hacks and CEO nuggets and interviews that focus around this. But more than everything else, make sure that you know your numbers because they're extremely important to the life of your business.
Hello, hello, hello. This is Gresh from the I AM CEO podcast and I have a very special guest on the show today. I have Chris Miles of moneyripples.com. Chris, it's awesome to have you on the show.
Chris Miles 02:18
Always, man, always a pleasure.
Gresham Harkless 02:20
Definitely pleasure is all ours and definitely looking forward to hearing more about you and all the awesome things that you're doing. Before we jump in, I wanted to read a little bit more about Chris, so you can hear about all of those awesome things.
Chris, the cash flow expert, and anti financial advisor is a leading authority teaching entrepreneurs and professionals how to get their money working for them today. He's an author, and podcast host of the Chris Miles Money Show and has been featured in US News, CNN Money, EO Fire, and has a proven reputation with his company Money Ripples, getting his clients fast life-altering financial results.
In fact, his personal clients have increased their cash flow by over 200 million in the last 10 years. Chris, are you ready to speak to the I AM CEO community?
Chris Miles 03:03
I'm so excited. Let's do this.