I AM CEO PODCAST
IAM1535 – Coach Helps Organizations in Business Transformation and Strategic Innovation
Podcast Interview with Albana Vrioni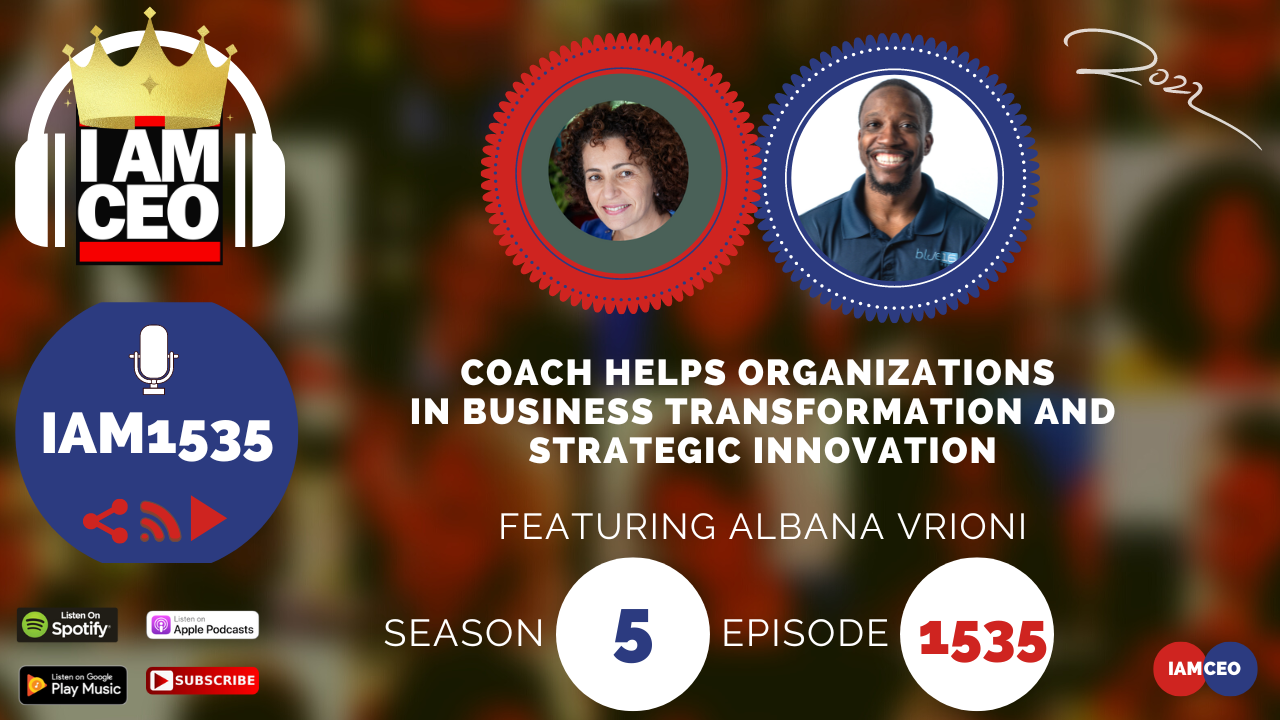 Albana is a senior business manager and change leader, executive and business coach, author, speaker, and trainer, specializing in business transformation, strategic business innovation, and organizational development. Albana coaches and advises business leaders worldwide on Generative Leadership and Business Innovation – supporting them re-imagine the future and see beyond what's obvious, and develop visionary thinking of infinite possibilities, shifting to a new state of mind and energy.
She has over 20 years of experience in architecting and delivering business transformation for international businesses, European Institutions, and Agencies. Albana has served on various business functions, like IT /BPM & Automation, Managed Security Services, HR/ Organisation Development, Supply Chain Management, Business Development, and New Product Development. She believes that business leaders hold the potential of changing the game of their business and the story of their lives– she has made it her mission to support them to thrive in shaping the future.
CEO Story: Albana's passion in her entire career is for narrative growth and questioning the status quo and looking for better alternatives. Helping clients thriving disruptions in creating prosperity with over 25 years of experience in developing business transformation leaders and achieving their next level of success. At one point, having the boundaries of an employed role, she realized its time for her to move on and be her own CEO. Having a solid and viable business plan for business leaders. She has a strong belief that equipping these leaders to stay on top of the game not just in the capacity for technical skills but as well in developing a capacity for mindset shift for envisioning the future and the road map.
Business Service: Advising leaders and organizations who want to succeed in leading a transformational change, persistent disruptive challenge.
Secret Sauce: Conscious leadership in the direction of going innovative and genuine and going towards evaluative solutions.
CEO Hack: Reading poems. Book mention: The Art of Power by Thomas Jefferson – a good resource for dealing with clients who are going through tough times. 15-minute time for self-reflection every evening on what she is grateful for.
CEO Nugget: Put together of the element of managing the execution of your strategy and enriching your energy.
CEO Defined: Chief executive and chief energy officer are in constant harmony in order to be sustainable.
Website: generativeintelligence.eu
LinkedIn – albanavrioni
YouTube – https://www.youtube.com/channel/UCUXA2yMf0lj-gI_-AUOsMuQ
Featured in:
Forbes Coaches Council – Albana-Vrioni-Founder-Executive-Business-Coach-Change-Adviser-Facilitator-Vrioni-Consulting
Brainz Magazine – executive-contributor/albana-vrioni
Author of Leading for Future Shaping with Generative Intelligence – generativeintelligence.eu/new-ebook
---
Check out one of our favorite CEO Hack's Audible. Get your free audiobook and check out more of our favorite CEO Hacks HERE