I AM CEO PODCAST
IAM1426 – Event Planner Makes the Sequel of the Production More Exciting
Podcast Interview with Greg Jenkins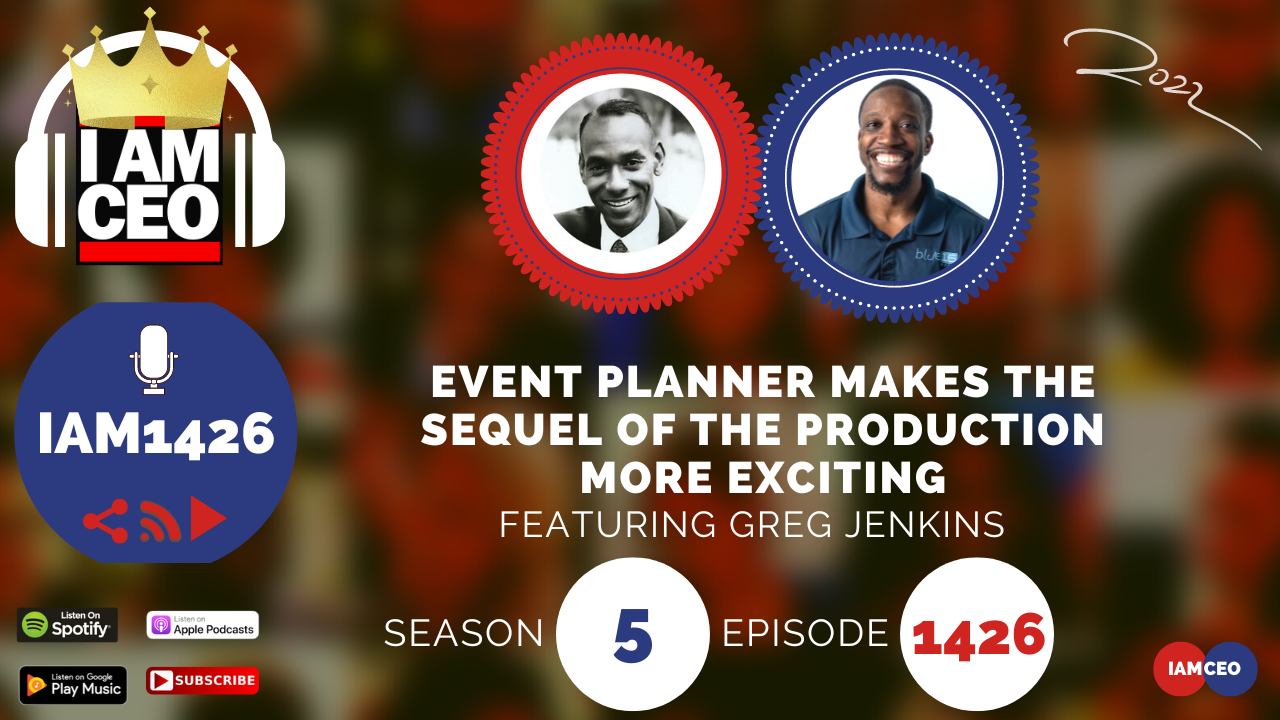 Greg Jenkins, partner and co-founder of the award-winning Bravo Productions holds an impressive list of credentials and has earned a high reputation in the field of event planning and production – a career expanding more than three decades.
Jenkins and his firm are a four-time Gala Award nominee and have received prestigious Gala Awards by Special Events Magazine for Best Event Produced for a Corporation – Budget $100,000 to $249,000 and Best Event Design – Budget $20,000. Jenkins and his firm also have received four Esprit Awards and several WESTIE Awards by the International Special Events Society, a Silver Tier Award for Innovation by Corporate EVENT Magazine, as well as PRISM Awards by the Public Relations Society of America, Los Angeles Chapter.
In 2020 and 2021, Jenkins was named as one of the top 500 event professionals in the United States by BizBash Magazine, North America's #1 source of ideas, news, and resources for event and meeting professionals.
Jenkins and his firm's clients have included Enterprise, Boeing, Google, Mercedes-Benz North America, Westin Hotels, United States Army, and Vons, to name a few.
CEO Story: Greg graduated with an Advertising major and proceeded right away to grad school. Started as a volunteer, then worked for 4 years in PR Marketing which exposes him to a lot of fieldwork relating to his skillset. Done with working for somebody, he builds his business working on events that gave him a solid foundation in terms of credentials on the awesome things that he does in the industry.
Business Service: Events. Making sure everything is in place, from suppliers to logistics, etc.
Secret Sauce: Portraying the vision and the story for the event. Keep the sequel of the event more exciting for the people, in terms of presentation, food, program, etc
CEO Hack: Health app – steps taken, heart rate, and hydrated enough.
CEO Nugget: Giving the best advice to your clients having vast experience in the industry.
CEO Defined: Big responsibility. The visionary, overseers, have a code of conduct. Setting the tone on how everything is going to work. Treat people like you want to be treated.
Website: bravoevents-online.com
Twitter: brvprodevents
Facebook: BRAVO-PRODUCTIONS
LinkedIn: bravo-productions-usa
---
Check out one of our favorite CEO Hack's Audible. Get your free audiobook and check out more of our favorite CEO Hacks HERE