I AM CEO PODCAST
IAM1302 – CEO Provides Marketing Specialised for Law Firms
Podcast Interview with Stacey Burke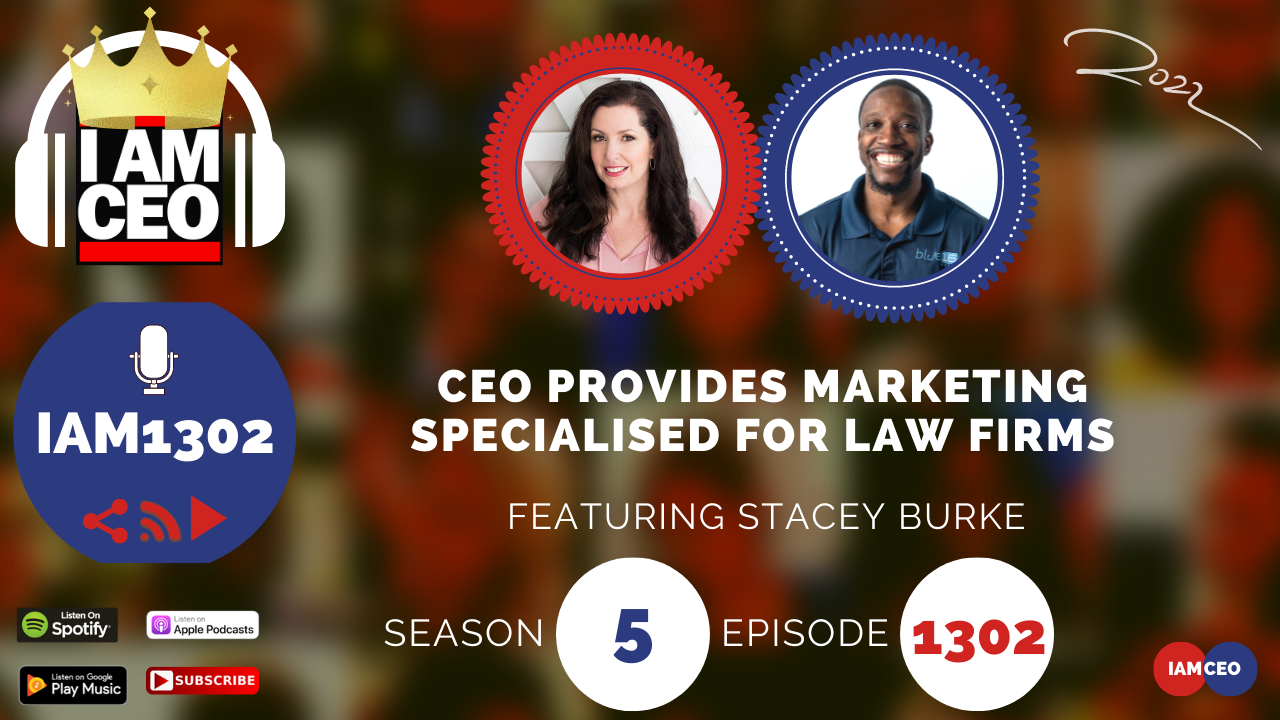 Stacey Burke is a 20-year attorney who provides consulting services to law firms. She has worked with over 300 law firms in a wide range of practice areas across the United States. She litigated in the field of consumer advocacy before transitioning to a consulting career over eight years ago. She has won legal industry accolades including the President's Award from the Houston Bar Association and has been selected as a Texas Super Lawyers Rising Star. Her work has also been published in the Texas Bar Journal, Trial magazine, Forbes, and Legal Business World. Her consulting company has won the American Marketing Association Crystal Awards for Online Marketing in Google Analytics and for Print Collateral or Direct Marketing: Company or Organization Brochure. She lives in Houston, Texas with her husband, two teenage daughters, and two French bulldogs and eats a lot of popcorn.
CEO Story: Stacey started a humble beginning, working as a law clerk then went to law school.

 

Hired in a lucrative law firm partnership that eventually led her to lead that firm. She made an exit, to make time with her family. Surprisingly, when she wanted to go back and apply to a different firm, she was asked by her former firm and competitors to ask for her consultation and that was the birth of Stacey's consulting firm which grew into marketing and business development.
Business Service: Design and develop websites. Design and print posters. Content writing and marketing, advertising campaigns, and SEOs to law firms.
Secret Sauce: A 20-year lawyer, licensed to practice. Well-versed in the legal market and how law firms operate.
CEO Hack: Making your own company a client of your business is not detrimental, it is positive.
CEO Nugget: "Be very conscious and active in your decision-making when engaging external vendors for marketing or any other service"
CEO Defined: Responsible for the professional happiness, success, and the financial livelihood of the team as well the clients.
Website: www.staceyeburke.com
Facebook: MarketingLawyers
Twitter: staceyeburke
Instagram: marketinglawyers
LinkedIn: stacey-e-burke-p-c
LinkedIn: staceyeburke
Youtube: UCjWE5hKUjG-G6y7iF1SHelA
---
Check out one of our favorite CEO Hack's Audible. Get your free audiobook and check out more of our favorite CEO Hacks HERE