I AM CEO PODCAST
IAM1210 – CEO Creates Online Courses For Her Clients
Podcast Interview with Dr. Destini Copp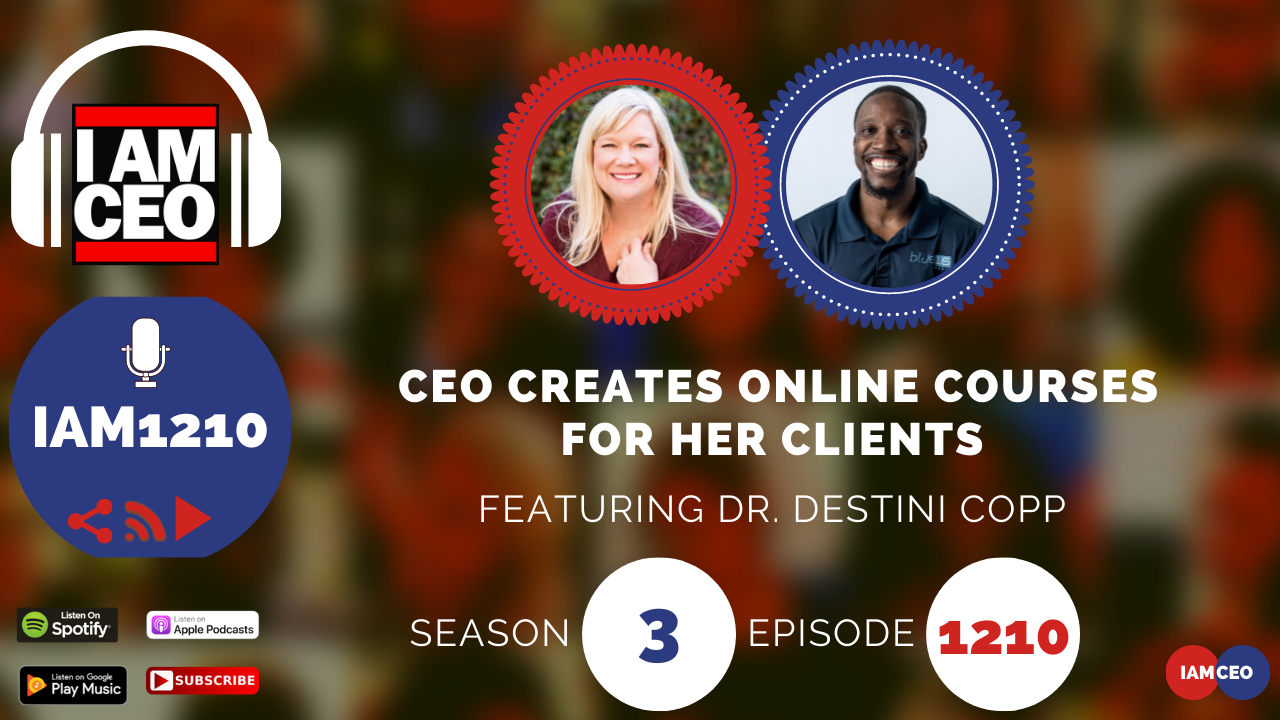 Dr. Destini Copp is a business and marketing coach who helps business owners scale their digital product revenue with automated sales funnels and reduce their reliance on services or freelance work.
She is a college marketing professor turned online entrepreneur and a wanna-be, Serena Williams-like, tennis player. She is the host of The Course Creator's MBA Podcast and the Creator of The OneClick MBA membership.
CEO Story: Her passion is teaching and the dream of having her own business motivates the CEO to build her own personal brand by helping others create their own online courses and digital products.
Business Service: Online courses and memberships, automated sales funnels. It grew more as they listen to their customers asking them to make sales funnel for their own company.
Secret Sauce: Outsourcing for business and personal needs made a huge impact in my life. Freedom and flexibility are my core values in business.
CEO Hack: Making systems in the business and staying organized. I use Gmail Calendar, Asana, Trello, tracking systems that track the PR activities that we are doing. And having a standard operating procedure written down.
CEO Nugget: Don't worry about the small things like logo or colors. Customers care on how your products is going to help them and how it will enhance their life. Focus on marketing. Focus on building your own business assets – website, email list, the important is the amount of traffic in your website and how you are converting that traffic into paying customers.
CEO Defined: Enhancing the value in

 

other people's life. Everything that we do enhances the business owners so that they can have that freedom and flexibility in their business.
Website: https://destinicopp.com
Book: https://destinicopp.com/book
LinkedIn: destinicopp
Instagram: destinicopp
Pinterest: destinicopp
Facebook: destinicopp
---
Check out one of our favorite CEO Hack's Audible. Get your free audiobook and check out more of our favorite CEO Hacks HERE