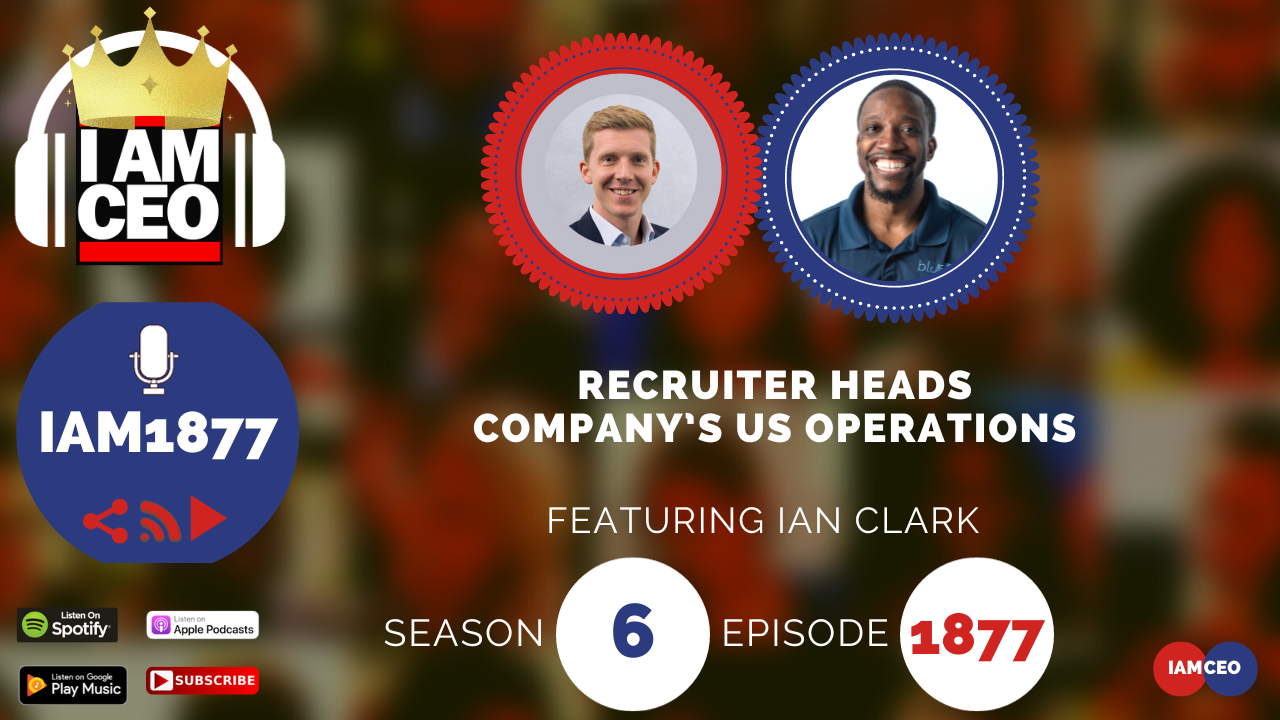 Why it was selected for "CBNation Architects":
In this episode of CEO Podcasts, the spotlight is on Ian, currently serving as the Head of Americas for Tenth Revolution Group.
Guest Background: Ian is an alumnus of Oxford Brookes University where he majored in Economics, graduating with first-class honors. He brings to the table a substantial 15 years of experience in the recruitment industry.
Achievements: In 2016, embracing the challenges of setting up new offices, Ian relocated to the U.S. to supervise the establishment of the company's Philadelphia and Tampa branches. Presently, he manages all U.S. operations for the Tenth Revolution Group.
Check out our CEO Hack Buzz Newsletter–our premium newsletter with hacks and nuggets to level up your organization. Sign up 
HERE
. 

I AM CEO Handbook Volume 3
 is HERE and it's FREE. Get your copy here: 
http://cbnation.co/iamceo3
. Get the 100+ things that you can learn from 1600 business podcasts we recorded. Hear Gresh's story, learn the 16 business pillars from the podcast, find out about CBNation Architects and why you might be one and so much more. Did we mention it was FREE? Download it today!
Transcription:
The full transcription is only available to CBNation Library Members. Sign up today!
Ian Clark Teaser 00:00
In terms of what needs to be done, there's always a better way to do things, and you can only find a better way to challenge the status quo by pushing each other and being better, to be smarter and to rethink outside of the box. So, the one resource I would say is absolutely having a great, unbelievable team, that you are a part off and you're working towards a common objective.
Intro 00:22
Do you want to learn effective ways to build relationships, generate sales, and grow your business from successful entrepreneurs, startups, and CEOs without listening to a long, long, long interview?
If so, you've come to the right place. Gresham Harkless values your time and is ready to share with you precisely the information you're in search of. This is the IAMCEO podcast.
Gresham Harkless 00:51
Hello. Hello. Hello. This is Gresh from the IAMCEO podcast. And I appreciate you listening to this episode. If you've been listening this year, you know, that we hit 1600 episodes at the beginning of this year, and we're doing something a little bit different.
Where we're repurposing our favorite episodes around certain categories, topics, or as I like to call them, the business pillars that we think are going to be extremely impactful for CEOs, entrepreneurs, business owners, and what I like to call the CB nation architects who are looking to level up their organizations.
This month, we are focusing on operations. These systems will set you free. So think about systems, think about flow, sustainability, potentially working out in your morning routine, waking up early, e-commerce, and different business models.
Think of the operations in the. Models that basically set up the foundation to allow the creativity within organizations, but also to make sure the trains are running on time and things are going as they should. Now, this is extremely important because we often turn to the sexy parts of business and forget about the operations and how important that is.
So I really want to focus this month on this specific topic. So sit back and enjoy this special episode at the IAMCEO podcast.
Hello. Hello. Hello. This is Gresh from the IAMCEO podcast. I have a very special guest on the show today. I have Ian Clark of the Tenth Revolution Group. Ian, it's awesome to have you on the show.
Ian Clark 02:10
Nice to meet you, Gresh. Thank you for having me.
Gresham Harkless 02:12
Yeah. Super excited to have you on. And before we jumped in, I wanted to read a little bit more about Ian. So you hear about all the awesome things that he's doing.
And Ian is the head of Americas for the Tenth Revolution Group. He holds a first-class honors degree in Economics from Oxford Brooks University and has 15 years of experience in the recruitment industry.
He moved to the U.S. in 2016 to oversee the launch of the company's Philadelphia and Tampa offices and is now responsible for all U.S. operations. Ian, are you ready to speak to the IAMCEO community?
Ian Clark 02:39
Absolutely Gresh.