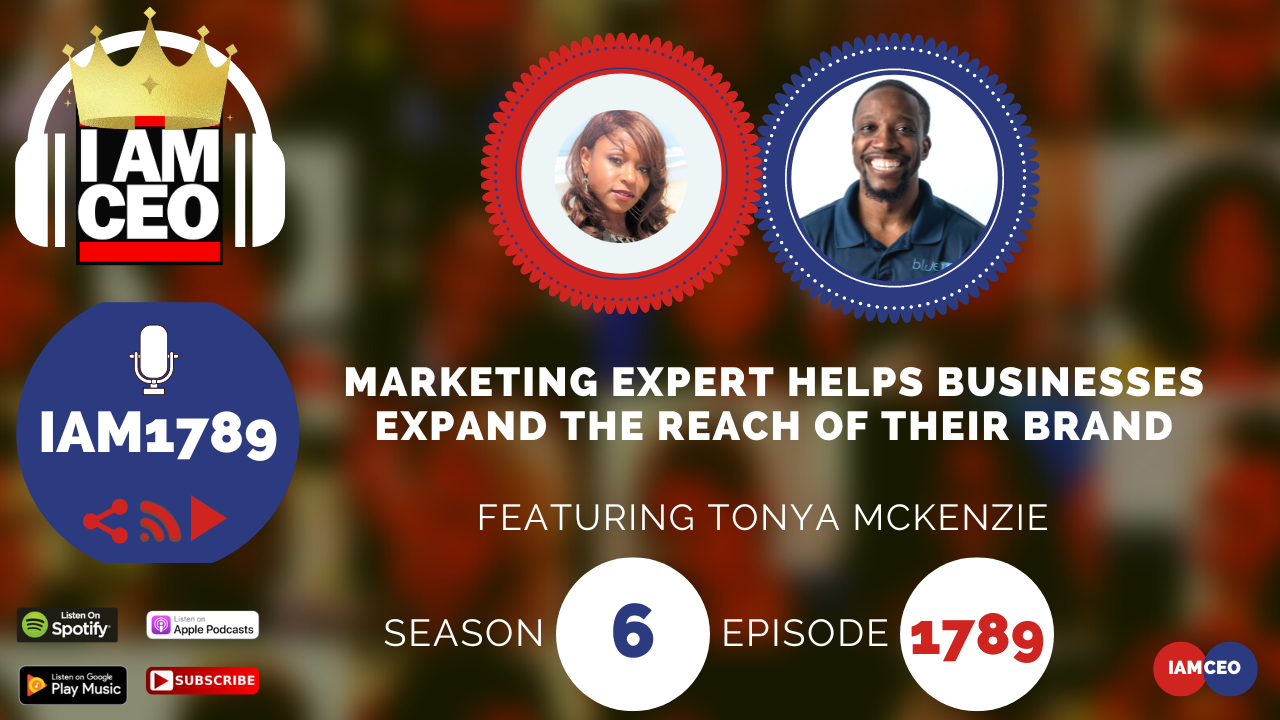 Why it was selected for "CBNation Architects":
In this episode of the I AM CEO Podcast, host Gresham Harkless Jr. interviews Tonya McKenzie, an author and public relations consultant who helps entrepreneurs and small businesses gain media attention and grow their brand recognition through her company, Sand & Shores PR. Tonya shares her journey in public relations, starting her career at the Mt. Diablo Region YMCA and eventually founding her own company in 2014.
She emphasizes the importance of building relationships and understanding the needs of clients, as well as the value of being involved in the community and serving on boards of directors.
Throughout the episode, Tonya shares practical tips and advice for entrepreneurs, including the importance of having a morning routine and being prepared for unexpected challenges.
Overall, the episode provides valuable insights and inspiration for anyone looking to improve their public relations and grow their brand recognition.
Check out one of our favorite CEO Hack's CEO Web Shop. Get your free audiobook and check out more of our favorite CEO Hacks HERE.

I AM CEO Handbook Volume 3
 is HERE and it's FREE. Get your copy here: 
http://cbnation.co/iamceo3
. Get the 100+ things that you can learn from 1600 business podcasts we recorded. Hear Gresh's story, learn the 16 business pillars from the podcast, find out about CBNation Architects and why you might be one and so much more. Did we mention it was FREE? Download it today!
Transcription:
The full transcription is only available to CBNation Library Members. Sign up today!
Tonya McKenzie Teaer 00:00
Looking at things from a very objective standpoint to get the real story out of them for why they started their business, what solution they're bringing to the table, and to really market them in a way that touches on their branding and who they are.
Intro 00:18
Do you want to learn effective ways to build relationships, generate sales, and grow your business from successful entrepreneurs, startups, and CEOs without listening to a long, long, long interview?
If so, you've come to the right place. Gresham Harkless values your time and is ready to share with you precisely the information you are in search of.
This is the I am c o podcast.
Gresham Harkless 00:45
Hello, hello, hello. This is Gresh from the I AM CEO podcast and I appreciate you listening to this episode. If you've been listening this year, you know that we hit over 1600 episodes at the beginning of this year. We're doing something a little bit different where we are repurposing our favorite episodes around certain categories, topics, or as I like to call them, the business pillars that we think are gonna be extremely impactful for CEOs, entrepreneurs, business owners, and what I like to call CB Nation architects who are looking to level up their organizations.
This month we are focused on the visibility game, a.k.a. marketing, advertising, PR, and sales. I often say the name of the game is being found, and these tools will help you to do that. We have heard the philosophical question, if the tree falls in the forest and no one is around, does it make a sound? If there's a really, really great product or service and no one knows about it, how great is it really? What impact does it ultimately make? This is where we will go into this month looking at visibility, branding, marketing, public relations, sales being the lifeblood of businesses, building many companies, and so much more.
This is probably one of the most exciting and probably the most excruciating topics, but we hope this month to demystify or maybe even vanquish the fear and help and arm you with the tools to be able to increase your visibility. So buckle up, sit back and enjoy this special episode of the I AM CEO podcast.
Hello, hello, hello, this is Gresh from the I AM CEO podcast and I have a very special guest on the show today. I have Tonya McKenzie of Sand and Shores PR. Tonya, it's awesome to have you on the show.
Tonya McKenzie 02:15
Hey, thank you for having me, and happy, happy Friday.
Gresham Harkless 02:18
Happy Friday to you as well. What I wanted to do was just read a little bit more about Tonya so you can hear about all the awesome things that she's doing.
Tonya is an author and public relations consultant by trade, a child advocate by choice. Tonya started her career in public relations at the Mount Diablo region YMCA, where she needed media coverage to help grow and expand the services to provide the city. After constructing and selling corporate membership packages, she was nominated and elected to the Oakley Chamber of Commerce and appointed to the Contra Costa Counties Youth Commission by Supervisor Federal Glover.
While Tonya serves on the board of directors for the Redondo Beach Chamber of Commerce, and as vice president of the North Redondo Beach Business Association, she continues to help entrepreneurs, small businesses and nonprofits gain media attention and grow their brand recognition through the company she founded in 2014 Sand and Shores PR.
Tonya, are you ready to speak to the I AM CEO community?
Tonya McKenzie 03:17
I am so ready and excited. Absolutely.