I AM CEO PODCAST
IAM1517 – Philanthropist Ensures That Every Child Discovers Their Worth, Potential and Abilities
Podcast Interview with Carlena Evans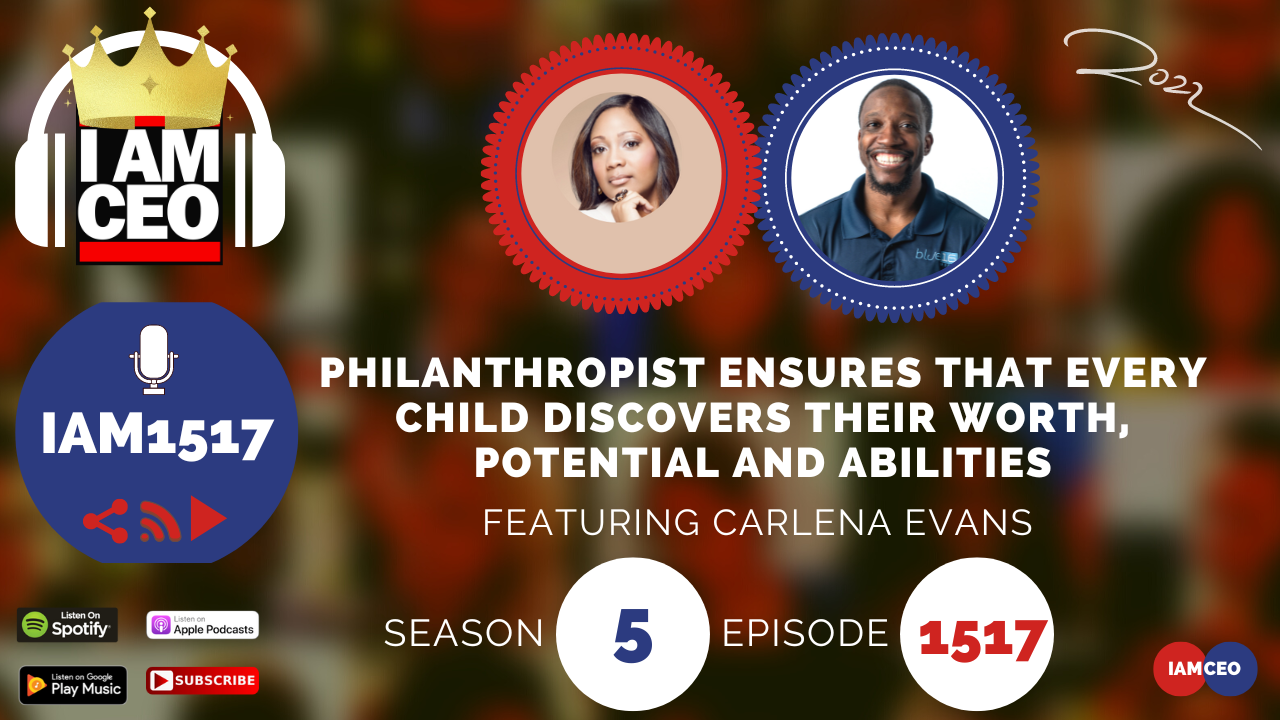 A visionary with extraordinary purpose, Carlena is a vessel whose task is to ensure that every child and teen on the planet realizes their worth, potential, and abilities as early as possible. Enriched with an amazing scholastic and professional resume, Carlena graduated Magna Cum Laude with a B.A. in Communication, and a minor in English, from Cheyney University. Unrelenting in her work ethic, she continued her matriculation through post-secondary education and was awarded her Master of Education from University of Pittsburgh in the spring of 2010. She accomplished this feat all while defying the odds of being a single parent.
Carlena J. Evans, M.Ed. possesses an incomparable desire for youth and adults alike to realize that nothing is impossible! Gifted with a heart of gold, her genuine efforts are unparalleled in her advocacy for children, students, women, and mothers everywhere. Despite Evans' infinite successes, she never fails to acknowledge, "Kidsplosion is GOD'S vision and I am honored to be used." Founder of Kidsplosion.
CEO Story: Carlena started Kidsplosion when she saw a vision where she saw a minister speaking to a massive congregation of kids utilizing their gifts. With this vision, she very clearly that 'you have to show them who they are'. And that was the birth of his company. Carlena was shown a vision and it's like she was given a mission to equip children with what they are called to be. Give them the opportunity to discover their gifts, then develop them, and then display them. Thirteen years strong and present in different countries.
Business Service: Discover, develop and display their talent. Youth programs – summer camp and after-school program. Providing a variety of creatives.
Secret Sauce: Offer their programs in the privileged areas and give back to underprivileged countries. Creating a global society.
CEO Hack: Do unto others as you would have them do unto you. Never forget that you are also a customer.
CEO Nugget: Keep going, even when it seems hard and not worth it. But the fruit or reward is so big, not for money but because of the impact you have made.
CEO Defined: The ultimate volunteers with badges and awards. In order to be successful, you need to have a certain amount of failures and lessons. A process you need to endure and keep getting up.
https://www.hngn.com/articles/243757/20220810/kidsplosion-%E2%80%94-developing-dreamers-worldwide.htm
---
Check out one of our favorite CEO Hack's Audible. Get your free audiobook and check out more of our favorite CEO Hacks HERE