I AM CEO PODCAST
Life Style
Tech
IAM1506 – Founder Creates an AI-Powered Building Relationship Chatbot to Connect with People
Podcast Interview with Rabi Gupta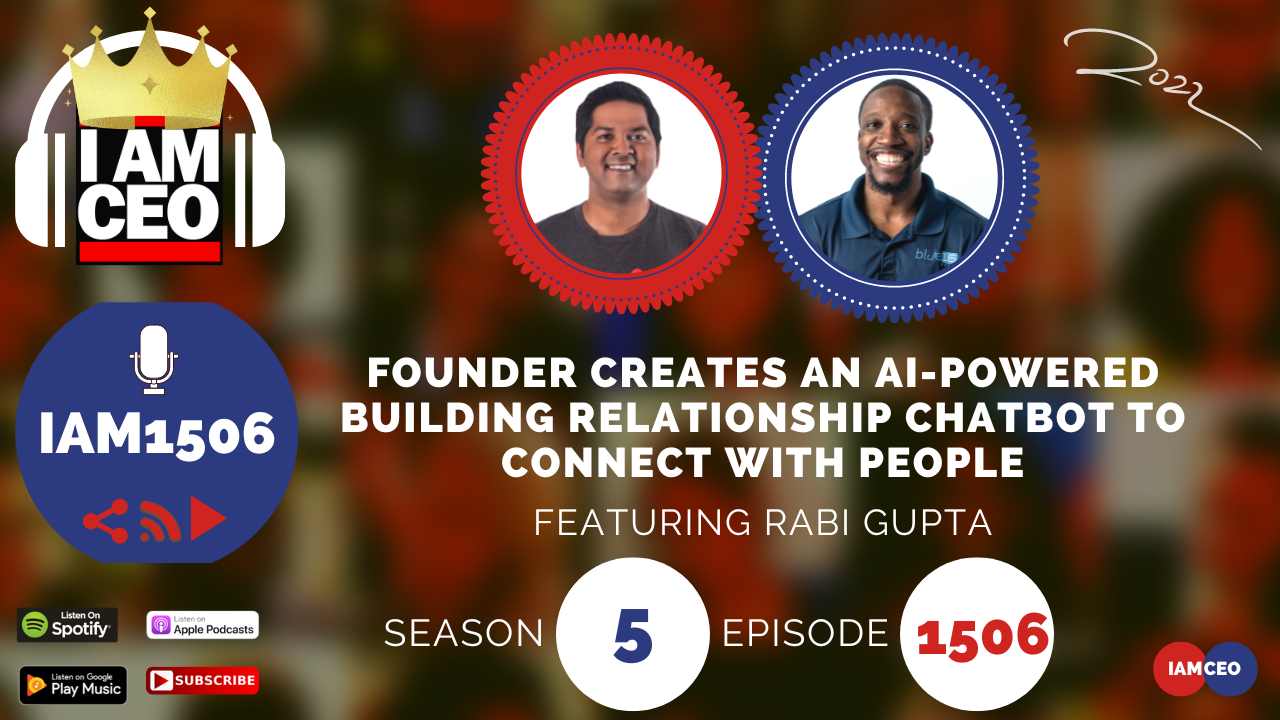 Rabi is a serial entrepreneur. Working alongside his current founding team for 10+ years, they have used AI to build recommendation engines, social platforms, and enterprise software. His first startup iDubba/iCouchapp was a "TV show recommendations + social engagement" app that had 2M+ monthly active users at the time it got acquired.
Rabi then made a bold move to Silicon Valley to start a new company. While there, Rabi became frustrated that the ability to build relationships lacked technological innovation and intelligence. And so, EvaBot was born. EvaBot is an emotionally intelligent gifting relationship solution that enables thoughtful companies to accelerate the key relationships that increase both growth and competitive advantage. With a platform built to generate emotional engagement and to collect actionable intelligence, they are the standard in amplifying the customer and employee experience, creating an unforgettable journey for the recipient and truly valuable insight for the company. Their vision is to set the standard for business relationships by using AI to personalize the physical and digital experience.
CEO Story: When Rabi moved from India to Silicon Valley in order to build a new tech company. They realized they needed to connect and build relationships or be part of a community. The most challenging part is that they were limited with their time due to limited resources and no work permit. They found a way to build relationships by sending personalized gifts, and building relationship needs more time, so they built an AI assistant to gather personal information. That is how their company started, and right now they operate on a bigger scale.
Business Service: Evabot is a personalized AI-powered chatbot gift. Gathering personalized data. It will then surprise you with a gift that no one is choosing.
Secret Sauce: Going very deep into everything, understanding the core problem. Going deeper and doing things differently.
CEO Hack: Plan with patience but you should execute with impatience. Always have a bias for action.
CEO Nugget: Think long term, to create a more sustainable business. If you believe in the idea that you work on, you should spend your life on it.
CEO Defined: Every stage is different. Start right by getting the right founding team where each has a different complementary skill set. Hiring a great team. Each stage has different challenges.
Twitter: @rabigupta
LinkedIn: rabigupta
---
Check out one of our favorite CEO Hack's Audible. Get your free audiobook and check out more of our favorite CEO Hacks HERE