I AM CEO PODCAST
IAM1174- Entrepreneur Manufactures and Prints Waterproof Paper
Podcast Interview with Kyle Ewing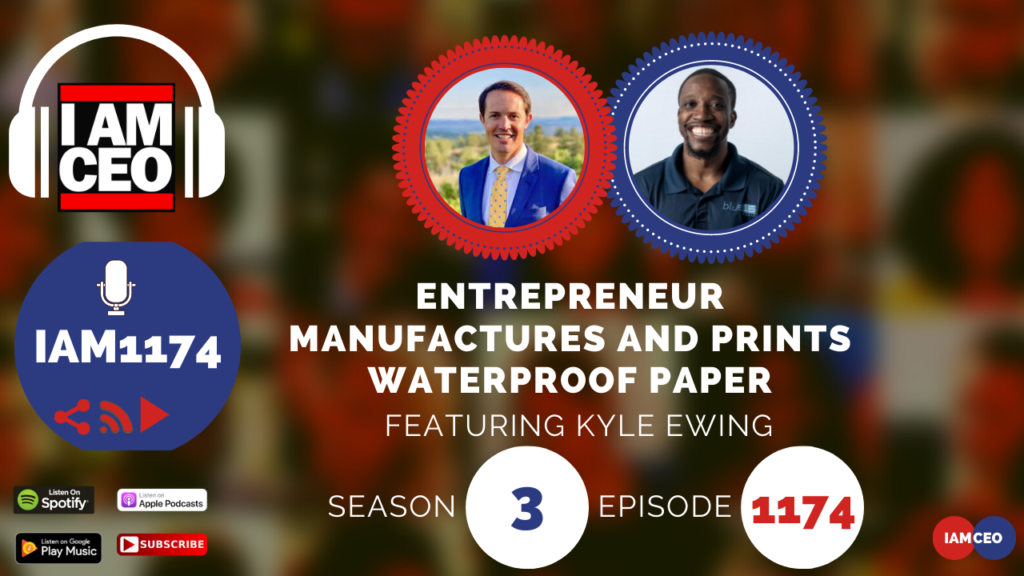 Kyle Ewing became a full-time entrepreneur in 2014 when he left the corporate world to build his first company, Guerrilla Tags ID Systems. After a successful exit in 2015, Kyle is now focused on the growth and development of his company, TerraSlate Paper, which manufactures and prints waterproof paper for the US Military, restaurants, and biotech firms around the world. The success of his businesses can be best attributed to a creative marketing approach that nimbly tracks customer needs to fulfillment and leverages just-in-time inventory management. His most recent high-profile advertising campaign in partnership with BMW USA is the "Road to Sustainability" in which he seeks to make redundant laminated documents in all applications. Kyle enjoys collaborating with fellow entrepreneurs and venture capitalists to develop new systems, metrics and growth strategies for emerging companies in the tech and renewable resources industries.
The experience Kyle gained in corporate positions provided the underpinnings for his entrepreneurship a position as Supply Chain Manager at Brightstar Corporation on supply chain optimization and demand signal forecasting in which, at an operator-wide level, he successfully carried out multiple initiatives in supply chain management, data-driven analytics, and inventory management using triple exponential smoothing models that he built for the wireless phone industry. Kyle also held roles as a Business Operations & Management Consultant, Procurement Manager and Marketing Analyst where he gained much of the valuable experience upon which he relies.
Kyle received his BSBA in 2008 and his MBA in 2009 with a Chancellor's Scholarship from the Daniel's College of Business at the University of Denver. During his time at DU he developed a passion for philanthropic work and founded the Seven Ribbons Foundation supporting cancer research.
In his personal life Kyle is an avid triathlete, runner, mountaineer, and is active in philanthropic work in the community. He won the Mt. Kilimanjaro Marathon in 2009, completed the Ironman Triathlon in Western Australia in 2010, and summited the mountains of the Swiss Holy Trinity: Mont Blanc, the Matterhorn, and the Eiger in 2011. Kyle is an accomplished skydiver and musician winning the state flute championships 3 years in a row. Recent accolades include "Entrepreneur of the Year" awarded by the Worldwide Who's Who organization and has become an avid Ukulele and Guitar player.
CEO Hack: Google docs and Google spreadsheets
CEO Nugget: Get on your phone, ask people what they think about your product and also do business development
CEO Defined: Chief Executive Officer, President and Founder
Website: http://www.terraslate.com/
Facebook: https://www.facebook.com/terraslatepaper
Twitter: https://twitter.com/terraslatepaper
Instagram: https://www.instagram.com/terraslatepaper/
LinkedIn: https://www.linkedin.com/company/9260188/
Pinterest: https://www.pinterest.com/terraslate/
YouTube: https://www.youtube.com/channel/UC2NjPfmnOXiTQ84puuvKjfw
---
Check out one of our favorite CEO Hack's Audible. Get your free audiobook and check out more of our favorite CEO Hacks HERE