I AM CEO PODCAST
IAM1159- Author Comforts and Supports Those Dealing with Grief and Loss
Podcast Interview with Emily Thiroux Threatt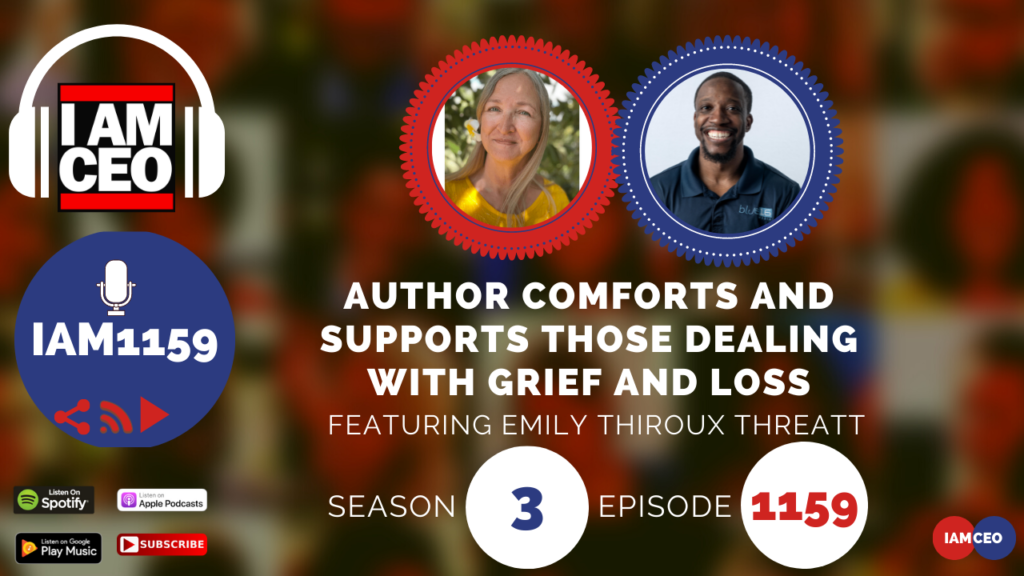 Emily Thiroux Threatt is the author of Loving and Living Your Way Through Grief: A Comprehensive Guide to Reclaiming and Cultivating Joy and Carrying on in the Face of Loss.
Having gone through the experience of two husbands die, as well as the deaths of her father, mother, sister, many family members and friends, Emily has much experience in the grieving process and has learned to face life with love, optimism, and joy. Her mission is to comfort and support those dealing with grief and loss focusing on happiness.
She earned a master's degree in English with a concentration in writing which led to her career teaching writing at the university level, so she naturally turned to writing to deal with her grief. She also is teaching those dealing with loss how to use writing to deal with their grief.
CEO Hack: Happiness
CEO Nugget: Take good care of yourself
CEO Defined: Taking responsibility for myself, treating everyone well and doing the best I can do
Website: https://lovingandlivingyourwaythroughgrief.com/
https://lovingandlivingyourwaythroughgrief.com/blog
Twitter: @ThreattEmily
Facebook: https://tinyurl.com/jauwxcee
LinkedIn: Emily Thiroux Threatt
Skype ID: Emily Thiroux Threatt
Instagram: https://www.instagram.com/emily_thiroux_threatt/
Amazon link to book Loving and Living Your Way Through Grief: https://tinyurl.com/byprxber
---
Check out one of our favorite CEO Hack's Audible. Get your free audiobook and check out more of our favorite CEO Hacks HERE