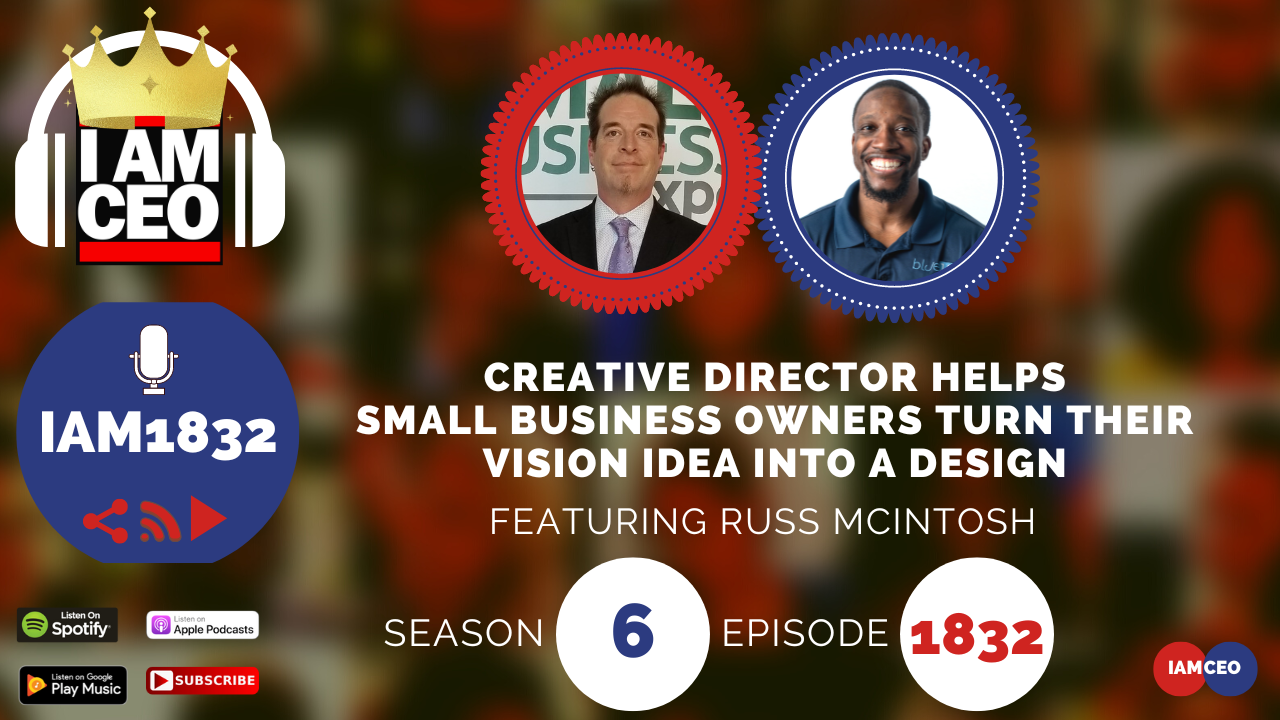 Why it was selected for "CBNation Architects":
In this episode of the I AM CEO Podcast, host Gresham Harkless interviews Russ McIntosh, the owner and creative director of Vision Idea Design, an all-inclusive graphic design firm in Fairfax, VA. Russ and his team specialize in helping small businesses and entrepreneurs turn their vision and ideas into compelling designs. They offer a range of services, including logo concept, product packaging, trade show banners, exterior signs, book publishing, and printing.
Russ shares his CEO story, explaining that he has been an artist and graphic designer for 25 years. He initially started working part-time in graphic design while also juggling a full-time construction job and taking care of his family. Eventually, he transitioned to full-time graphic design and honed his skills in digital graphics using Adobe software. One day, inspired by his daughter, Russ decided to start his own design company, Vision Idea Design, in 2017. Although the journey wasn't without its challenges, Russ and his team have grown the business, become part of the chamber, and now enjoy partnering with and supporting other small businesses.
The secret sauce of Vision Idea Design lies in their experience and commitment to listening to clients. They aim to understand their clients' vision and create designs that help them achieve success. Russ finds fulfillment in seeing others succeed and tries to support them in any way he can.
As a CEO hack, Russ mentions using AI software like All-E 2 and Midjourney to turn imagination into artwork. This technology serves as a useful tool for his design work.
Russ's CEO nugget of wisdom is to take time to relax and recharge. He encourages listeners to love themselves and appreciate the support of friends and loved ones.
In Russ's view, being a CEO means being an educator and providing opportunities to help and support others.
Listeners can find out more about Vision Idea Design on their website at www.visionideadesign.com and connect with Russ and the company on Facebook and LinkedIn.
Overall, this episode offers insights from Russ McIntosh, a creative director who helps small business owners turn their vision and ideas into visually appealing designs through his company, Vision Idea Design. Listeners can gain inspiration and practical advice on graphic design, entrepreneurship, and supporting fellow small businesses.
Check out our CEO Hack Buzz Newsletter–our premium newsletter with hacks and nuggets to level up your organization. Sign up 
HERE
. 

I AM CEO Handbook Volume 3
 is HERE and it's FREE. Get your copy here: 
http://cbnation.co/iamceo3
. Get the 100+ things that you can learn from 1600 business podcasts we recorded. Hear Gresh's story, learn the 16 business pillars from the podcast, find out about CBNation Architects and why you might be one and so much more. Did we mention it was FREE? Download it today!
Transcription:
The full transcription is only available to CBNation Library Members. Sign up today!
Russ McIntosh Teaser 00:00
She said "Dad, why do you keep working for these companies when we can see that you have a passion for doing this? You have all this knowledge. Why don't you start your own company"? From the mouth of babes, I've been telling them to live their dreams, and now she's telling me live my dream. And I'm like, I really should.
She said to live my dream and pursue this. So I think this is my moment. Started Vision Idea Design and we've been off and running ever since.
Intro 00:24
Do you want to learn effective ways to build relationships, generate sales, and grow your business from successful entrepreneurs, startups, and CEOs without listening to a long, long, long interview?
If so, you've come to the right place. Gresham Harkness values your time and is ready to share with you precisely the information you're in search of. This is the I AMCEO podcast.
Gresham Harkless 00:51
Hello, this is Gresh from the I am CEO podcast and I appreciate you listening to this episode. If you've been listening this year, you know that we've hit 1600 episodes at the beginning of this year. We're doing something a little bit different. Where we're repurposing our favorite episodes around certain categories, topics, or as I like to call them, business pillars that we think are going to be extremely impactful for CEOs, entrepreneurs, and business owners, just like you, what I like to call the CB nation architects who are looking to level up their organizations.
This month, we are focusing on CEO hacks and CEO nuggets. This is by far one of my favorite questions I asked on the show. In other words, I asked, what are the apps, books, and habits that make you more effective and efficient. Those were the CEO hacks. Then I asked for a word of wisdom or a piece of advice or something that you might tell your younger business of viewer to hop into a time machine and those were the CEO nuggets. That's what we'll focus on this month and some of the top ones that can instantly impact your business.
I love all the questions, but with every episode, I thought I would walk away with something I could look at and implement right to save the precious resources, time and money. Or I would also learn about the advice, tips and tidbits or tools of the trade on how to level up our organization. So you'll hear some of these this month. So sit back and enjoy this special episode of the I am CEO podcast.
Hello. Hello. Hello. This is Gresh from the I AM CEO podcast. I have a very good friend that's on the shows today. I have Russ McIntosh of Vision Idea Design. Russ, super excited to have you on the show.
Russ McIntosh 02:26
Hey, thank you very much. I've been a fan of the I AM CEO podcast for so long. I'm glad to be on here now.
Gresham Harkless 02:32
Yeah, absolutely. We're able to get some time from your schedule and able to get you on to hear about all the awesome things that you're doing. Of course, before we jumped into that, I wanted to read a little bit more about Russ, so you can hear about some of the awesome things.
Russ is the owner and creative director of vision idea design. An all-inclusive graphic design firm in Fairfax, Virginia, from logo concept to product packaging from trade show banners to exterior designs, as well as book publishing and printing.
Vision Idea Design helps small businesses and entrepreneurs in the community achieve their goals and pursue their vision to success. Russ is always lending a helping hand to the community as much as possible and through chamber membership and networking groups as well as art showcases and mentorship.
Russ, again excited to have you on the show to hear about all the awesome things you're doing. Are you ready to speak to the I AM CEO community?
Russ McIntosh 03:18
Yeah, I'm definitely ready.