I AM CEO PODCAST
IAM1693 – Founder Manages Technology Companies
Podcast Interview with James Jensen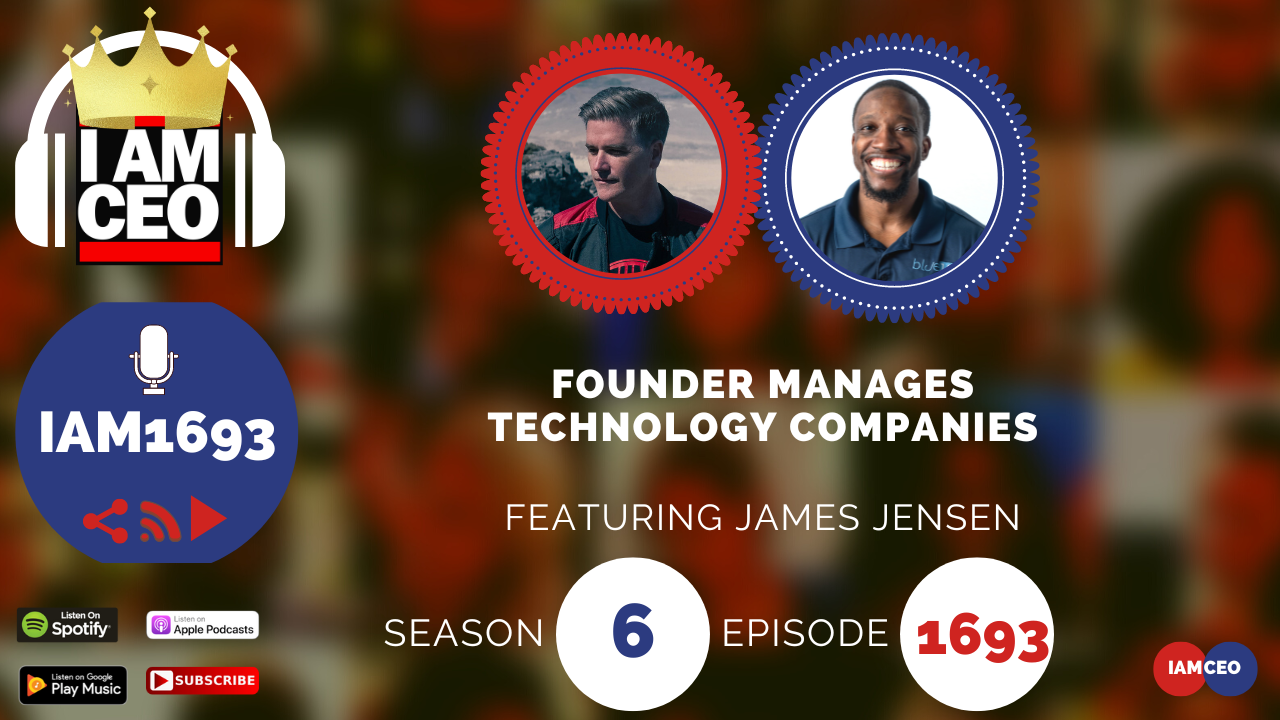 Why it was selected for "CBNation Architects": James has a really cool organization and technology that he's building. It was also powerful to hear how his background and varied experience have helped him as a leader. The technology he's built brings together technology, virtual reality, and communications. He talked a little too about the opportunities that have come about in virtual reality.
I AM CEO Handbook Volume 3 is HERE and it's FREE. Get your copy here: http://cbnation.co/iamceo3. Get the 100+ things that you can learn from 1600 business podcasts we recorded. Hear Gresh's story, learn the 16 business pillars from the podcast, find out about CBNation Architects and why you might be one and so much more. Did we mention it was FREE? Download it today! 
Previous Episode: https://iamceo.co/2021/10/18/iam1162-founder-manages-technology-companies/
Transcription:

James Jensen Teaser 00:00
Being CEO to me, I think what the CEO position is, is changing and morphing. A CEO is, currently defined as somebody that structures the business and makes sure that shareholders are happy and all of that stuff, which is a good thing. That's a thing that you need to focus on.
Intro 00:15
Are you ready to hear business stories and learn effective ways to build relationships, generate sales, and level up your business from awesome CEOs, entrepreneurs, And founders without listening to a long, long, long interview? If so, you've come to the right place. Gresh values your time and is ready to share with you the valuable info you're in search of. This is the I am CEO podcast.
Gresham Harkless00:42
Hello, hello, hello. This is Gresh from the I am CEO podcast and I appreciate you listening to this episode. And if you've been listening this year, you know that we hit 1600 episodes. And we're doing something a little bit different where we're repurposing our favorite episodes around certain categories, topics, or as I like to call them, business pillars that we think are going to be extremely impactful for CEOs, entrepreneurs, business owners, and what I like to call the CB Nation architects, who are looking to love, love their organizations.
This month is around technology. We're a technology company that does dot, dot, dot, and technology is no longer an afterthought or something that you might do. It's actually a core part of your business. And if you're a real estate investor, you're using it. If you're a financial firm, you're using it, cleaning company, author, speaker, you are using technology, and if you are in any type of business, you are using technology. And if you're not, then you're probably gonna be disrupted by this.
So this month we're gonna look into repurposing episodes that are around technology. Whether that be firms or organizations that are actually investing in technology and have that as a core part of their mission and vision of what they're doing, or people that just might be using them as CEO hacks and CEO nuggets in ways that you can leverage them. So remember that we're all a technology company that does dot, dot, dot or technology organization that does dot, dot dot. So sit back and enjoy this special episode of the I am CEO podcast.
Hello, hello, hello, this is Gresh from the I am CEO podcast. I have a very special guest on the show today. I have James Jensen of JUMP. James, great to have you on the show.
James Jensen 02:08
Hey, thanks for having me on. Hello everybody.
Gresham Harkless 02:11
Super excited to have you on and super excited about all the awesome things that you're doing. And what I wanted to do was just read a little bit more about James before we jumped into the interview from there. And James is an entrepreneur committed to working with leading-edge technology and eager to solve problems surrounding how we interact and engage with each other and physical and virtual worlds.
He is the previous creator and co-founder of the world-renowned virtual reality company, The VOID. And within the last 25 years, James founded and managed several technology companies in video streaming, social networks, mobile games, and creative services. He partnered with Disney, Sony Entertainment, Fox, MGM Intel, Microsoft SyFy, Dreamworks, and MTV, through those ventures. And he is now launching a new form of virtual reality called hyperreality in the form of the multisensory entertainment company JUMP. JUMP will allow people to come as close to jumping and flying as the real thing, but without all of the risk.
James, super excited to have you on the show. Are you ready to speak to the I am CEO community?
James Jensen 03:03
Yes. I love it. Let's do it.