I AM CEO PODCAST
PodCEO
IAM1593 – Public Relations Veteran Helps Client's Vision to Life through Creative Thinking and Strategies
Podcast Interview with April White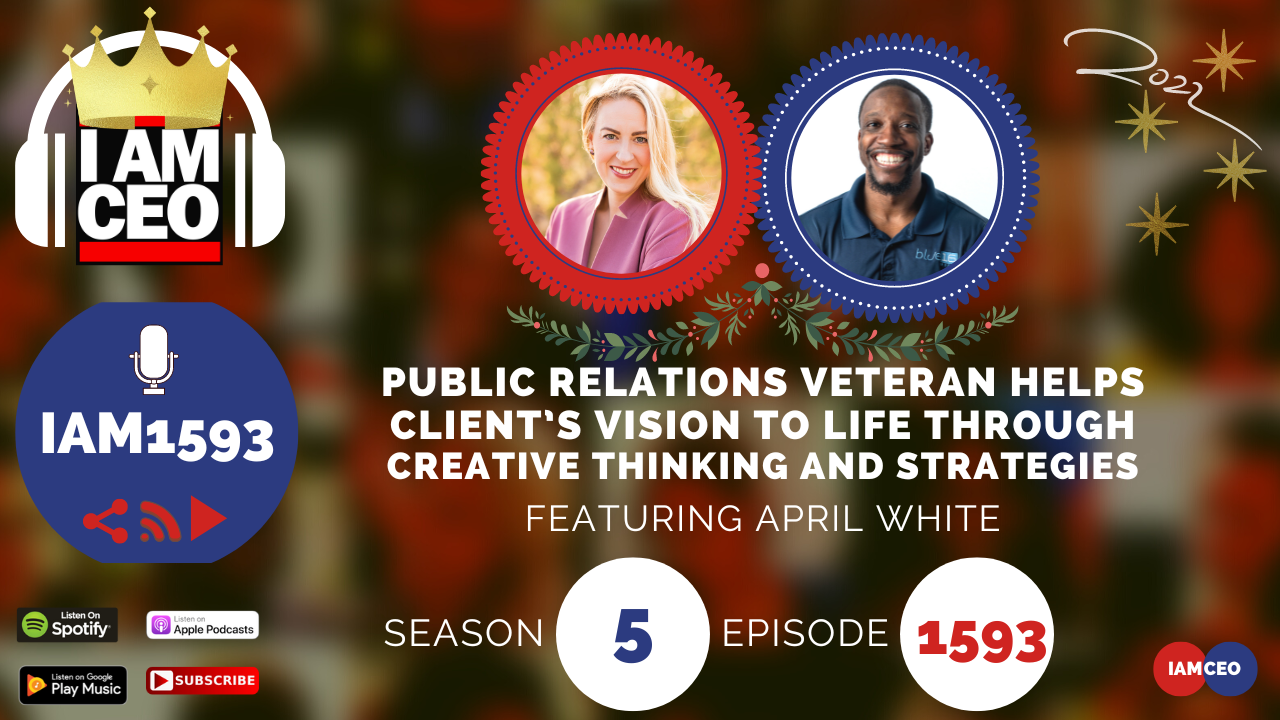 April White is a public relations veteran, official TEDx speaker and founder of Trust Relations. April has nearly 20 years of industry experience counseling and implementing campaigns on behalf of clients across numerous industries, from Fortune 100 companies to startups. She has worked at the world's best agencies in New York City, including Weber Shandwick, Edelman, Rubenstein Public Relations and Spong, before starting her own firm, and has represented an impressive roster of clients and their executives over the course of her career. Among the clients she has counseled are MasterCard Worldwide, MetLife International, Sotheby's International Realty, Hyatt, Rosetta Stone, Petco, American Standard, The Dannon Company, YellowTail Wines, Sealed Air and Music. April is an official contributor to Forbes, Entrepreneur and NewsWeek and co-hosts three original podcasts, including: The PR Wine Down, Hype Busters and Trust Relations: The Podcast.
CEO Story: After working with the biggest agencies in New York, April decided to bounce out and become a freelancer and it started to take off. Wanted to build an agency that has no toxic culture and gives clients the best talent for their account, almost 4 years later, April has pulled it off. April's vision has come to fruition.
Business Service: Public relations. Integrated marketing. Point system, monthly retainer.
Secret Sauce: Industry disruptor. Finding a better way, doing it better to make an impact.
CEO Hack: Listen to audiobooks and podcasts. Dividing the day in two. Doing a blast of work during the work day then taking a short break then back to work. Changing work location.
CEO Nugget: You are your brand, and you are your company. And so you have to take care of yourself first. Because if you burn out, and you can no longer do the job, then the company is gone.
CEO Defined: Being a parent of a company or brand. With lots of work for the child and it comes first.
Website: www.linkedin.com/in/aprilnicollewhite
Twitter: twitter.com/iamaprilwhite
Facebook: aprilnicollewhite
Instagram: iamaprilwhite
Company Website: trustrelations.agency
---
Check out one of our favorite CEO Hack's Audible. Get your free audiobook and check out more of our favorite CEO Hacks HERE