I AM CEO PODCAST
PodCEO
IAM1294 – Bestselling Author Runs a Full-Service Digital Agency
Podcast Interview with Naresh Vissa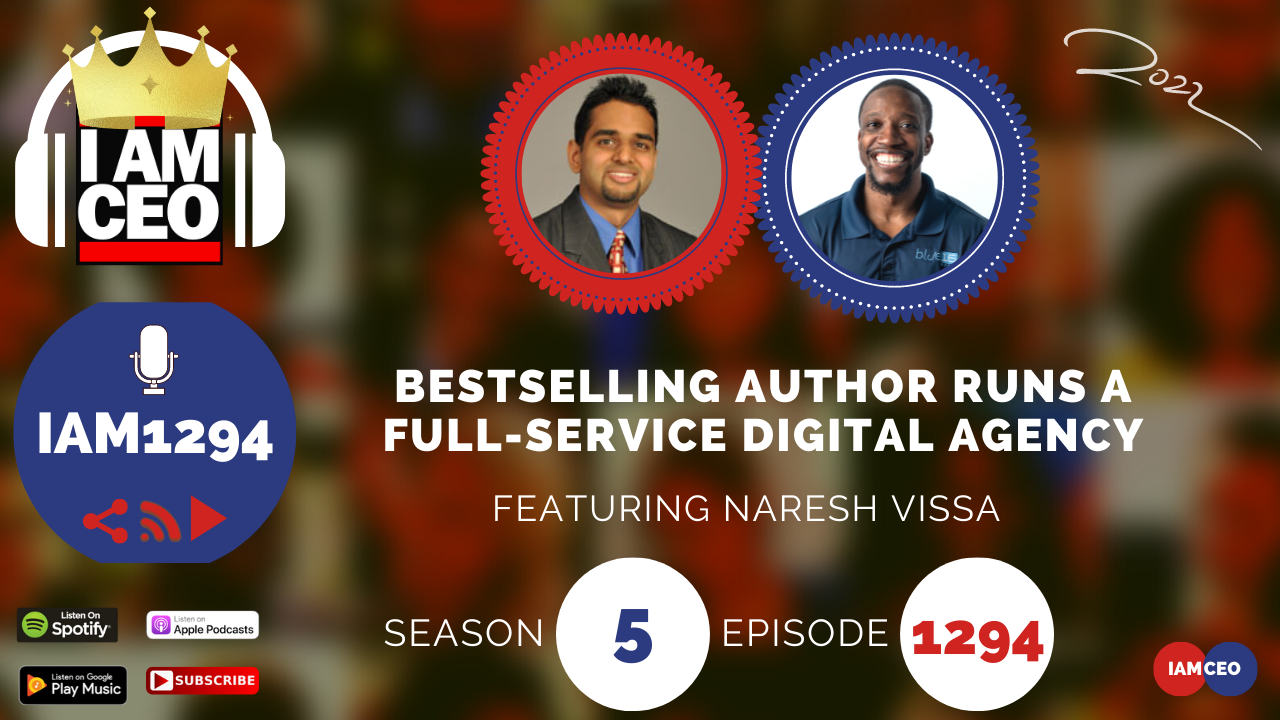 Naresh Vissa is the Founder & CEO of Krish Media & Marketing – a full-service e-commerce, technology, development, online, and digital media and marketing agency and solutions provider. He is the #1 bestselling author of FIFTY SHADES OF MARKETING: Whip Your Business into Shape & Dominate Your Competition, PODCASTNOMICS: The Book of Podcasting… To Make You Millions, THE NEW PR: 21st Century Public Relations Strategies & Resources… To Reach Millions, TRUMPBOOK: How Digital Liberals Silenced a Nation into Making America Hate Again, and the new book FROM NOBODY TO BESTSELLING AUTHOR! How To Write, Publish & Market Your Book. He is the co-host of The Work From Home Show.
CEO Story: Naresh never grew up in a family with a business background. Because of his love for business, he read books and attend short courses while still a teenager. Pursued business-related courses in college and went on working in a corporate world. Up and until 2013 when he finally built his marketing agency, successful enough that he ventured into real state investments and went on to share his knowledge through his famous books.
Business Service: Online digital marketing agency. Focused on web design, web dev., SEO, Paper Click, Podcast production, Audiobook and ebook publishing, etc.
Secret Sauce: Having a sense of laziness..mixed having a sense of accomplishment, high standards and results" Smart investing having a passive income.
CEO Hack: Four-legged stool – Mental health (keeping your brain sharp), spiritual health (being thankful), physical health (exercise), and emotional health(getting rid of bad people). Taken from the book 7 Habits of Highly Effective People by Dr. Stephen Covey. Other 2 books recommended: Rich Dad, Poor Dad by Robert Kiyosaki and The Art of the Deal by Donald Trump
CEO Nugget: Have an idea no matter what the idea, don't put it off just go for it. Don't have regrets.
CEO Defined:

Being the boss. Responsible for the future and success for you and your company. Taking ownership of everything.
Website: www.krishmediamarketing.com , www.nareshvissa.com
Books: Podcastnomics , Fifty Shades Of Marketing
Offer: Get a free copy of any of his books, just visit his website and drop him an email and say 'I heard you on IAMCEO Podcast'.
---
Check out one of our favorite CEO Hack's Audible. Get your free audiobook and check out more of our favorite CEO Hacks HERE